Whether you're a metalhead who lived through the golden age of shred or just a guitarist who loves that era of music, Kramer surely is an instantly recognisable name! Having made their mark in the 1980s with super fast axes utilising Floyd Rose trems, Schaller machine heads, and high-output Seymour Duncan pickups – Kramer had a star-studded artist roster featuring the likes of  Eddie Van Halen, Neil Schon, Richie Sambora and many other illustrious guitar heroes.
Let's explore some of our favourite models from Kramer's latest release!
Kramer Assault 220 Electric Guitar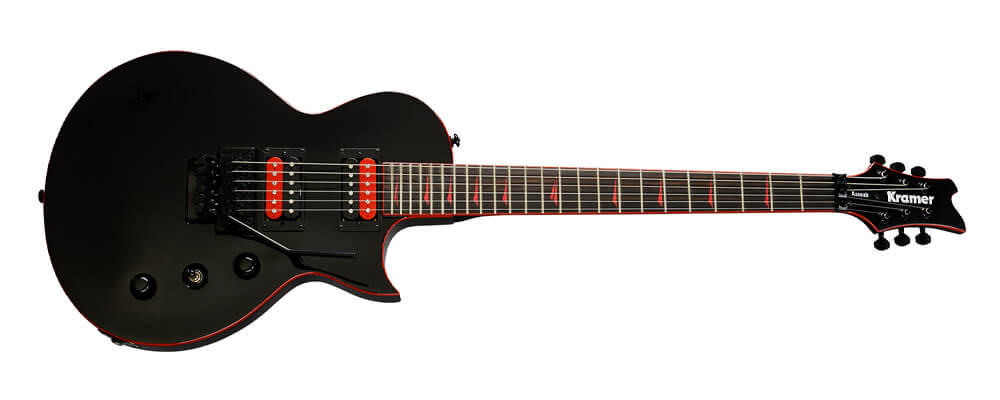 A single-cut shredder with curves in all the right places, the Kramer Assault 220 is an aggressive guitar for those with a need for speed. Featuring a resonant mahogany and slim wide maple neck, the Assault has a tried and tested wood pairing for classic tones while it's ergonomic contours give you unparalleled access to all 24 frets of the guitar. Two in-house Alnico V pickups are enlisted to power the Assault – giving you a roaring tone that hits your amp hard. As with all Kramers, this axe comes standard with the Floyd Rose tremolo unit for all your guitar pyrotechnics! A great guitar for beginners looking to get into the world of virtuosic playing – we'd struggle to suggest a better gateway guitar than the Assault.
The Kramer Assault 220 is available in Black and Alpine White.
Kramer Focus VT-211S Electric Guitar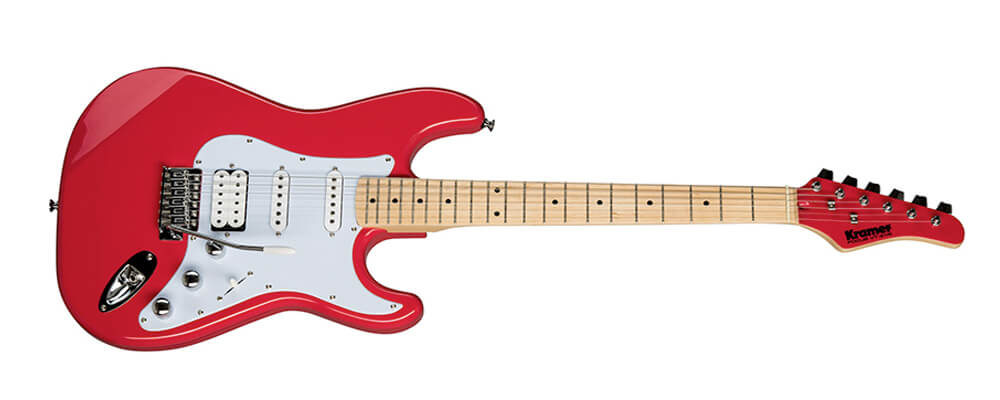 Keep your focus now! Not every guitar has the "it" factor most people need when picking their first instrument but the Kramer Focus VT-211S does. Modelled after a classic six-string silhouette, this economical axe has a conformable arm contour and tummy cut that will give you comfort even in the longest practice sessions. While it may be modestly priced, the Focus is fitted with custom Kramer hardware, including a traditional tremolo bridge, knurled control knobs, and deluxe covered machine heads. Tones are supplied by two Kramer Alnico V single-coil pickups and a Kramer Alnico V humbucker pickup – a great conduit for its mahogany and maple tonewood combo. An all-round stunning package for a beginner guitar, we'd definitely love to have the Focus if we had to start again from scratch.
The Kramer Focus VT-211S is available in Ruby Red and Pewter Gray.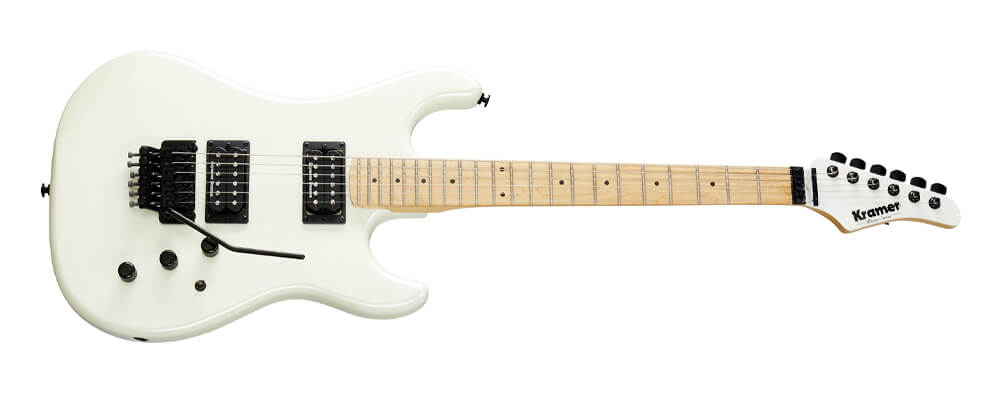 An original model from 1983 reimagined in a new format for today's players, the Kramer Pacer Classic is a thoroughbred riff machine. Two words come to mind when speaking of this guitar: speed and versatility. It's slim maple neck is radiused at 14" for low action and warp speed playability – allowing you to navigate the most treacherous of phrases with the greatest of ease.
Moreover, the Pacer comes equipped with two separate volume controls for its dual Seymour Duncan humbucking pickups for easy sonic adjustments between rhythm and lead tones. Spec-wise the Pacer has the following: A mahogany body and a maple neck + fretboard; a 25.5″ scale length; Seymour Duncan™ JN & JB humbucker with push/pull series/parallel tap; and Floyd Rose™ 1000 Series Tremolo. Talk about value for money!
The Kramer Pacer Classic is available in Pearl White.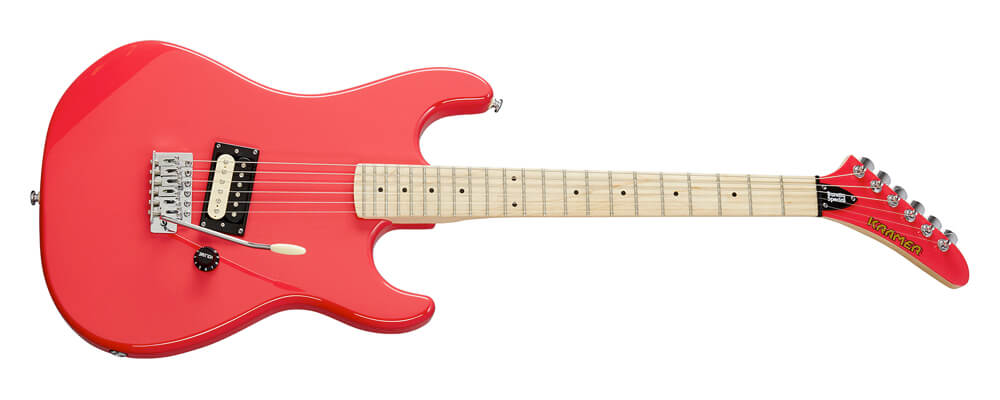 Taking design cues from their classic model from their glory days, the Kramer Baretta Special is the quintessential superstrat in every sense of the word – just streamlined to make it significantly more economical for those just getting into guitar. A mahogany solid body with a single Alnico V "zebra" pickup, the Baretta is unapologetically loud and brash, producing a searing snarl when combined with distortion. Don't let its modest price fool you though, the Baretta is equipped with a whole assortment of high quality hardware like its die-cast machine heads and Kramer Traditional tremolo bridge. A great starter guitar with retro sensibilities, we wouldn't have mind starting on this spicy instrument.
The Kramer Baretta Special is available in Vintage White, Black, and Ruby Red.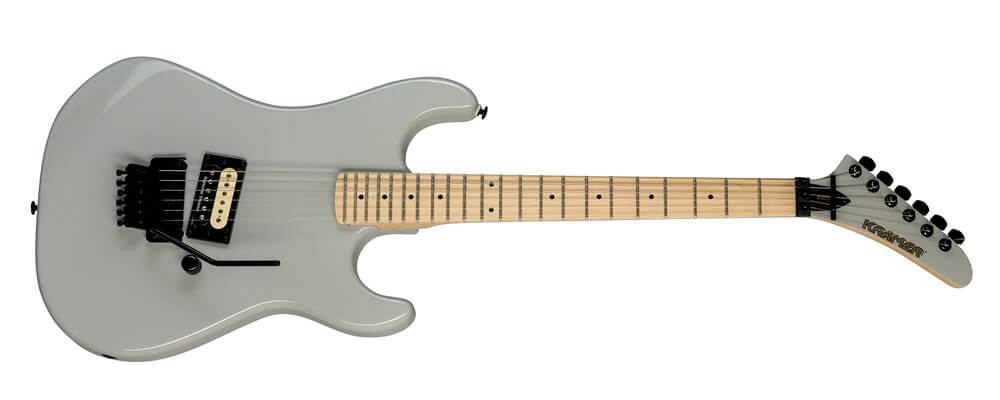 If you know your guitar history or were lucky enough to live through the 80s, you'd know how special the original Kramer Barettas were. The dream guitar of many due to its strong association with Eddie Van Halen (Rest in Peace) during his early years – the Baretta encapsulates everything that made the shred era so iconic.

Faithfully reissued for 2021, the all-new Baretta is a sports car amongst sedans. Featuring an all-maple neck and body, the Baretta Vintage is bright with loads of sustain. Combined with its Seymour Duncan JB humbucker and you've got tones that will stay on the top of any mix. Add in an original double-locking tremolo from Floyd Rose, a locking nut and a solid set of die-cast tuners and you've got yourself a heck of a guitar for whammy antics. A bonafide flamethrower from a much-missed era of guitar music, the Baretta Vintage is the guitar for you if a little shred-talgia is what you need!
The Kramer Baretta Vintage is available in Pewter Gray.
You can find more about Kramer's 2021 guitars at the Swee Lee website. Alternatively, head down to your nearest Swee Lee showroom to give them a try or check out what's new with Kramer with the button above.
Read more: New Turntables Ahoy!: Gadhouse