Big things have been happening behind the scenes at Swee Lee. It's been a while since we've shared exciting news, but we're proud to announce that we've managed to secure a few huge brands to our roster. This time around, however, we're placing the spotlight firmly on Rotosound Strings.
Ask around. There aren't many guitarists and bassists who haven't heard about Rotosound Strings. After all, the UK-based string company has been around for a long, long time. Try the late 1950s, to be exact. What's the blueprint for their palpable success? Old-school values and a willingness to embrace modernity.
Ever since they debuted, their strings have adorned the instruments of superstars everywhere. There's some major name-dropping throughout this page, so prepare to get star-struck. And if that doesn't phase you, all their incredible string products might.
Read more: 7 Must-Have Guitar Accessories
"Wire" it all began (1950s)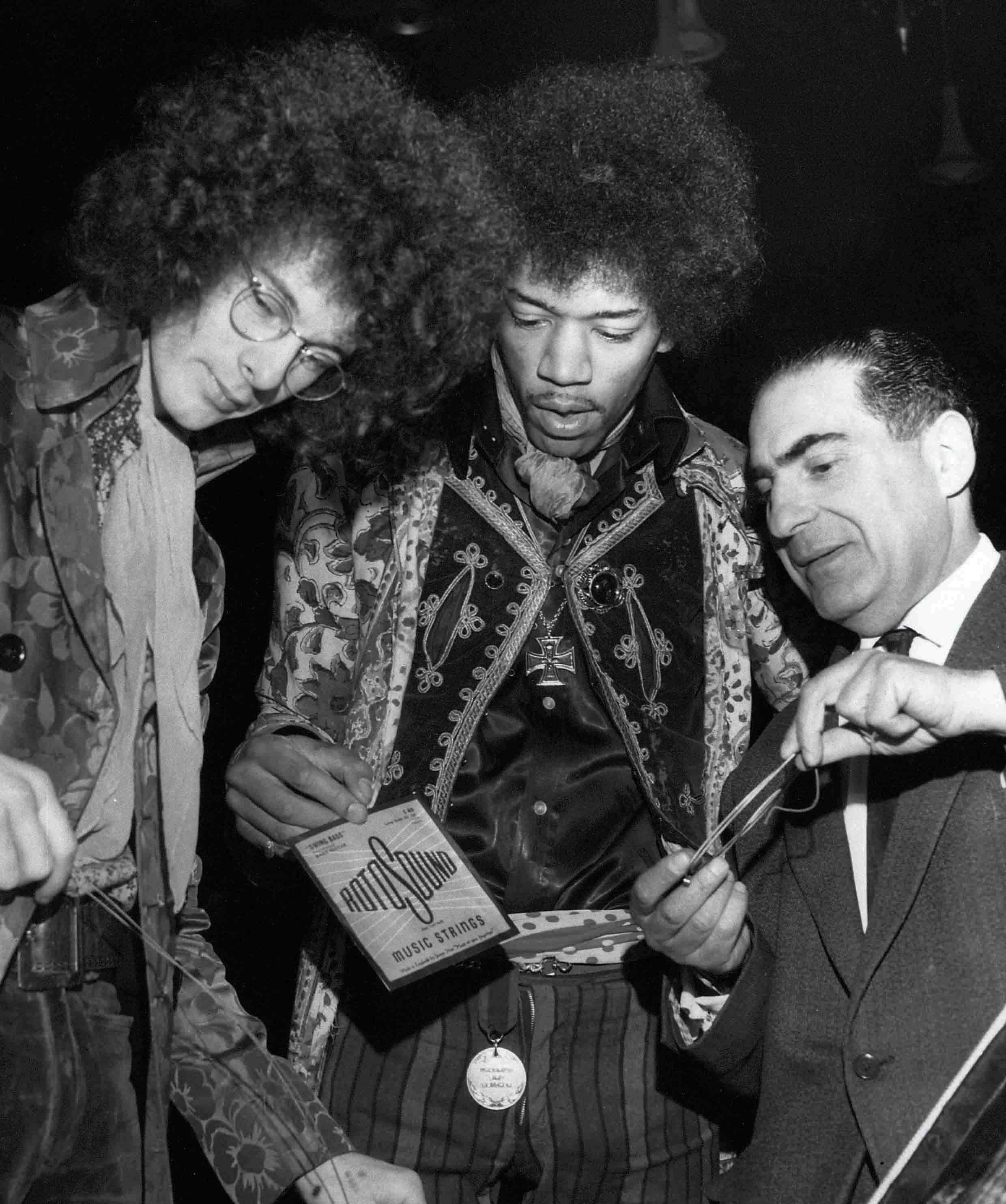 Rotosound's origin story is one musicians everywhere can relate to. A violin, viola, and zither player, James How was often confronted with a major problem. He never seemed to have enough strings. So he did what any resourceful person would do – made his own. At the time, How was an engineer at Woolwich's Royal Ordnance Factory. His first winding machine wasn't exactly high-yield. Five minutes of exertion only produced a single string. How knew he should and could do better.
The company's own archive fills in some of the details. Letterheads displaying a series of moniker changes show how their identity evolved over the years. First, they called themselves Orchestral & Jazz Strings and branded their merch Top Strings. That was in Blackfen, 1958. A brief stint as Rotop followed. As all this was happening, How continued to reinvent and refine his winding machines. He must have been doing something right because London's rock-and-roll scene was buying what he was selling. Legends including the likes of The Beatles, Rolling Stones, Hendrix, and Pink Floyd, were strung out on How's merchandise. So were local instrument manufacturers.
The "bass" is yet to come (1960s)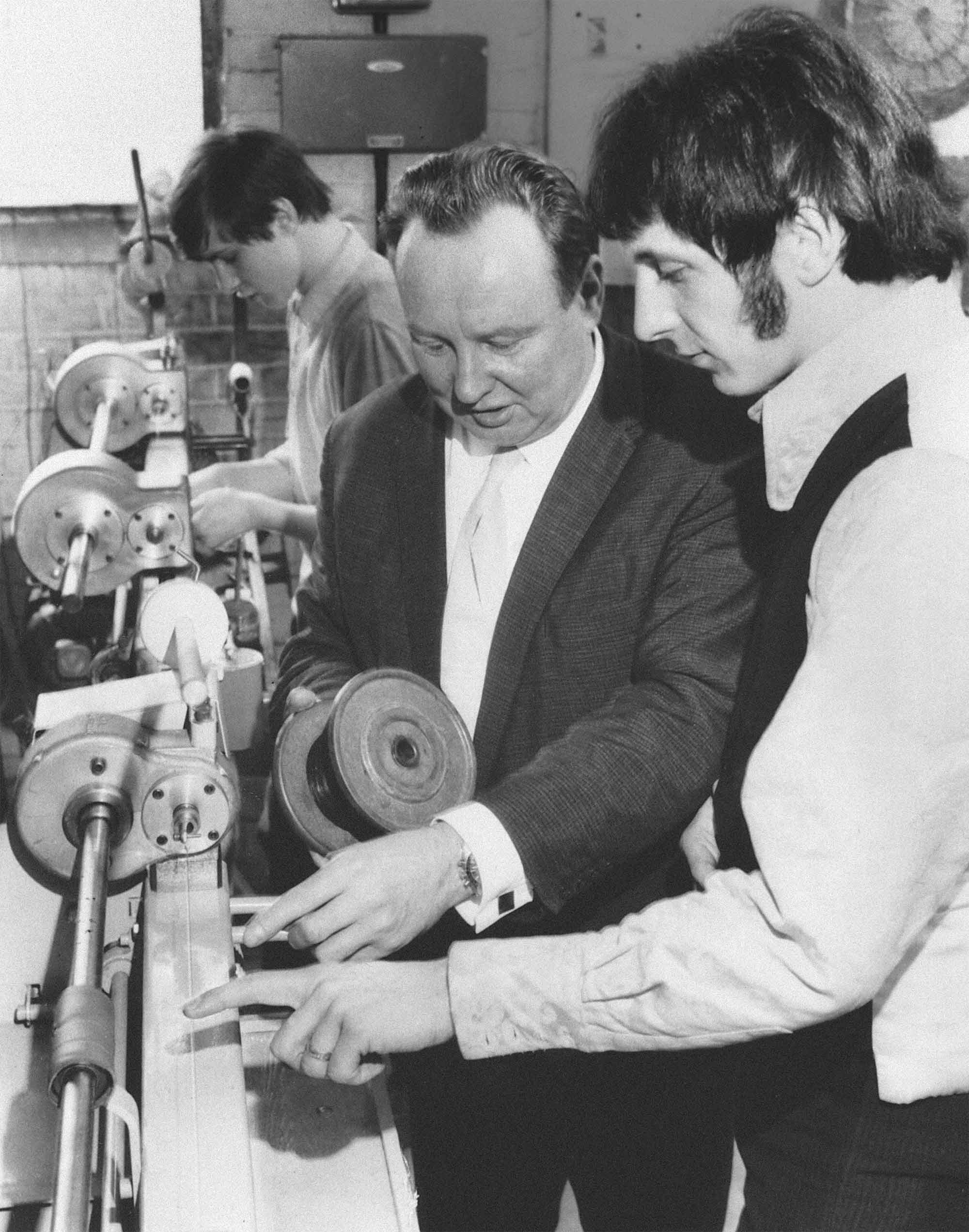 Let's skip over to 1963, when How had settled on the name Rotosound. Fun fact 1: Roto (from the Latin verb for round) refers to the strings' full and resonant voice. By then, the enterprise was experimenting with new bass string designs. In walked John Entwhistle of The Who. He'd been on the prowl for the Danelectro sound and none of the current strings were cutting it. Rotosound's D and G strings fit the bill, but the E and A strings just didn't have the right vibrations. Sensing potential, Entwhistle promptly pointed out his dilemma to How, and the pair got to work.
After some deliberation, they determined that the strings' cores needed to be thicker. They also added weight to the gauges. The end result was too good not to release to the public. And so in 1966, the Entwhistle RS66 Swing Bass string sets launched. It was the beginning of a new era for bass players everywhere. Fun fact 2: The very next year, The Who would include a fake jingle for Rotosound on their album "The Who Sell Out". Get out those "No. 1 Fan" mugs.
World domination (1970s)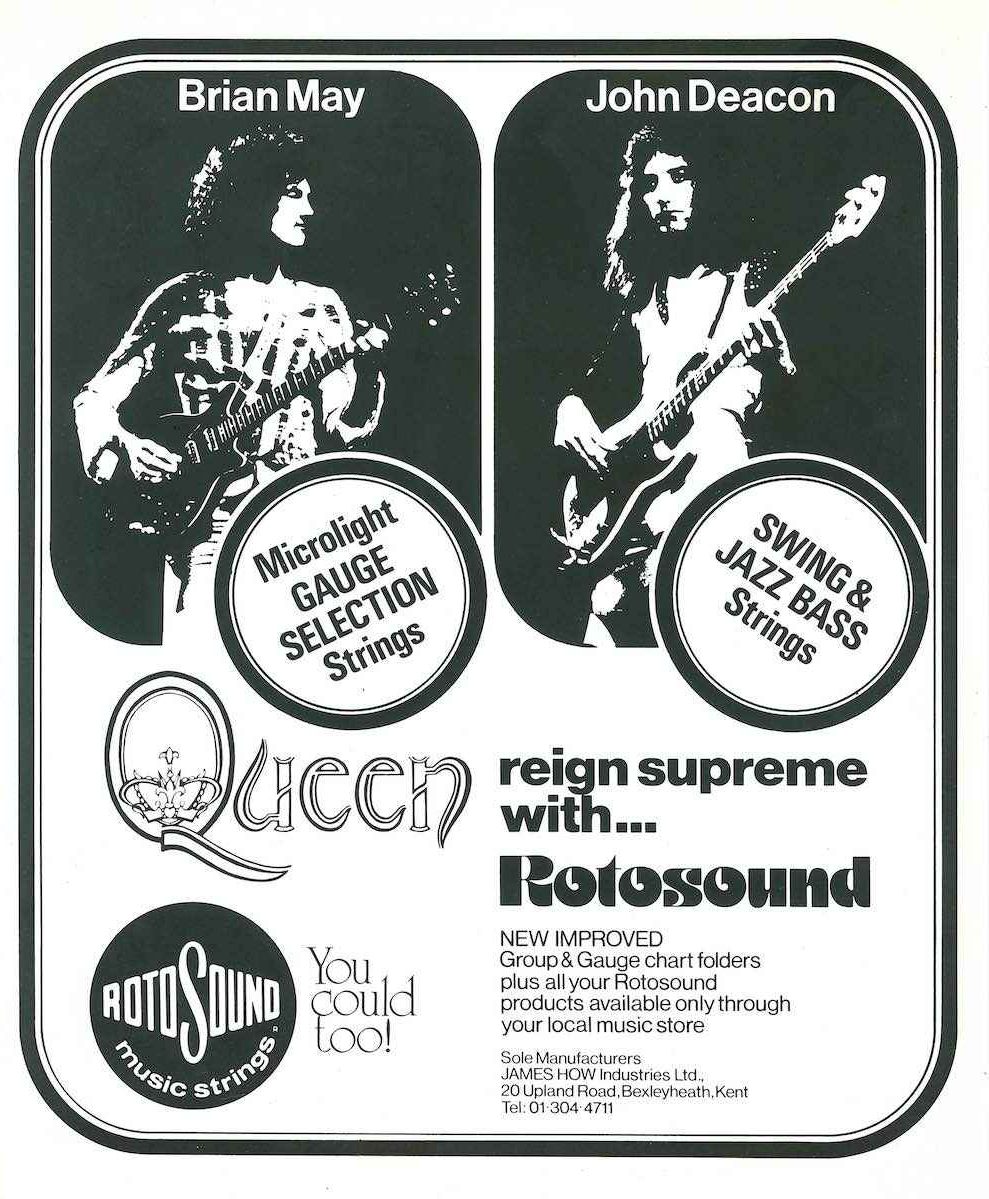 By the 1970s, Rotosound was busier than ever. Their new factory in Upland Road came about just in time. The Japanese had discovered Rotosound. More than 300 stores within the country carried their products. Even better, Yamaha was an avid client. Back home, even more rock legends were banging down the door. Do the Sex Pistols, Queen, or Siouxsie and the Banshees ring any bells?
Towards the end of the decade, Rotosound finally took the big leap into the US market and it wasn't long before their bass strings became the top-selling in the nation. Bass gods like Jaco Pastorius and Stanley Clarke definitely helped spread the love. Meanwhile, How was hard at work on fledgling sister company Superwound, but he still found time to innovate. His trademarked "Linea" process and the resulting 505 roundwound series kept many a synthpop act going.
How to carry on (1980s – 2000s)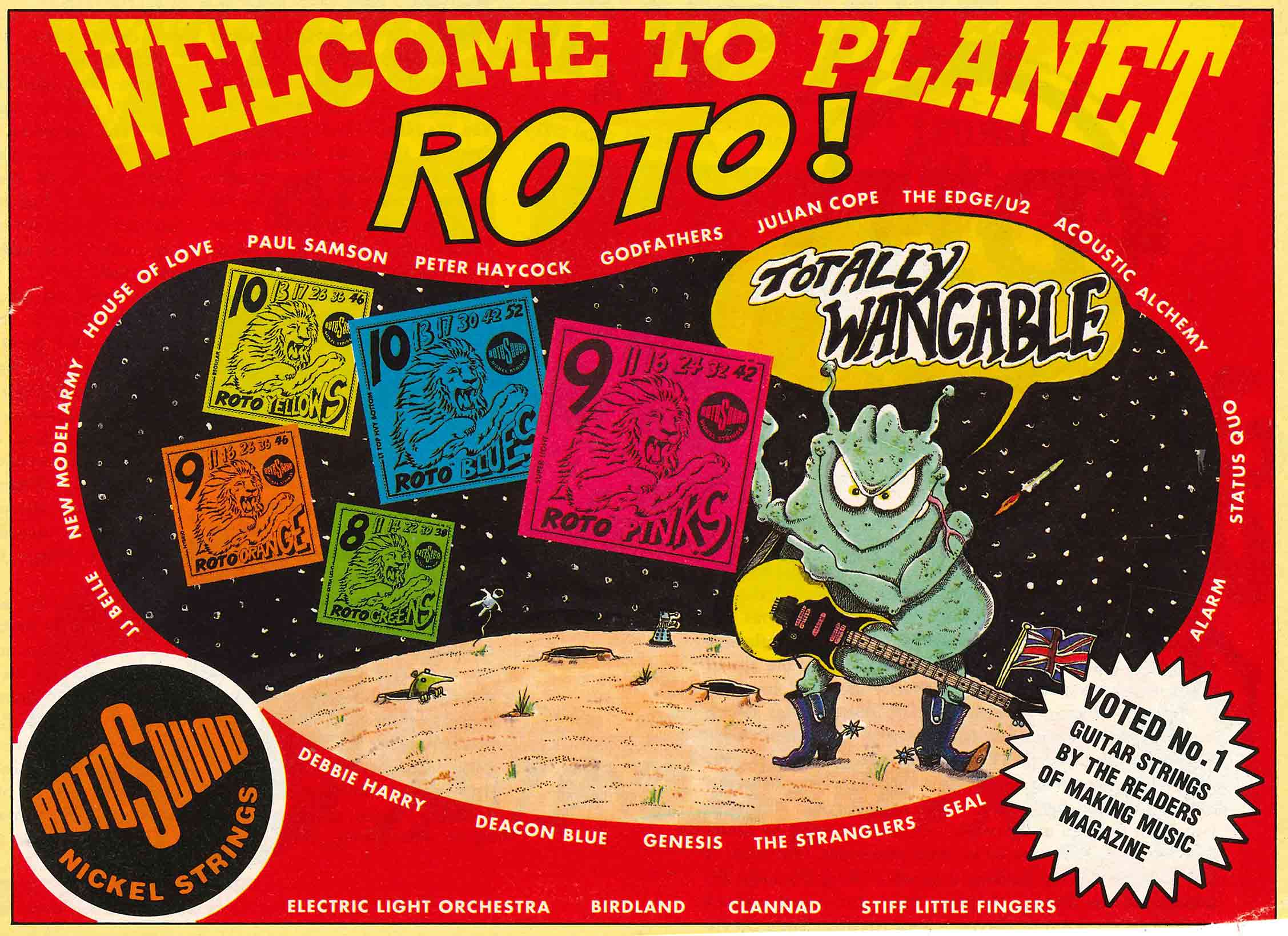 As the 80s began, another revolution was just around the corner. Rotosound was churning out more product lines than ever. Demand was sky-high. How quickly set up new premises next to their Sevenoaks factory in 1987. To this day, Unit 3 in Kent remains their centre of operations. It was here that Billy Sheehan got in on the Rotosound action. His customized Swing Bass strings, the BS66, are still fan favourites today.
The 1990s were a rollercoaster ride for Rotosound. The best grunge and alternative rock bands like Nirvana and Pearl Jam were repping their gear. Rotosound also introduced their nickel-on-steel strings, which marked a change from the stainless steel strings the company was known for, but it was the right decision. Since then, it's become Rotosound's biggest-selling line of strings.
However, in every life, a little rain must fall. How had slowed down his personal work on winding machines in the 80s due to illness. In 1994, he passed on, leaving his sons Martyn and Jason to continue the legacy. The next year, Superwound quietly closed its doors. But Rotosound is nothing if not resilient. Jason How spent 8 years designing, upgrading, and creating his own winding machines. Equipped with the latest technology, these machines boosted the enterprise's output and led them into a new generation of productivity that would last well into the new millennium.
Winding up here (2010s – 2020s)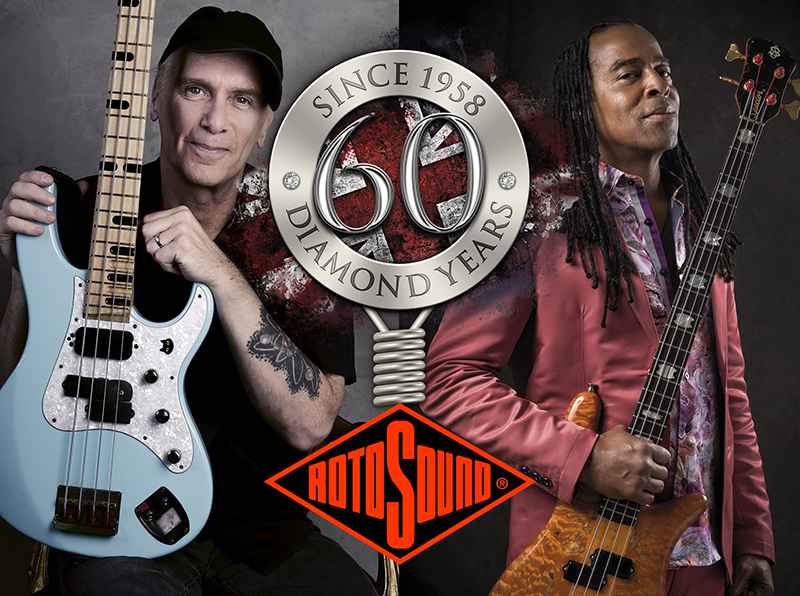 While most other decades were dominated by strings, the 2010s gave rise to the revival of another Rotosound speciality – How's 1967 fuzz pedal. Initially conceived as a prototype, the company saw an opportunity in the device after an Arizonian fan inquired about it. After bringing it up to speed via a few contemporary mods, Rotosound released 2000 limited units. They sold out in an instant. This gave the company the confidence boost they needed to invest in a pedal line. Their stompboxes retain the retro sound and vibe of the sixties, but come kitted out with novel circuitry.
Of course, it wouldn't be Rotosound without awesome new strings and an A-list clientele to swoon over them. They've brought out more signature electric guitar sets than you can shake a stick at. There have even been a few ventures away from gear production. Dutch bigwig The Music Alliance entrusted them with their UK distribution. And only a few weeks ago, they acquired the discontinued guitar brand Westfield. Who knows where they're headed next. One thing's for sure! With their 70th anniversary coming up in a couple of years, there's no stopping Rotosound's supremacy. The How brothers are in the driver's seat now, and we're excited to go along for the ride.
String theory
Electric bass
Rotosound and electric bass strings are inextricably linked. Sure, they've got other offerings. But when push comes to shove, it's these strings that everyone goes nuts for. They're performance guaranteed.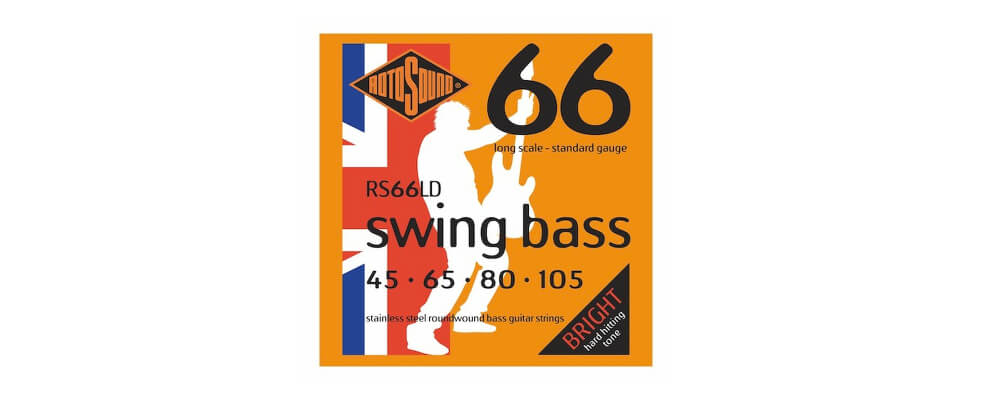 The ones that started it all. A labour of love between James Entwhistle and Rotosound, their syrupy, thick sound is inimitable. All the big names use them. They're characterised by their deep lows and defined highs with a zesty, zingy voice. The secret lies in their proprietary manufacturing process. These roundwound strings are a must for every arsenal, which probably explains their immense variety of scale length and gauges. They cater for five and six-string basses too. You can also take your pick of an all-round or bright tone.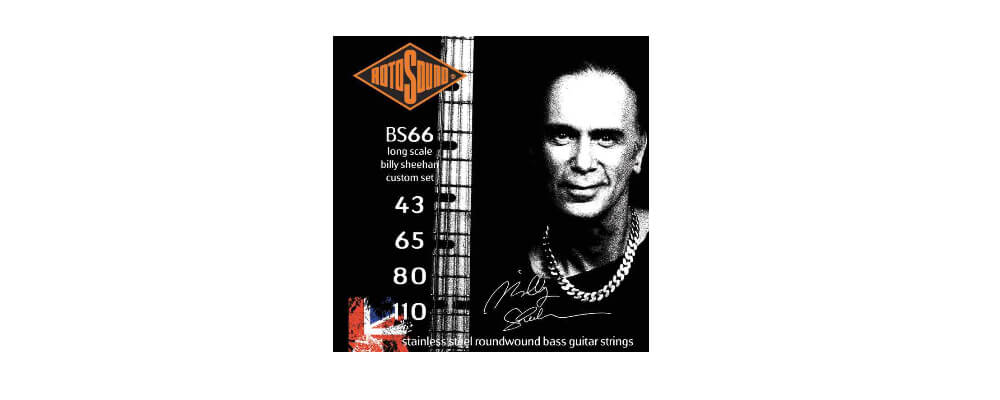 Billy Sheehan doesn't mess around. His custom-gauge strings seem like your typical RS66 until you put them to the test. That's when you'll feel the extra mass in the E-string. The low end is ultra-tight, and you'll definitely hear the volume. On the flip side, a lighter G evens out string tension across the neck for effortless bending. That .110 gauge lets you tune down to a low D without the risk of bottoming out or losing intonation. No joke, Sheehan's strings come alive at the slightest touch. Amp 'em up for massive aggression or tamp down the rudeness for everyday plucking and thumping.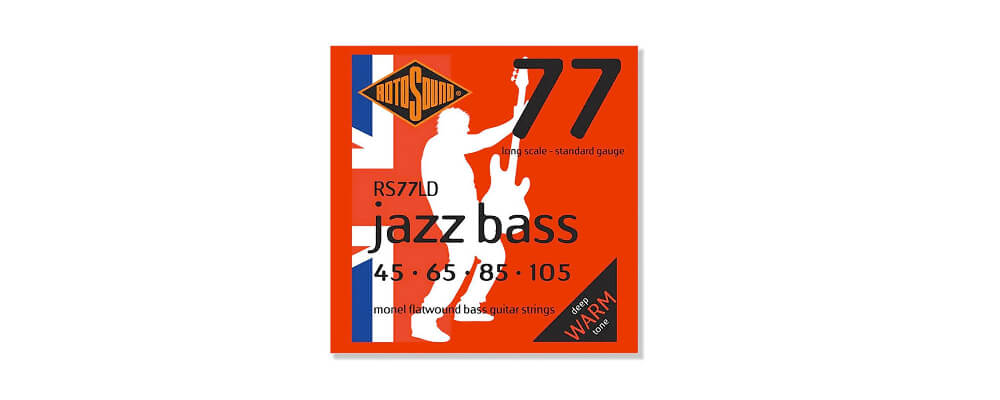 Rotosound's roundwound strings may be what they're best known for, but their flatwound sets are no slouches either. They've garnered a loyal fanbase that includes Iron Maiden's Steve Harris and Roger Waters. It's down to their distinctive high end. It brings much-desired clarity to mega-loud rock sessions without roundwound clang. Instead of stainless steel, they've gone with Monel 400 flat ribbons. This tough nickel/copper alloy resists corrosion while adding depth and resistance. Once you hear the warmth infused into each note, you'll be hooked for life.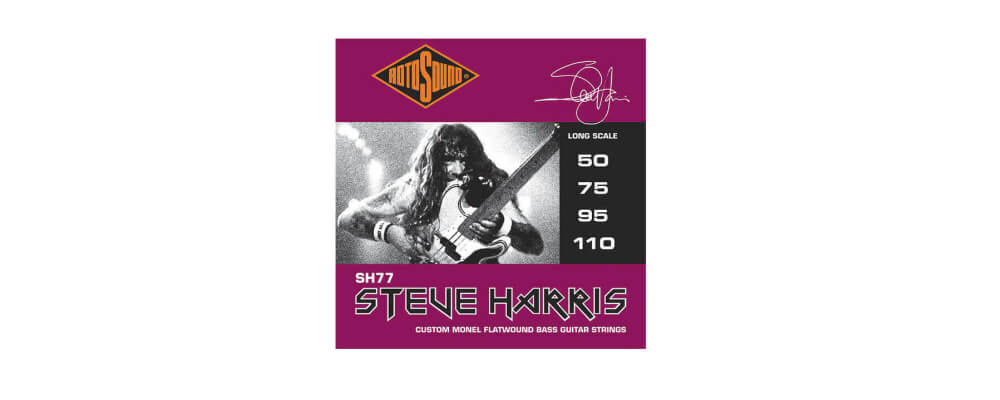 We did mention that Steve Harris was a staunch user of the Jazz Bass 77. To quote the man himself, "It's all I've ever used." So it's only fair that he gets his own signature threads. There's still that quintessential 70s Brit sound running through each one. Chock-full of Harris' preferred 4-string middle and low end, you're in for a silky, smooth playing experience. Tap out 'The Number of the Beast' with ease. Ensuring that everyone knows just who you're emulating, these sets have alternating coloured tail silks. The red-blue-red- blue combo echoes the hues of West Ham, Harris' favourite football team.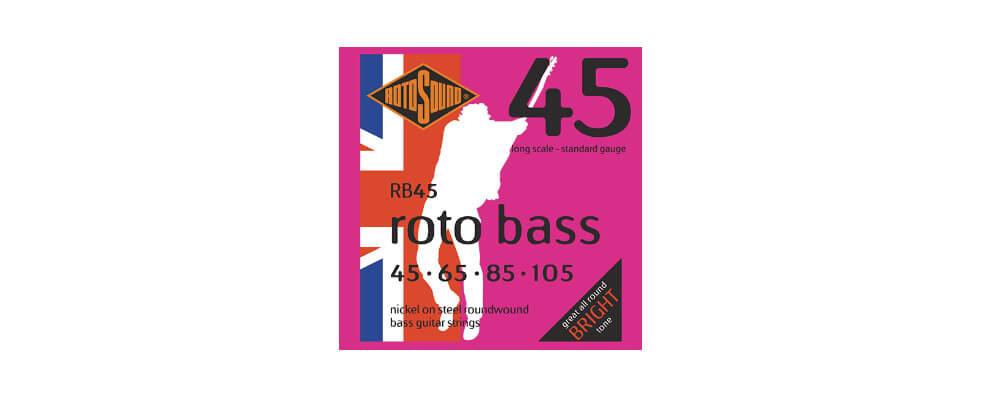 When the nickel on steel roundwound strings came out in the early 90s, no one was prepared for how sought-after they'd become. Looking back, it shouldn't have been a shock. After all, Rotosound turned the ever-popular Swing Bass 66 strings on their heads in order to produce these babies. It's a win, we say. Their bright and energetic tone never wavers. You can easily pick out their bellowy low-ends and crispy highs in any symphony mix. While these budget-friendly strings adapt well to all kinds of genres, they're particularly appealing in slap-happy funk creations.
Guitars
Bass might have the largest range in Rotosound, but electric and acoustic guitars aren't far behind. Thanks to custom-made computer-controlled winding machines, you can bet string consistency is maintained across the board.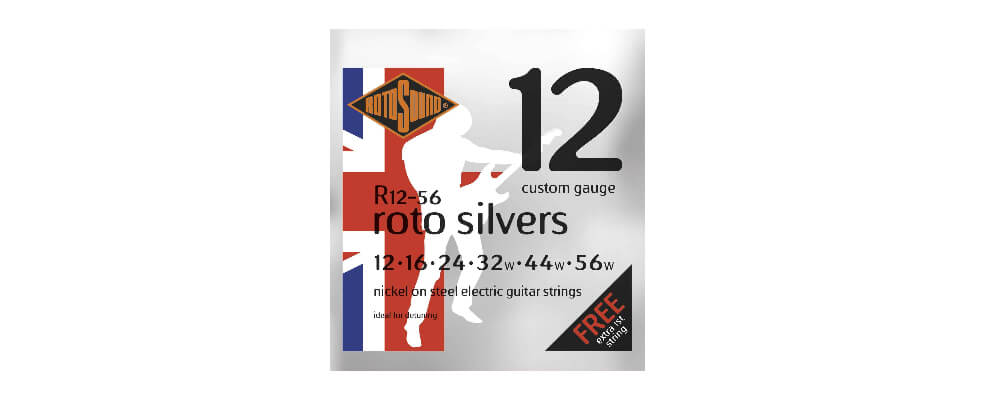 The Rotos are, without a doubt, big cheeses in Rotosound's world. They've been the company's best-selling electric guitar strings since their launch. These nickel-wrapped strings have danced at the fingertips of many virtuosos. Oasis, Franz Ferdinand, and Guthrie Govan are just some of the names that come to mind. Charmingly colour-coded for your gauging convenience, the roundwound strings lend themselves brilliantly to low-tuning situations. Catering to 6, 7, 8, and 12-stringed guitars, they've got a trick up their sleeves – the core-to-cover ratios of their manufacturing process greatly improve sustain and tonal nuances. Plus, the extended European eye gives strength at the ball-end. It's just a more technical way of saying that these are some good strings.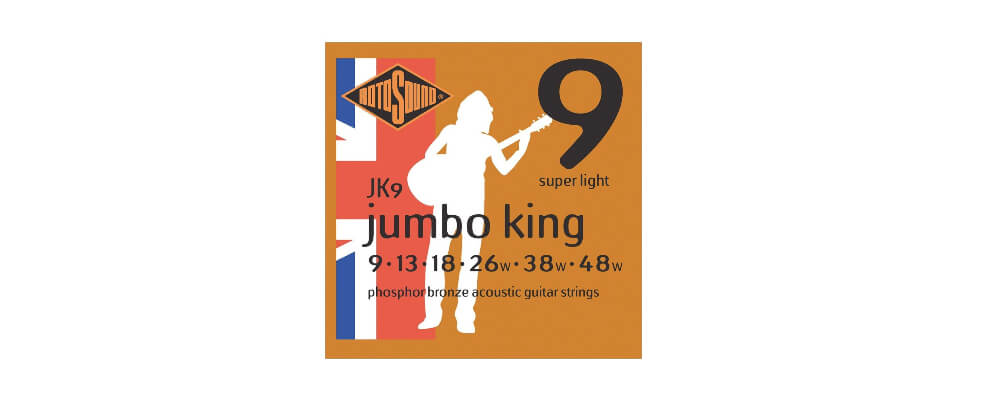 Bigger is better, and jumbo is king. Rotosound's top acoustic guitar strings are chunk personified. The 92/8 alloy is made specially to fit the How family's exacting standards. It's Phosphor Bronze wrapped around a hexagonal core. How would you coax such crystalline top ends and chewy bass notes from your guitars otherwise? Articulation is top-notch, as is clarity and sustain. Despite being made for a traditional instrument, their song features are incredibly diverse – from The Third Eye Centre by indie darlings Belle & Sebastian, to Liverpudlian rockers Echo & The Bunnymen's Ocean Rain. Just goes to show that no one can resist these strings' royal charms.
---
And with that, our Rotosound tour is over. That may have seemed like quite the scroll, but trust us – we've barely scratched the surface. Rotosound's product line is bursting at the seams with over 24 different types of bass and guitar strings. And we haven't even gotten to their other instrument strings or accessories. So if you can't see your favourite product on our menu, don't panic! Give us a nudge and we'll pre-order it for you.
What's left to do? Why, peruse the enormous Rotosound collection down at the Swee Lee website! These strings are online exclusives at the moment so be sure to fill up your virtual carts. Also, sign up for our newsletter. It's where you'll meet all the cool new arrivals and promotions at your own discretion. No strings attached.
Read more: Guitars, Basses, Ukes: It's Time to Learn a New Instrument