Remember that one time you told someone that some day you'll learn the guitar? Back then we had all the excuses in the world, "I'm wayyy too busy!"
Well, now we do – and thanks to the Internet, we've also got the resources to learn to play at home for free.
Guitars, basses and ukuleles are some of the more affordable instruments to play and they can be relatively easy to start with. Choosing the right instrument that suits you best – now that's a bit challenging at the start.
We've put together this collection of music instruments to help all you aspiring musicians make the best of your time at home and learn a new skill. So without further ado let us begin!
Let's start off with the guitar – one of the most popular starter instruments out there since the later half of the 20th century and with good reason! Being as versatile as they are, guitars are instruments that have managed to sneak their way into virtually all types of music genres. It's important to choose a guitar that reflects the type of music you ultimately want to play!
The acoustic guitar, simply put, is a guitar that amplifies the vibration of its strings without the need of electrical amplification. Characteristically, the acoustic guitar is highly portable, quiet enough to practice without creating a racket and has a gentle learning curve.
For those reasons, acoustic guitars are usually what beginners start with. And for that reason, they're usually more affordable than other guitar variants. You also just pick it up and play – you don't need any additional equipment such as amps or other accessories to get started.
There are two main types of acoustic guitar: the nylon string acoustic (also known as the classical guitar) and the steel string acoustic.
Nylon string guitars offer a more comfortable playing experience due to nylon being a lot more forgiving on the digits. Their strings have a "softer" feel and a lower tension that make holding down notes a lot more easier in comparison to the steel strings used on acoustics. But if you opt to start with a steel string acoustic, with patience and time, you will gain the finger strength to play without feeling any discomfort.
Soundwise, nylon string guitars have a mellower and rounder sound, well suited for classical and world music. In contrast, steel string guitars have a brighter and more robust sound that is more popular in contemporary music.
Fender FA-125S Folk Acoustic Guitar Pack, All Mahogany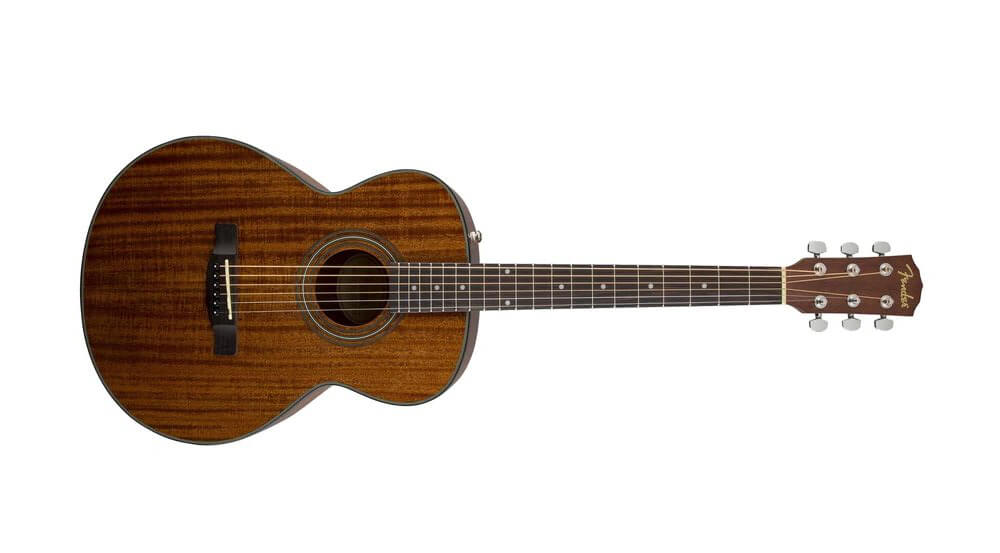 The first on our list is a steel string acoustic – the FA-125S Folk Pack presents you with a richly resonant small-body guitar with all-mahogany construction and everything you need to start playing. An electronic tuner, gig bag, picks, string winder and instruction booklet are all included. For beginners, there's no better way to start learning acoustic guitar. The FA-125S has a scalloped X bracing for resonant tone and beautiful binding and multi-piece rosette.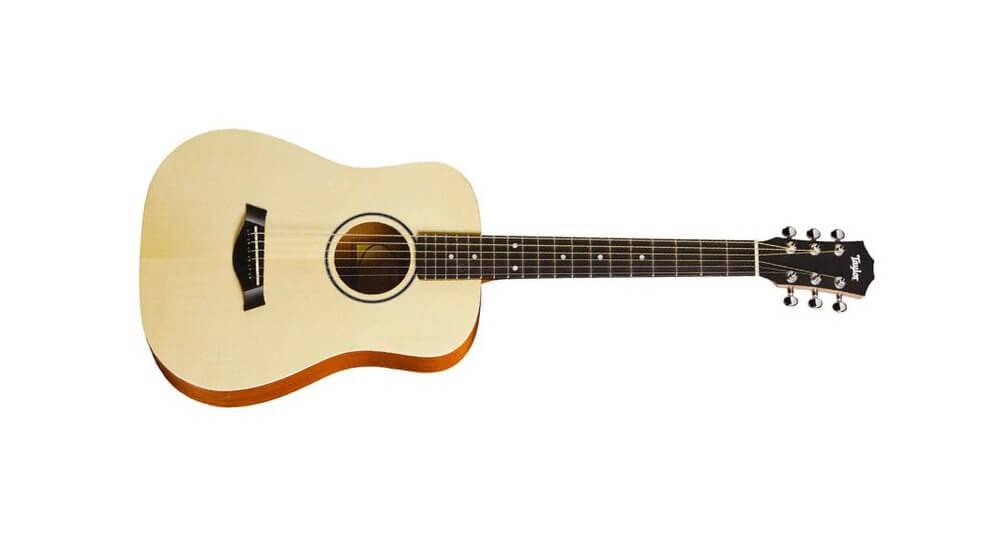 Crafted to be smaller and easier to play, the Baby Taylor is both the ideal beginner and travel guitar. Don't be fooled by its 'Baby' tag – this guitar does it all without sacrificing any reputation in craftsmanship and the famous tone Taylor Guitars are known for. The added portability of this guitar still allows for great sounds and typical guitar applications. The e-version also comes with a pickup with onboard tuner, further enhancing its features and usability for practice and live performances.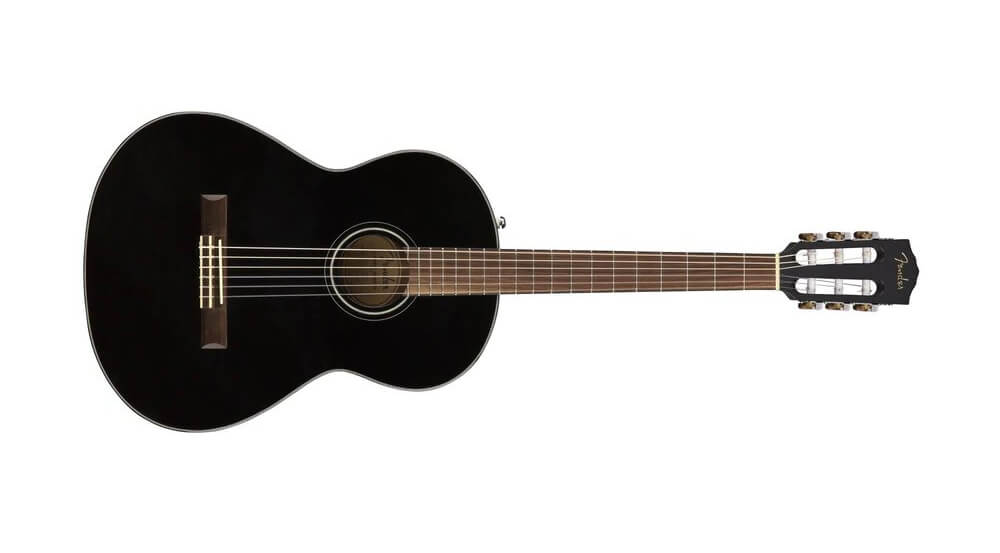 The Fender CN-60S aims to combine the easy playability and distinct tone of nylon strings with the comfort of steel-string spacing. The typically wide necks normally found on classical guitars have been replaced with the narrower necks found on most acoustic guitars, making this guitar the perfect choice for younger players or beginners looking for a more comfortable playing experience. This classical guitar also features a solid spruce top, mahogany back and sides and rolled fingerboard edges for the best possible tone for those who are just embarking on their musical journey.
Electric guitars are the place you want to be if you aspire to live in the land of rock, blues and metal. While it is most associated with overdriven tones, the electric guitar is incredibly versatile due to the sheer amount of effects it can be paired with.
Similar to the nylon string guitar, electric guitar strings are easier to hold down due the lighter string tensions and the closer proximity of the string to the fretboard, compared to their steel stringed counterparts. Electric guitars can be as quiet or as loud as you want them to be as they require external amplification to translate the vibration of the strings (via magnetic pickups) into sound. This means that if you opt to start with an electric guitar you'll need an amp and a few accessories to get going.
The fastest way to get started without the headaches is to pick up one of the many all-in-one kits that have everything included.
There are many different types of electric guitars, solid body, semi-hollow and many more, but it's best to start with the most popular – the solid body electric guitar.

Epiphone's Les Paul Player Pack has everything you need to start playing guitar right away, including a genuine Les Paul Special-II LE guitar featuring two classic humbucker pickups and a 10-watt Electar guitar amp with a 10ft guitar cable.
Also included in the pack is a clip-on headstock chromatic tuner, a guitar strap, medium picks, and an easy-to-carry gigbag. Best of all, the Les Paul Player Pack comes with free downloadable beginner guitar lessons from eMedia covering rock, blues, folk, country, hard rock, metal, and everything in-between.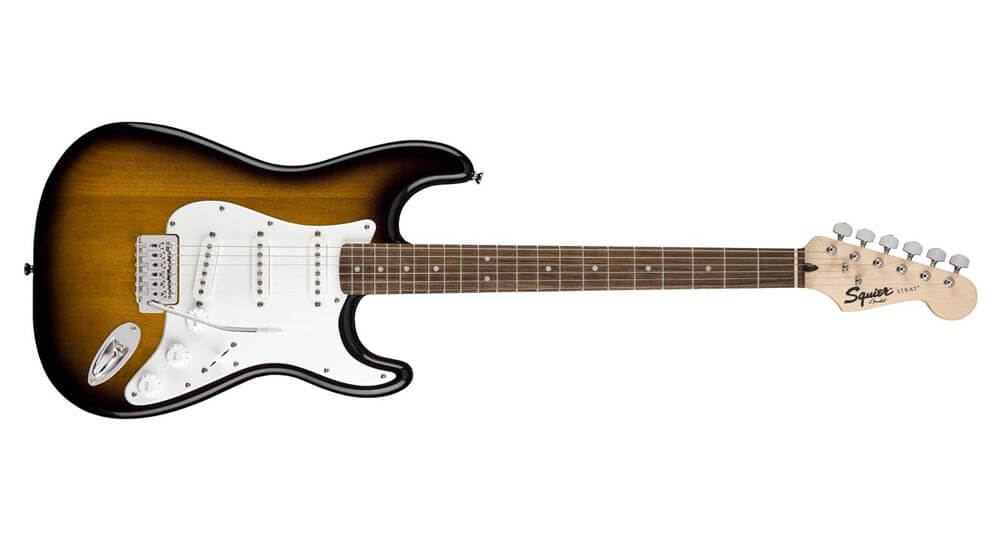 A perfect choice for beginners, the Squier Strat Pack has everything you need to begin playing right out of the box. This pack includes a lightweight Stratocaster, equipped with a vintage-style tremolo bridge for classic pitch modulation and three single-coil pickups for that classic Fender tone.
You get a free 3-month subscription to Fender Play – Fender's online resource to learn guitar. The included Squier Frontman® 10G amplifier is the perfect companion for jamming thanks to its aux input that allows you to play along with your favourite songs or backing tracks, as well as a headphone jack for silent practice.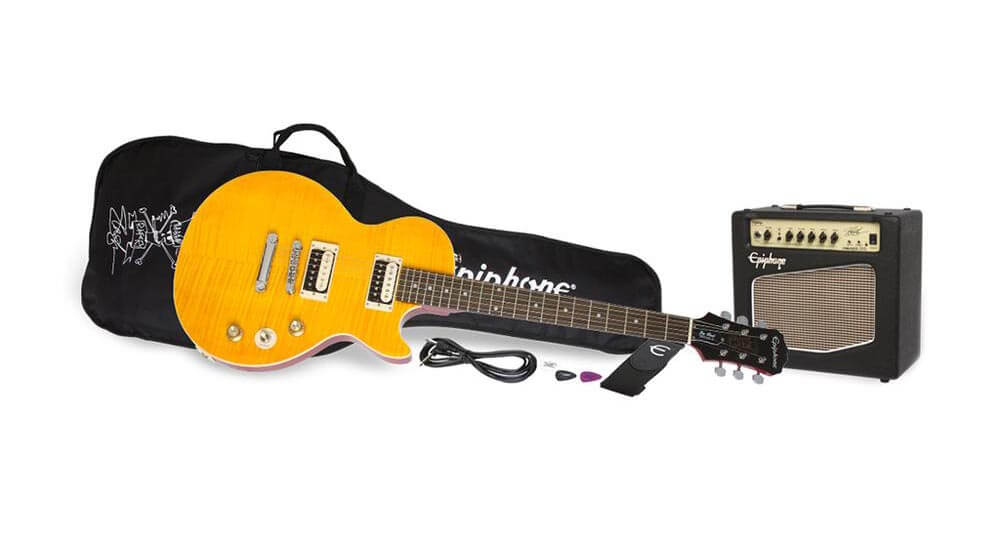 One of Epiphone's premier signature artists, Slash is undoubtedly one of the most recognisable Les Paul players today. To make sure his great tones are available for the masses, Epiphone teamed up with Slash to create the all-inclusive "Appetite for Destruction" Les Paul Performance Pack for beginners looking for a great rig at an unbeatable price point.
Featuring a Slash-designed Les Paul Special-II in classic Appetite Amber finish, a premium gig bag, a 15-watt Slash "Snakepit' amp with 2-channels, custom Slash signature picks, and free online lessons from eMedia – the "Appetite for Destruction" Pack has everything you need to start rocking out with the best of them!
A 4-string guitar? You'd be close but not really. While the bass guitar may look similar to the electric guitar, there are many subtle (and not so subtle) differences that make it a unique instrument in its own right. In general terms, the bass guitar has a longer scale length (maximum vibrating length of the strings) that allows it to tune to lower pitches without feeling floppy.
Though not as glamorous as the electric guitar (Flea would like to have a word), the bass actually has the most crucial role in a band setting – the bassist is responsible for anchoring the harmonic framework and establishing the backbeat by locking in with the drummer.
You should play the bass if you love the unmistakable low thump and growl that only an instrument that exists in the low frequencies can make. After all, what's not to like about hitting a note and feeling the sonic waves shake the floor and hit you right in the chest!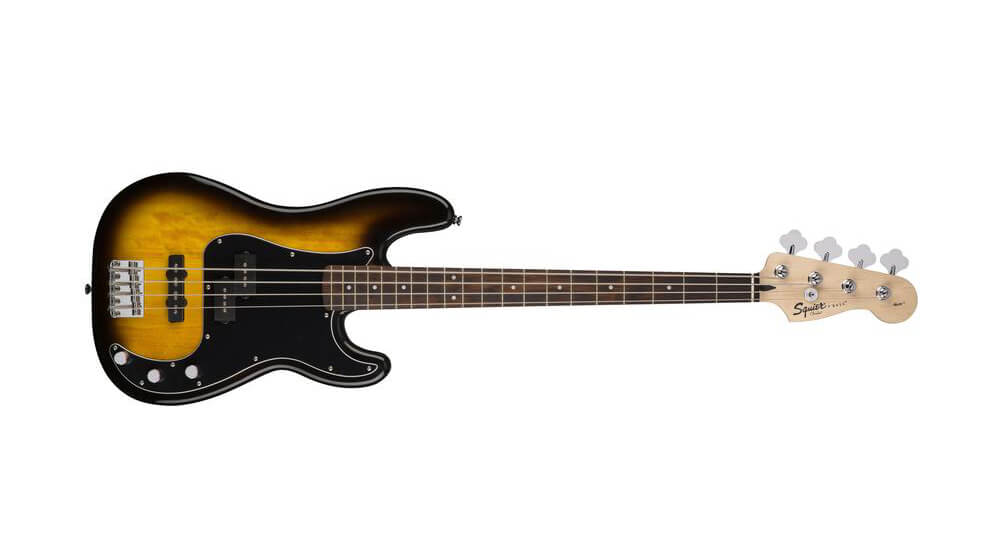 Ideal for first-time players, the Affinity Series Precision Bass has everything you need to stop dreaming and start playing. Powered by a split-coil humbucking pickup and a single-coil pickup in the bridge, this combination is one of the most versatile out there. It also features a smooth-playing "C"-shaped maple neck and a lightweight poplar body shaped for easy playing. You get a Rumble 15 amplifier that features an 8″ Fender Special Design speaker, a three-band EQ, a headphone jack for silent practice and an aux input for playing along with your favourite songs or backing tracks. Also included in the pack is a free 3-month subscription to Fender Play – the easiest way to learn bass online.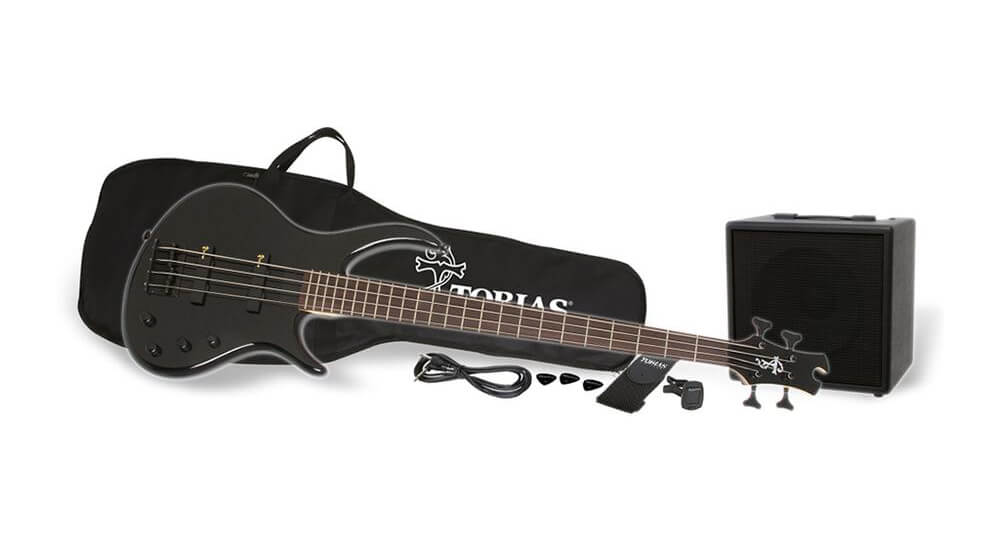 For a more contemporary look and feel, Epiphone used a tried and tested formula from their time collaborating with bass guru Michael Tobias. The Toby Standard IV features classic Tobias-designed ergonomic body shape that many find so effortless to play. The dual single coil pickups are wired to a blend control, a nice touch seen on higher-end basses.
You get a 15W bass amp thrown in for good measure, and all the necessary accessories to get started. And just like all the other packs featured, there are free online lessons available via eMedia.
Did you know that the Ukulele translates to "jumping flea"? While there are many narratives of how the ukulele came into existence, one thing is for certain though; the ukulele is widely agreed to have been a derivative of the cavaquinho and machete instruments of Portugal. Having been brought to the pristine islands of Hawaii by Portuguese immigrants in the 19th century, the ukulele was refined over time into the instrument we know and love today.
Like a tiny classical with with four strings, the uke is tuned to the higher pitches of G-C-E-A in contrast to the guitar's lower pitched six-strings. It's two strings less, but it's in no way a lesser instrument! We're sure you've heard the uke in a broad range of musical genres, including jazz, country music, pop, world music, and rock.
With its usage of nylon strings, shorter scale length, and smaller body and neck, the ukulele is widely acknowledged as the easiest instrument to play on the planet, no matter what age you are. Strum it around the house, sing a song to your friends on your video calls, and when we all get to go out again, take it with you – they barely weigh anything!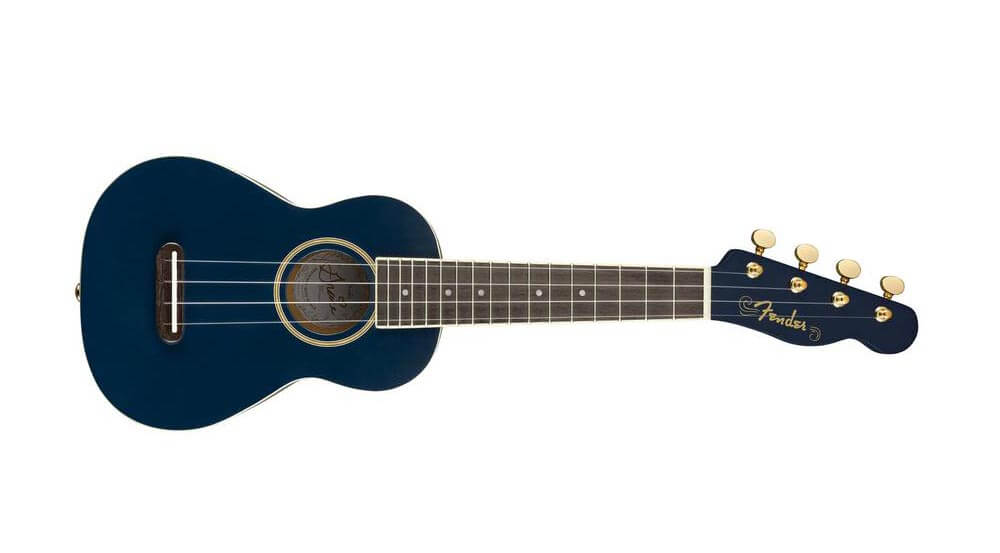 Inspired by the soprano ukulele that accompanied Grace VanderWaal as she learned to play, the Grace VanderWaal Moonlight Soprano Ukulele is a marvellous introduction to the Hawaiian instrument. With its comfortable smaller body, enticing sound and stage-ready features, the Grace VanderWaal Moonlight Soprano Ukulele is the perfect partner for anyone looking to get into both learning and performing music. Reflecting Grace's unique style, this ukulele has an elegant Navy Blue satin finish, gold sparkle rosette, gold hardware, custom floral soundhole label, and Grace's distinctive heart signature adorning the back of the headstock.
Epiphone Hummingbird Acoustic/Electric Tenor Ukulele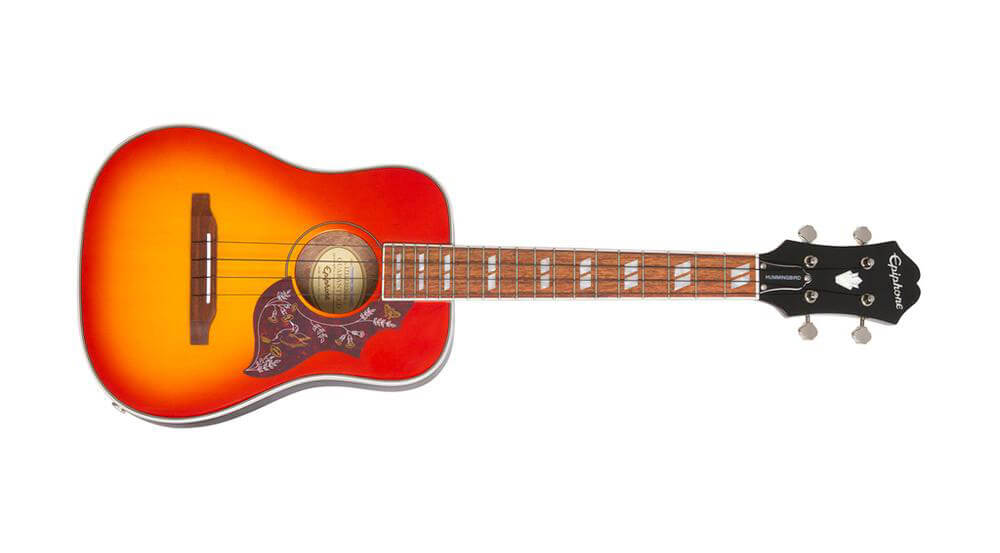 Taking design cues from Gibson's iconic Hummingbird guitar, the Epiphone Hummingbird Acoustic/Electric Tenor Ukulele is a great-looking instrument with a whole lot of mojo. Crafted with a select spruce top, mahogany back and sides, and a solid mahogany neck with granadillo fingerboard, this ukulele has a sweet tone with a build quality to last. An onboard piezo film under-saddle pickup delivers impeccable amplified tones so you'll never be caught with your pants down if you need to plug in.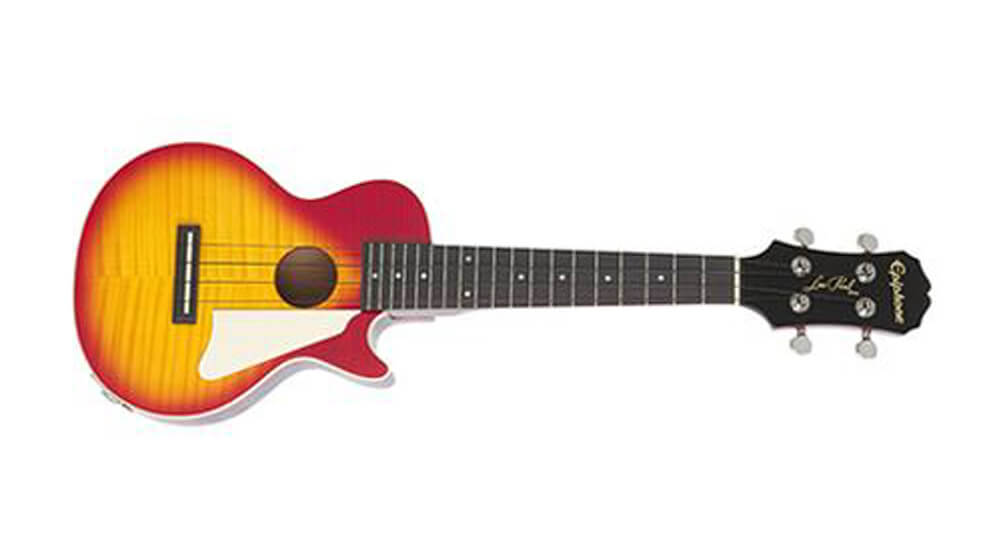 The Epiphone Les Paul is acoustic-electric tenor ukulele crafted with the same love and care they put into their world-famous guitars. This stellar uke features a flamed maple laminate top, mahogany back and sides, and a solid mahogany neck with a rosewood fingerboard. The rosewood bridge houses a passive piezo pickup that allows you to amplify your uke for performances or recording sessions. To complete the classic Les Paul look, Epiphone even put a cream pickguard on the top and the iconic Les Paul signature on the Epiphone headstock.
---
Learning a new instrument can sometimes be tough but extremely gratifying. But once you're in the groove, a whole new world awaits – and just you wait till the excitement of new gear hits you! You can always place an order online and you'll have a New Gear Day to put a smile on your face soon!