It's that time of the year again, the season of guitars that is! Once again, we're honoured to be able to bring back to Singapore the highly-acclaimed Taylor Road Show.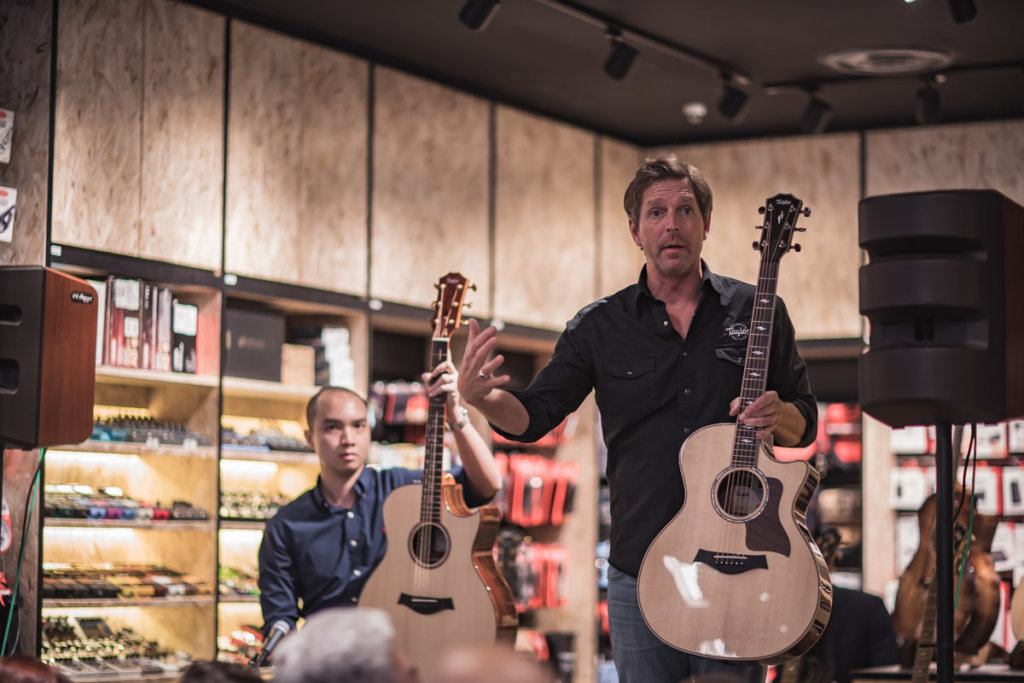 The Taylor Road Show brings Taylor's friendly factory experts to select dealers, where you get to hear the latest from the Taylor factory and learn about these incredible instruments.
We just concluded the Taylor Road Show at our Star Vista Flagship store, and we had Billy Gill from the Taylor team show off and demonstrate how different guitar shapes and woods affect tone, their revolutionary V-Class bracing and share tips on how to choose the right guitar for your playing style. Our gleeful group of guitarists got to ask questions and pick Billy's mind about everything and anything to do with acoustic guitars.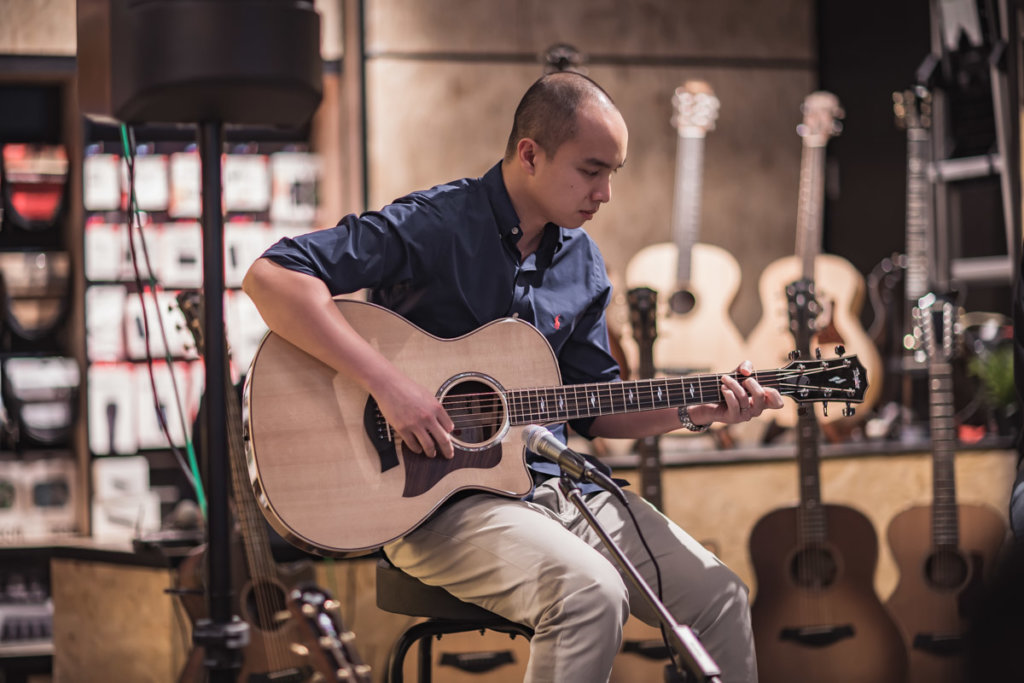 One of the highlights of the Road Show are the beautiful and exclusive Taylor Guitars that were on display – from exotic woods, top-of-the-line features, impeccable construction techniques, that are fit for the collections of even the most discerning collectors.
Even if you missed out on the Road Show, we're still eager to show you them to you. Here are some of the very special Taylor models that were demo-ed and displayed at the Taylor Road Show earlier this afternoon.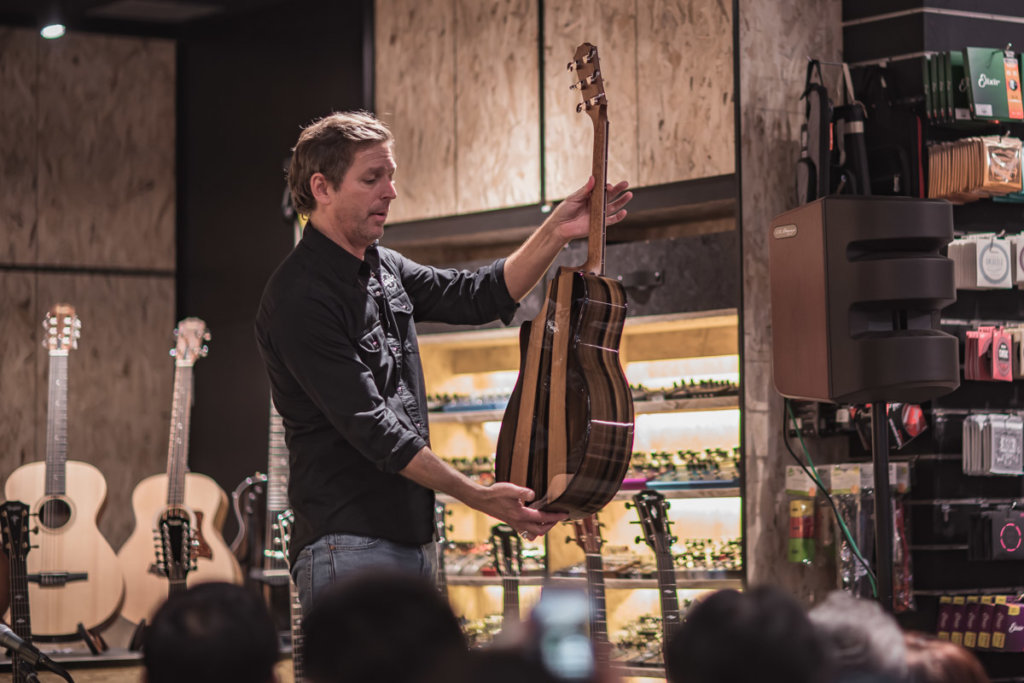 Taylor E14ce Road Show Exclusive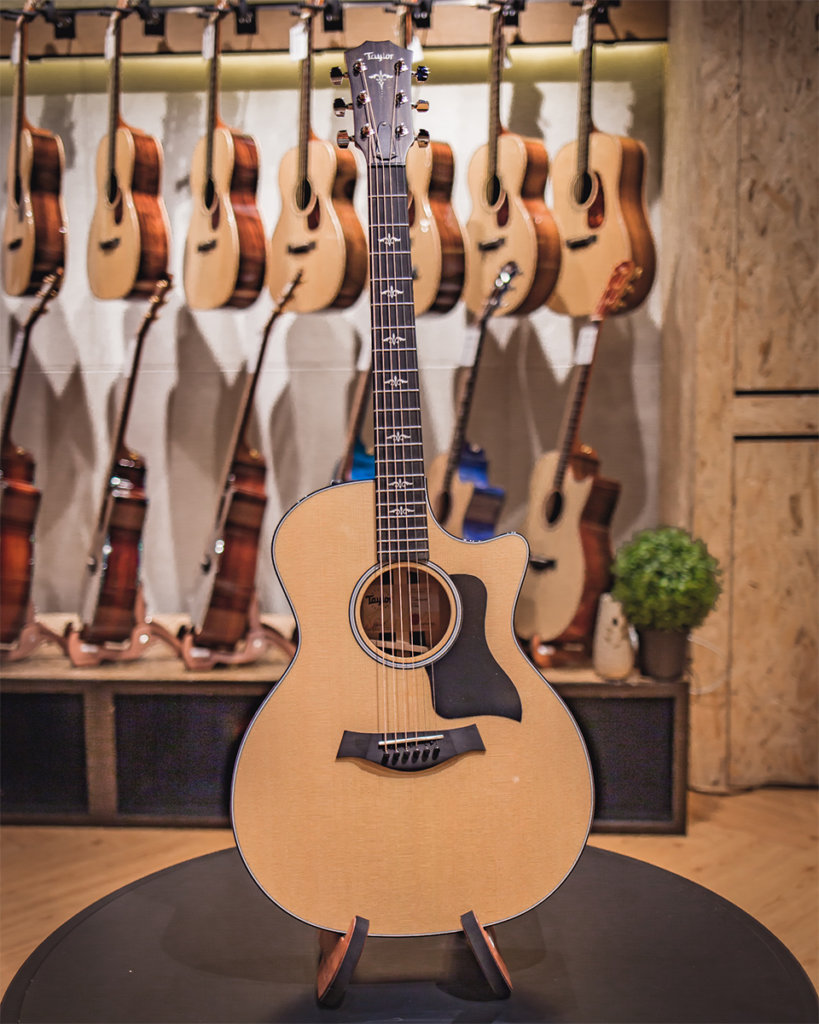 Taylor has kept this guitar under the hood for a bit and they've finally been unveiled as a truly limited model that's only available at their Road Shows. This beautiful Grand Auditorium is the E14ce. The centrepiece of this guitar is surely the stunning striped back and sides made with West African Ebony from Taylor's mill in Cameroon.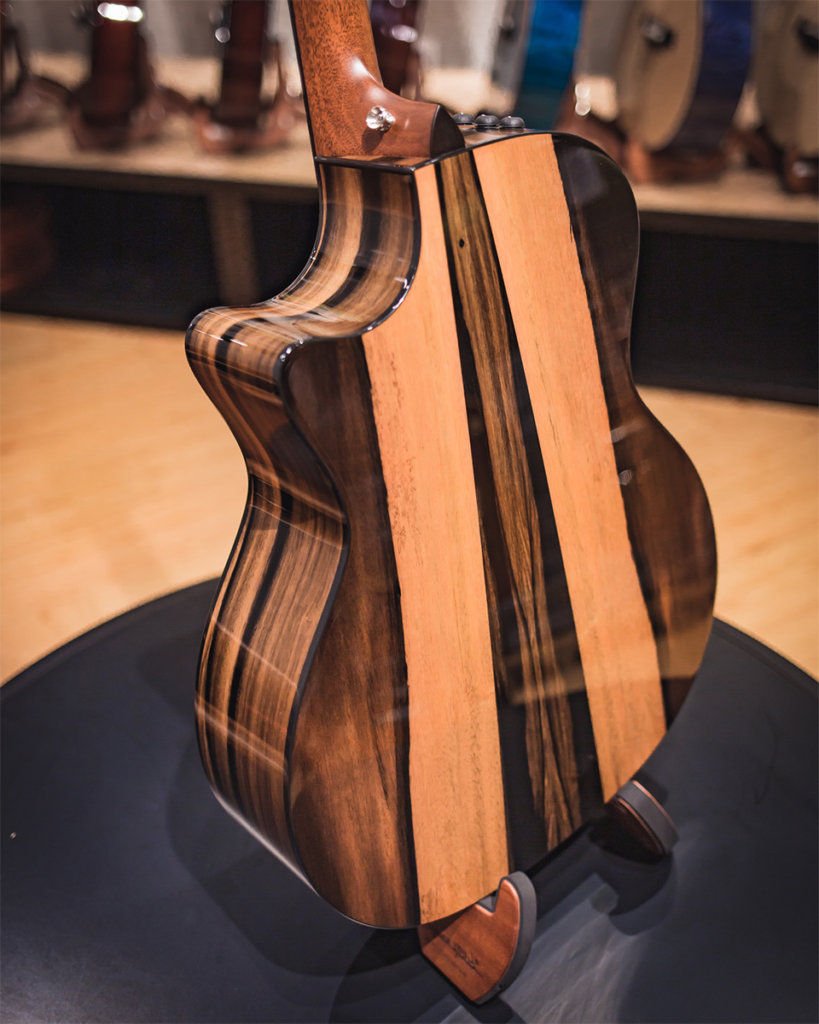 You'll only see a combination like this on models from Taylor's Presentation Series. Like most of the Taylor guitars featured at the Road Show, the E14ce boasts Taylor's patented V-Class bracing on its sitka spruce top. You get beautiful appointments like the Belle Fleur inlays on the fretboard and headstock.
We're privileged to be able to offer our customers such an exclusive piece like this. And in case you're wondering, the 'E' in the model name stands for ebony!
Taylor K24ce Builder's Edition Grand Auditorium Kona Burst V-Class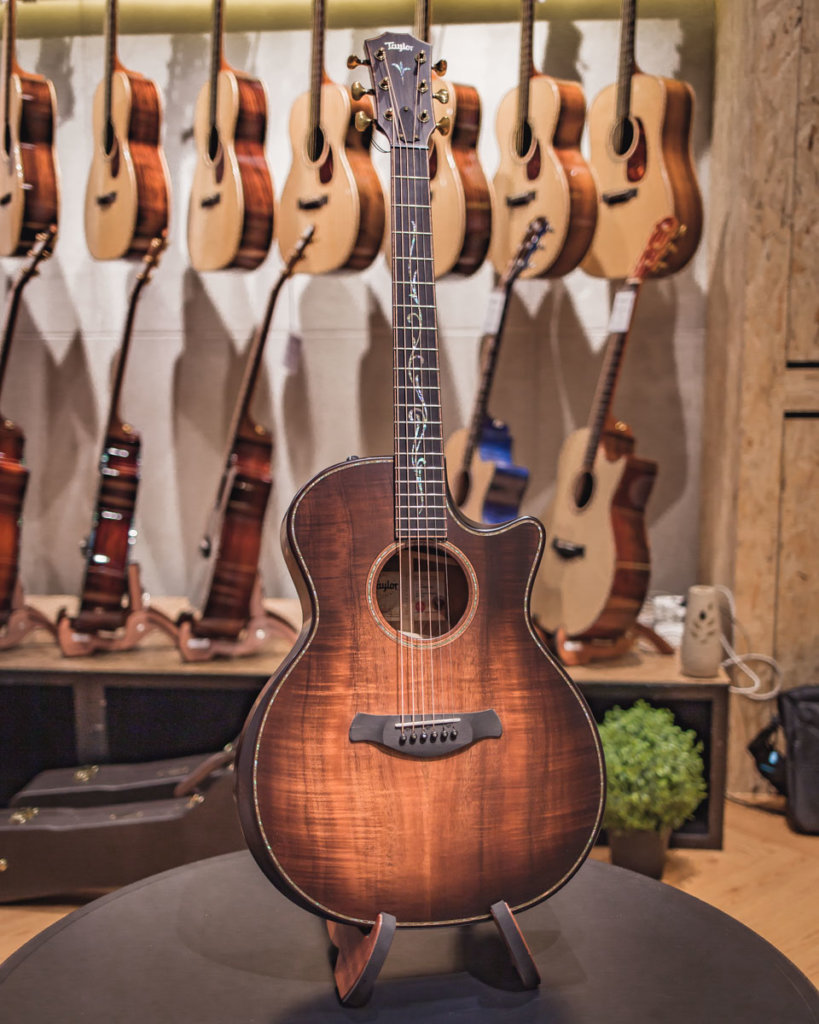 The latest addition to the Builder's Edition, the K24ce Grand Auditorium Kona Burst is representative of Taylor's efforts to craft the most player-centric guitars with regards to feel and sound.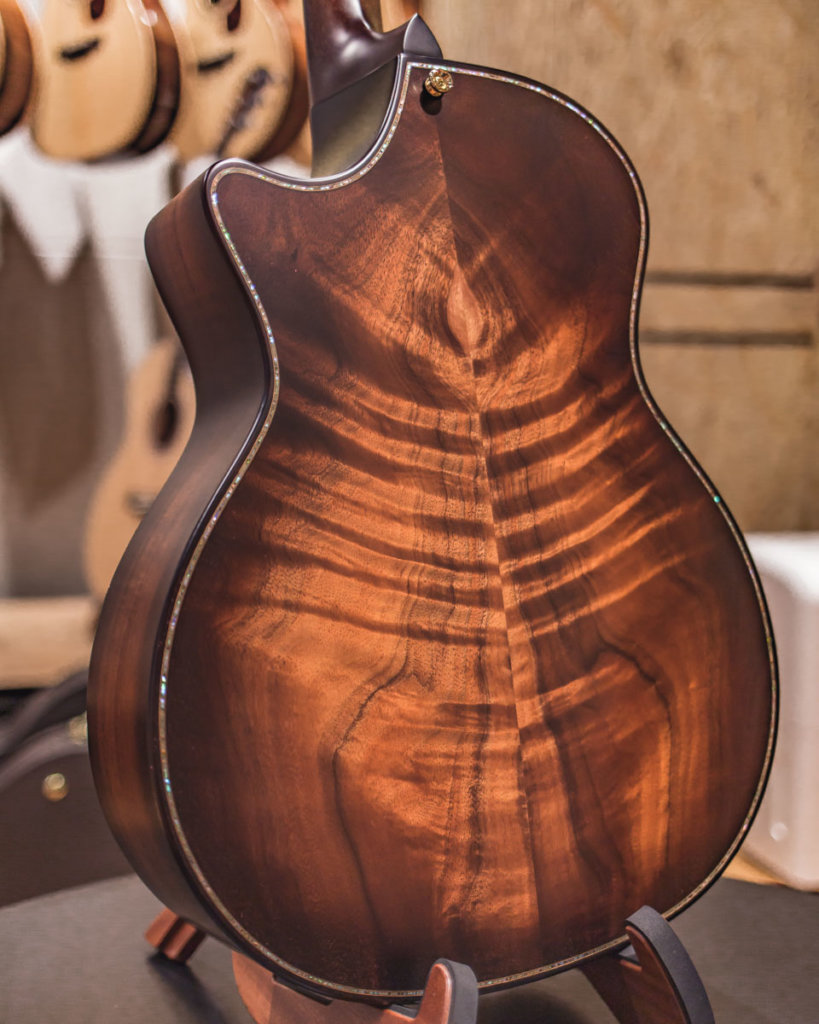 An all-solid Hawaiian koa build is burnished with Taylor's Silent Satin finish which doesn't just enhance the flames of the timber but also removes unwanted noise from any arm movements on the surface of the guitar.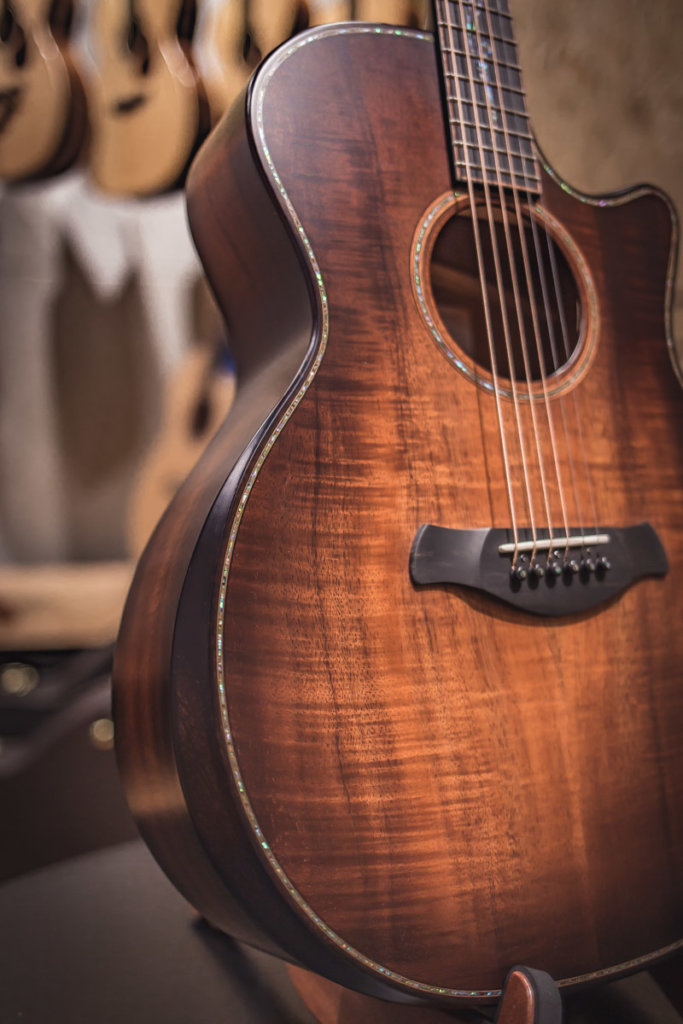 This shapely specimen has curves in all the right places with a double-contoured cutaway for upper-register access and a bevelled armrest that aids the K24ce's outstanding ergonomics.
Taylor 414ce-LTD V-Class Black Limba/Sitka Spruce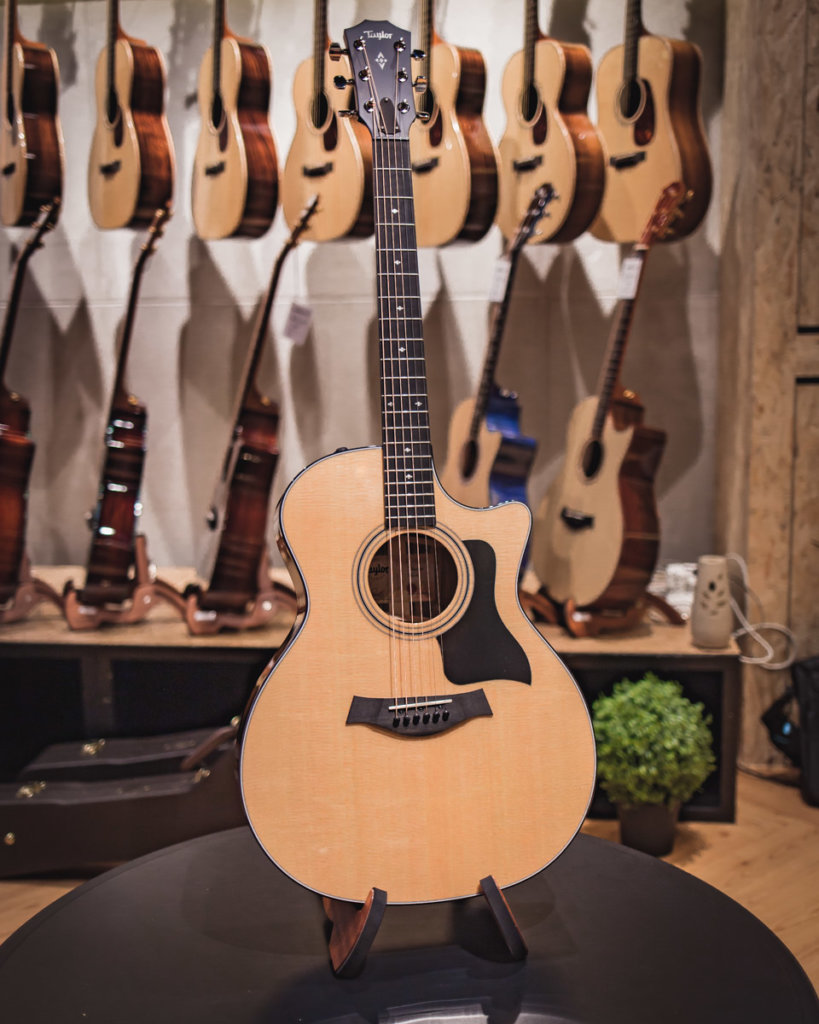 When it comes to playability and tone, Taylor's beloved Grand Auditorium is right up there at the top. Pairing the sitka spruce top is a beautiful and exotic black limba back and sides.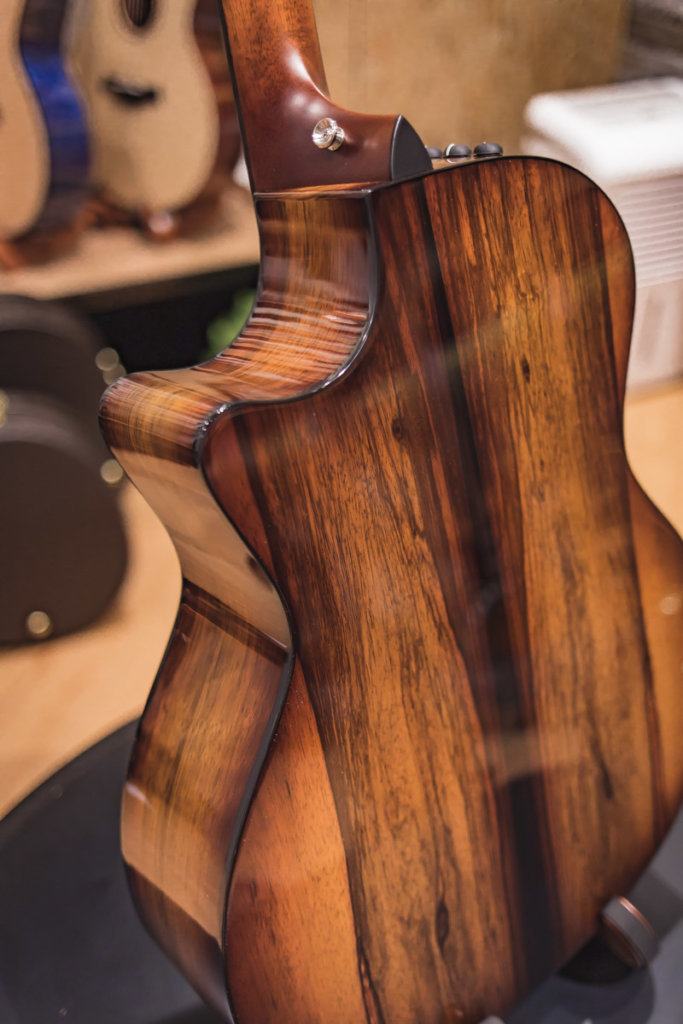 Black limba is an African hardwood tonally similar to mahogany, but with a slightly brighter tone. The body wood combination makes for a balanced tone with a punchy midrange and clear treble. Not to mention the sonic benefits from the revolutionary V-Class bracing!
Taylor 914CE-LTD Sinker Redwood/Indian Rosewood V-Class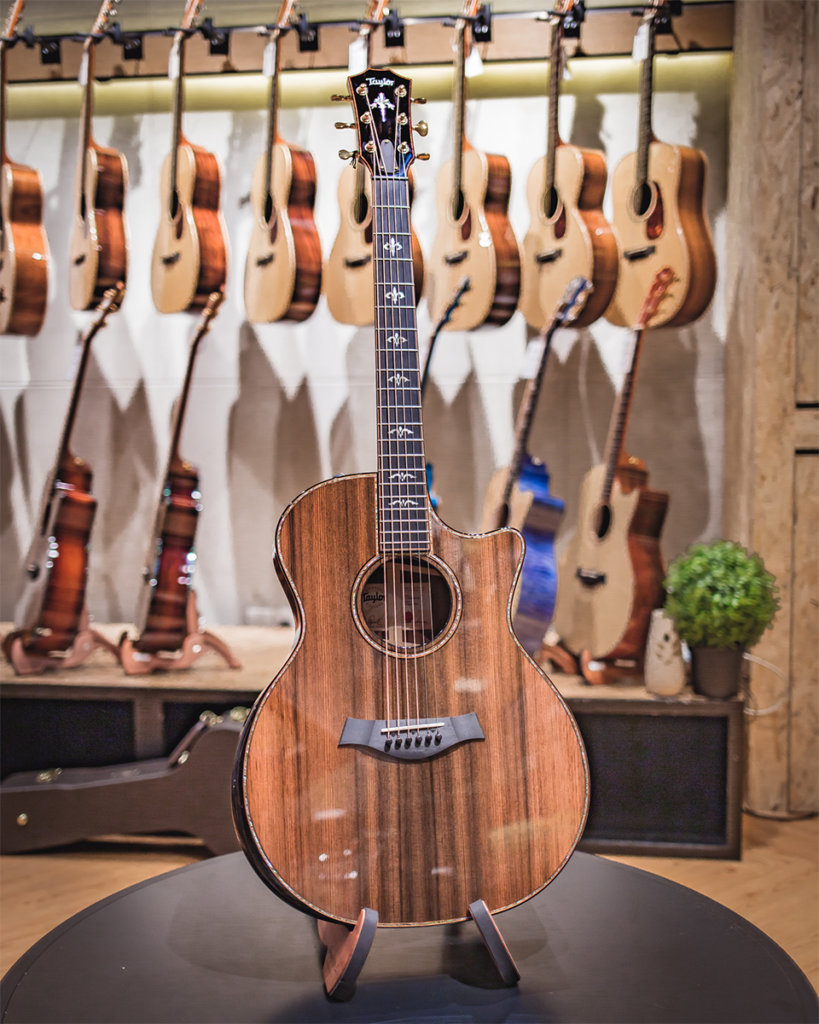 Taylor's 900 series is their flagship class of rosewood acoustic guitars, and this Limited Edition 914ce is a fine pick from the bunch. The gorgeous sinker redwood top exhibits a tight grain with nice cross-grain stiffness, resulting in rich resonance and warm undertones, further highlighted by the V-Class bracing adding volume and sustain. A welcome addition to this classy sounding guitar is its aesthetic brilliance. Beautiful appointments adorn this Limited Edition guitar, complete with mother-of-pearl and pink abalone fingerboard Ascension inlays, and a bevelled ebony armrest for comfort.
Taylor Custom 10686 Grand Auditorium Sinker Redwood/Africa Ebony
This one of a kind Taylor was one of their showpieces at the 2018 NAMM show where its beauty and elegance was clear to see. Featuring a custom wood pairing of sinker redwood and West African ebony and a host of aesthetic appointments, this special Grand Auditorium is one for the collection.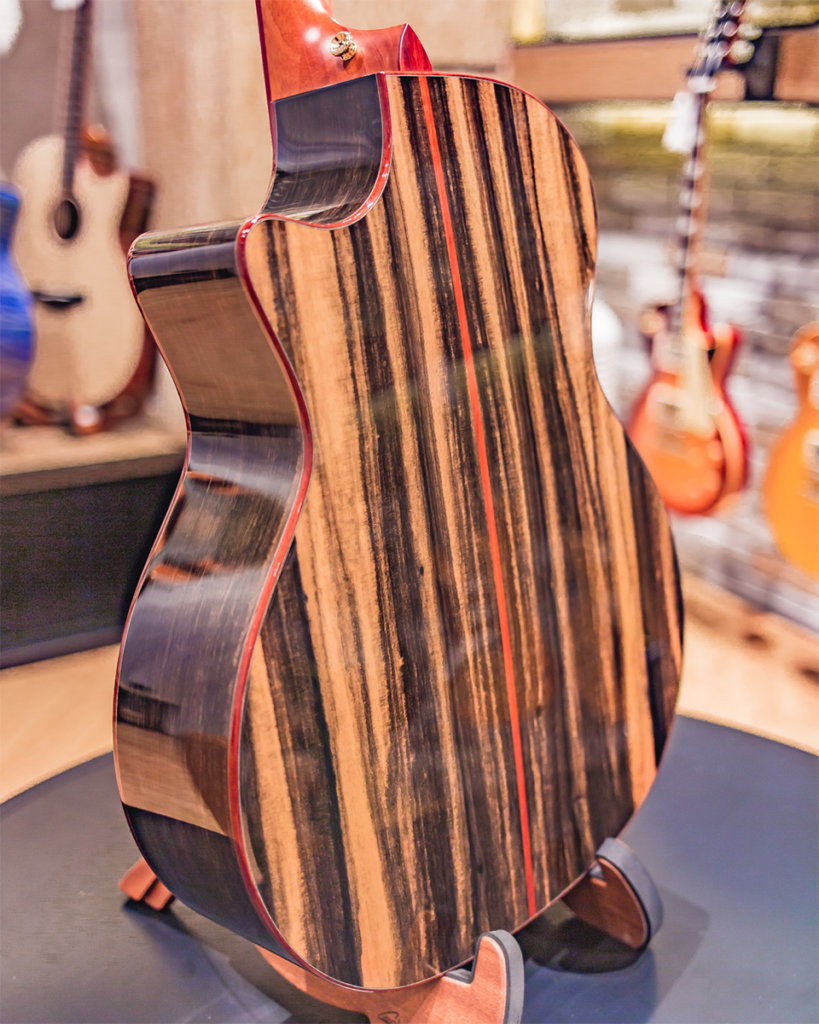 The fretboard is adorned with bloodwood "Wings" inlay, the soundhole rosette made from bloodwood, and topped off with a beautiful "Dove on a Branch" peghead inlay made of mother-of-pearl, koa and paua.
Taylor Custom 10794 T5z African Ebony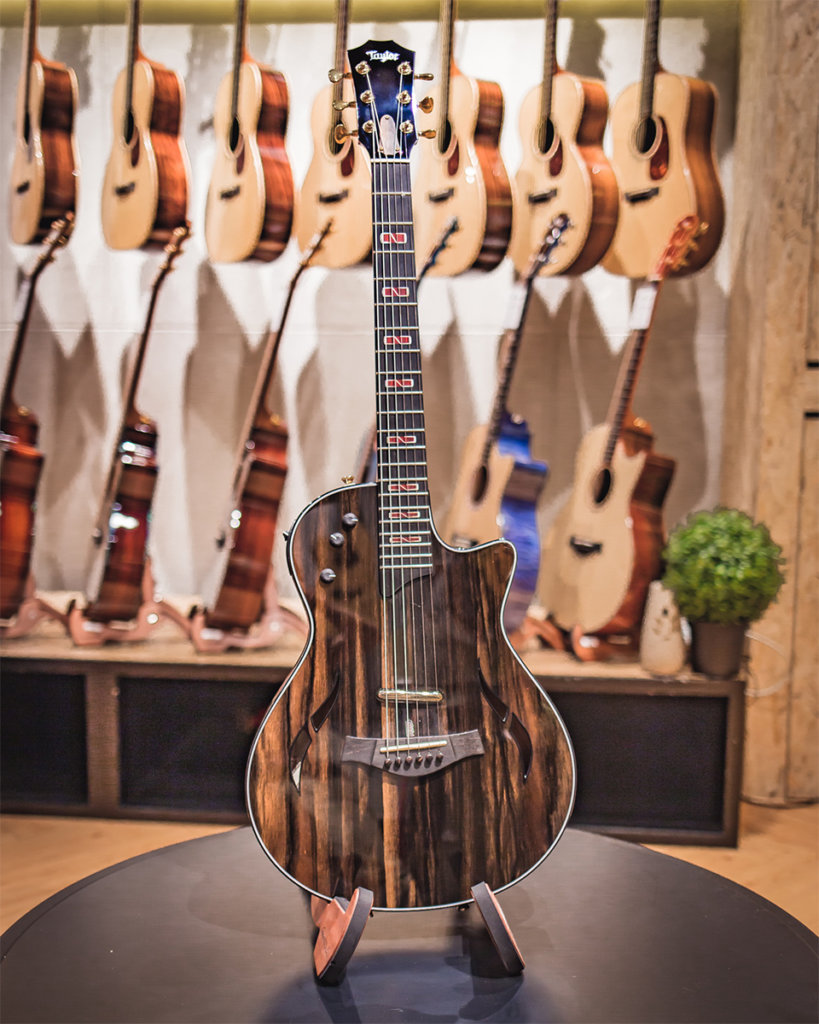 If you're in love with how beautiful Taylor's African ebony looks on their acoustic guitar's back and sides, you have to take a look at this Custom T5z. First displayed at the 2018 NAMM show, this Custom T5z features an African Ebony top, revealing its striking grain in all its glory. It's part of Taylor's original hollowbody hybrid electric/acoustic T5 family and has slowly become a favourite amongst gigging professionals, offering a dynamic range of electric and amplified acoustic tones into one instrument. Taylor has always been innovators and the T5 line showcases just what they're capable of with their proprietary three-pickup configuration and extensive switching capability.
Taylor Custom 11051 Grand Auditorium Lutz Spruce Top w/Quilt Sapele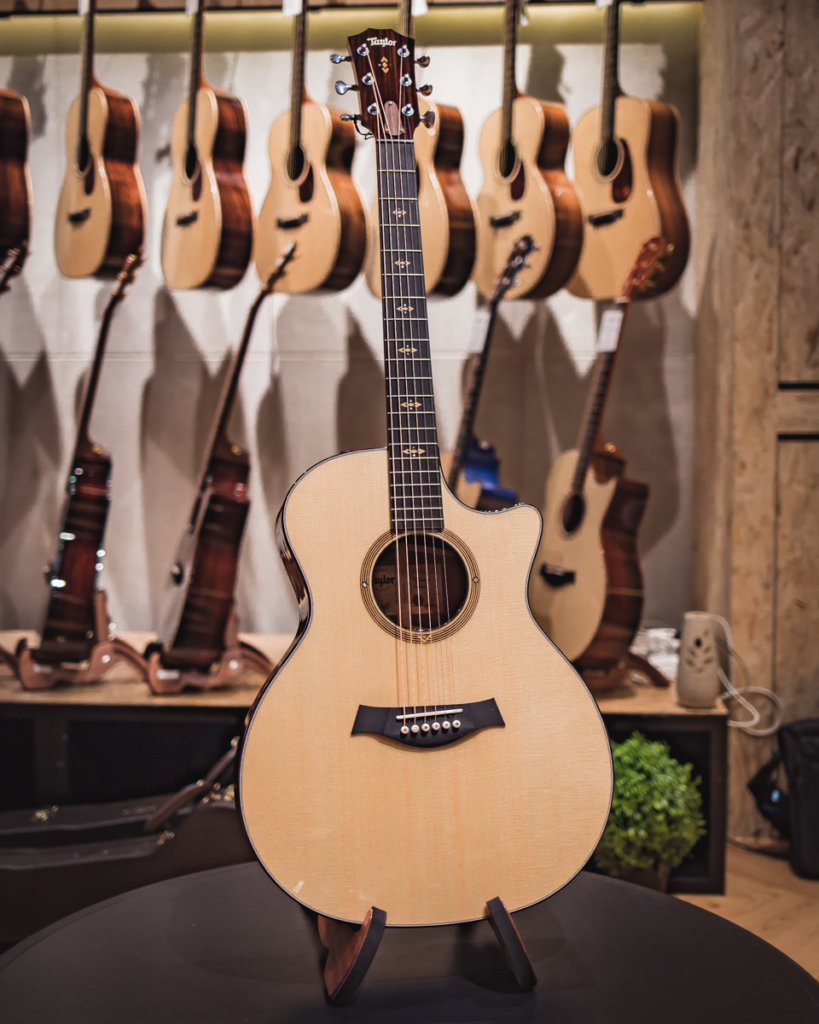 One of Taylor's favourite tone woods for its sustainability and versatile, consistent tone, sapele has been used on many of their models from the top selling GS Mini, Baby Taylors to their 300 series.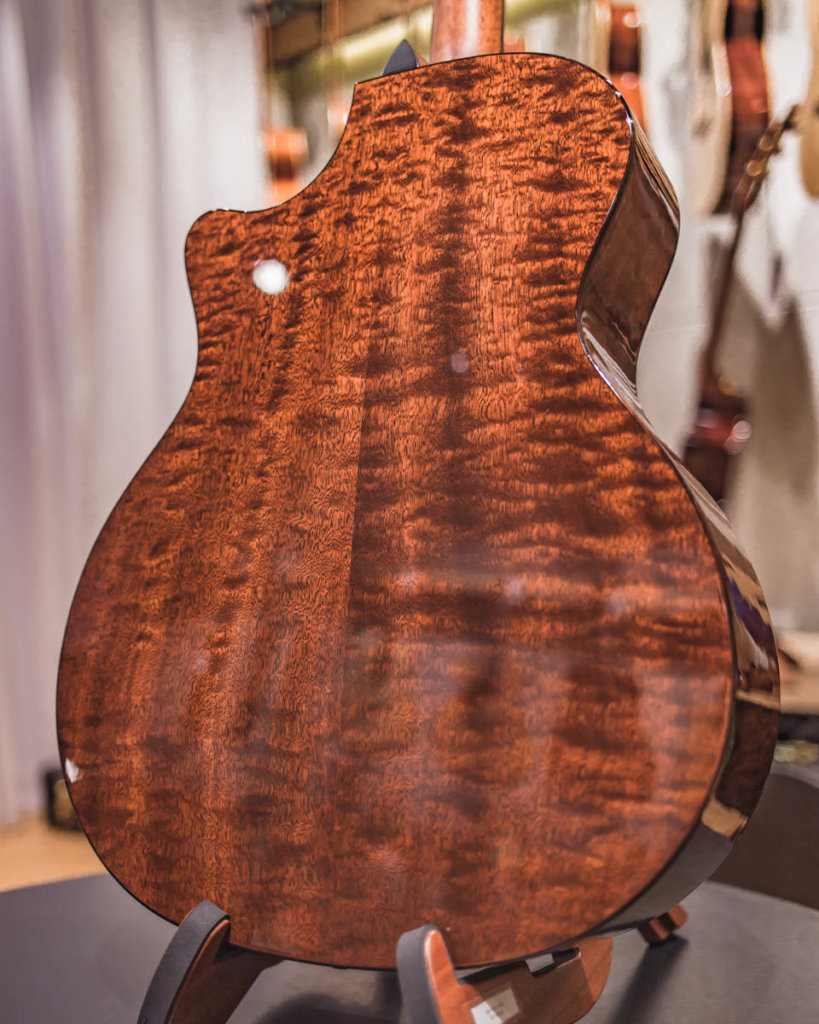 But what you see on the back and sides of this custom Taylor Grand Auditorium is a vivid quilted sapele. Paired with a Lutz spruce top for projection and tonal richness, this guitar is an incredible all-rounder, with looks to match.
Taylor Custom 11077 Sinker Redwood/Sassafras V-Class Grand Auditorium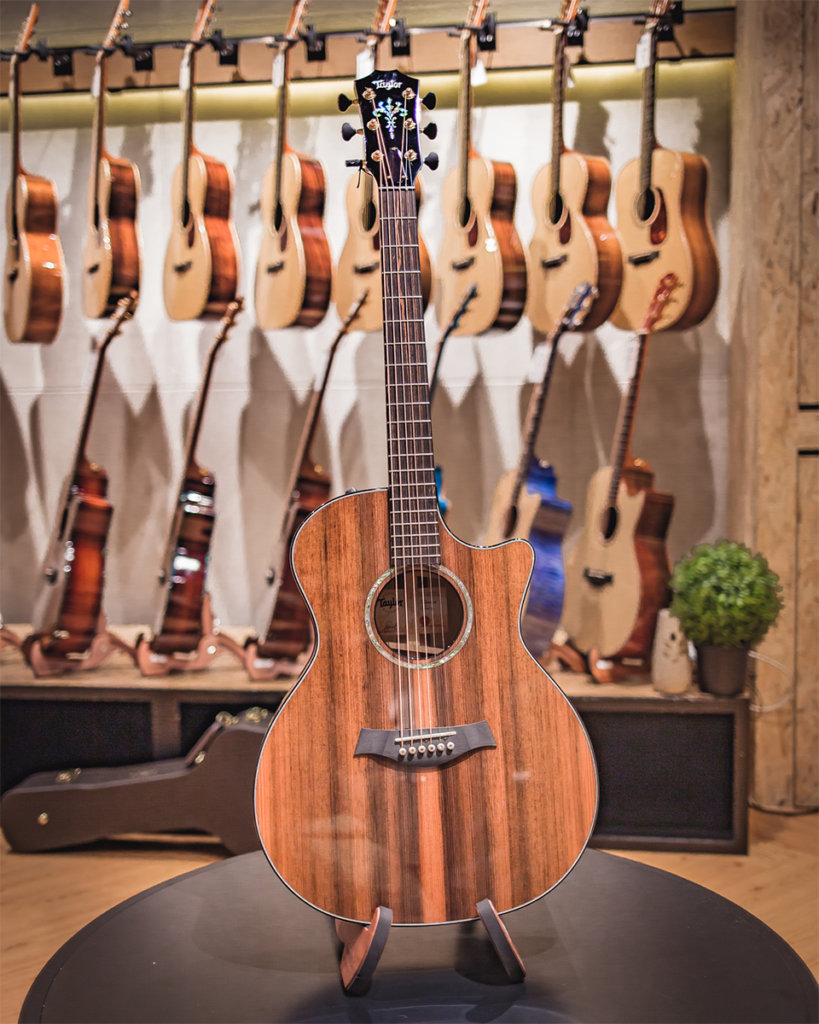 Initially unveiled at the 2019 NAMM show, you already know this guitar is going to be a tasty treat for your eyes and ears. An old-growth sinker redwood top sourced from the Californian riverbeds guarantees a well seasoned singing tone – think Cedar on steroids.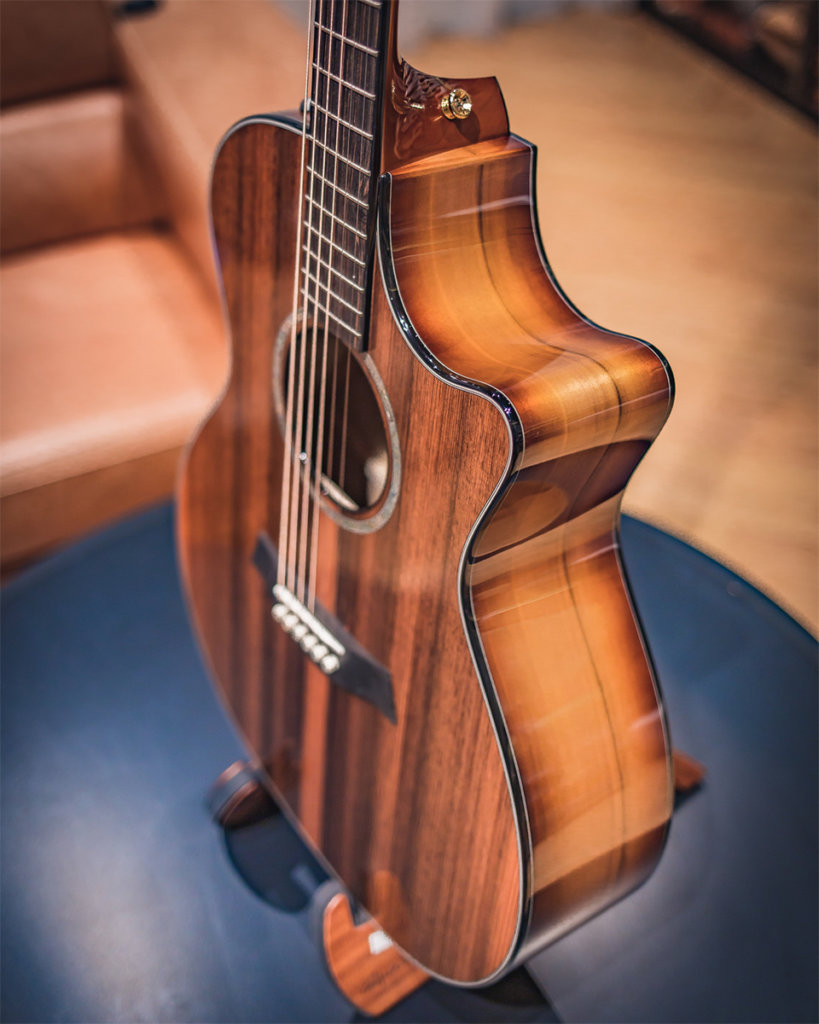 Sassafras back and sides complement this prestigious top well and gives this Custom Grand Auditorium complex overtones while retaining those shimmery highs and cavernous lows. Adorned with a figured West African ebony fingerboard, this beauty's proverbial cherry on the top is the intricate Scepter inlay on the peghead. Coupled with Taylor's revolutionary ES2 pickup, you'll now get all the nuances of your acoustic tone plugged in as well!
Taylor Custom 11152 Spruce/Quilted Maple V-Class Grand Auditorium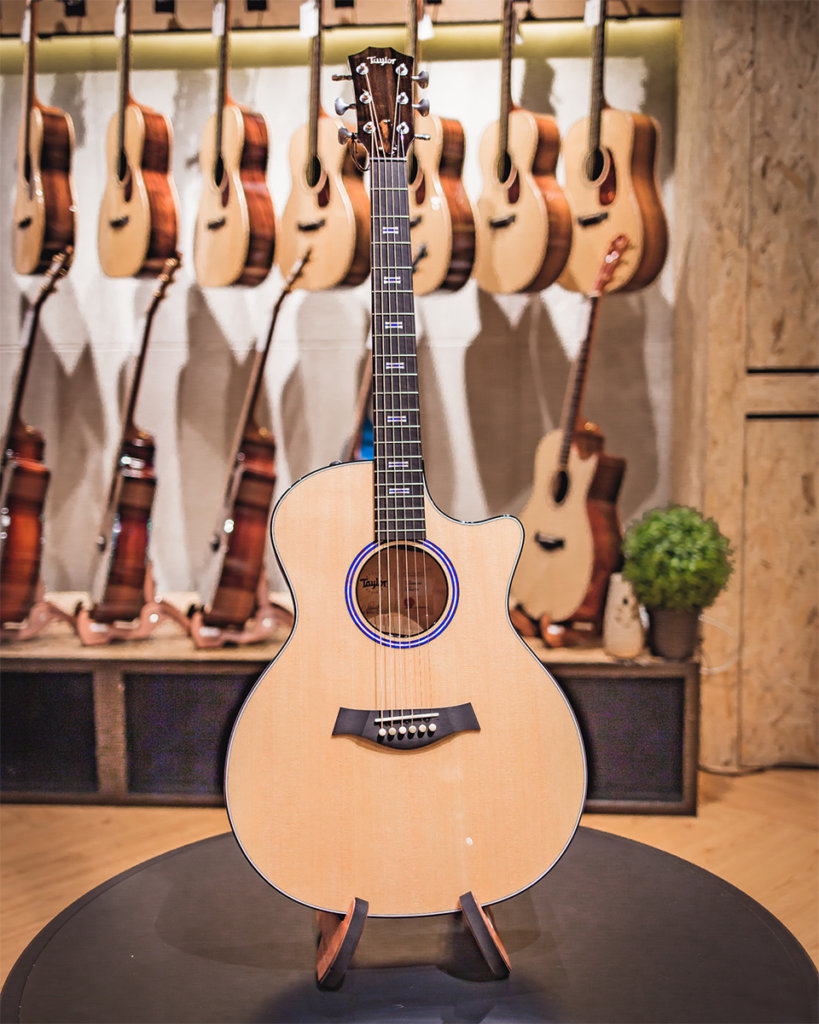 Also an acoustic-electric build, this guitar is fittingly an electrifyingly attractive specimen. The obvious eye-catcher is the blue-purple over teal AA-Grade maple back-and sides. The good looks keep on rolling with the addition of a flamed ebony fretboard flanked with custom azurite inlays and rosette.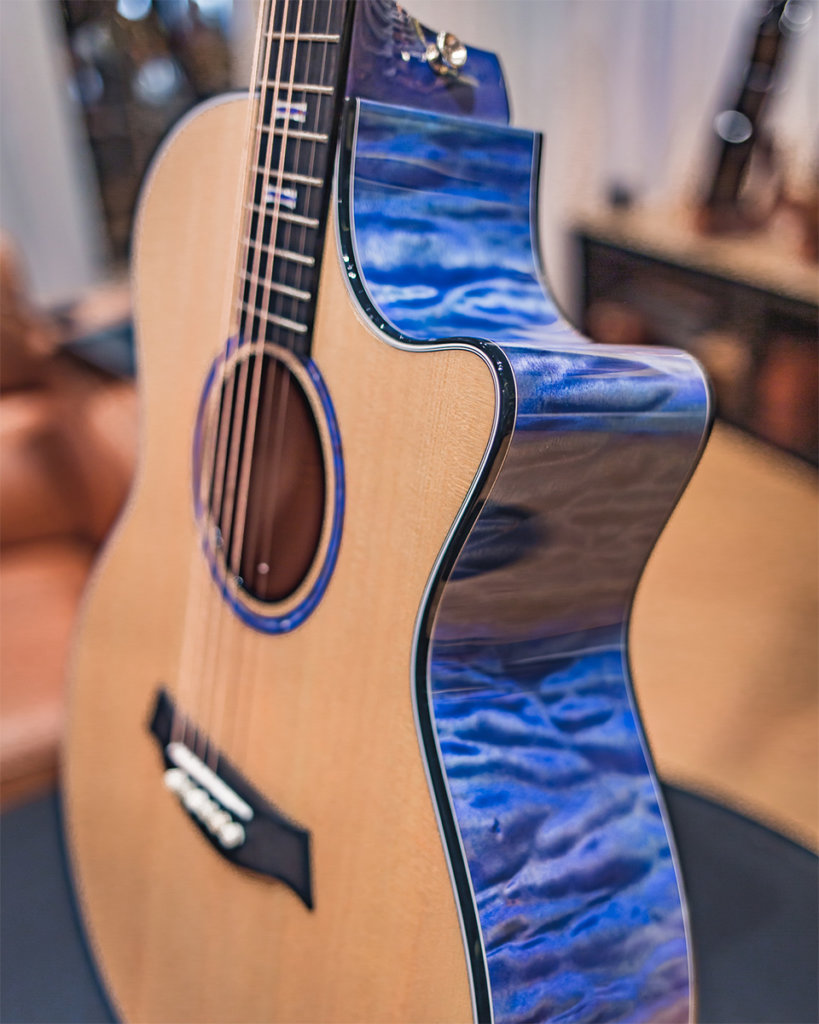 Paired with a sitka spruce top, this Venetian cutaway enchantress is voiced to give your sound a greater warmth, complexity, and responsiveness, while retaining maple's naturally clear and focused qualities. This stunner is definitely an acoustic for someone looking for quality traditional craftsmanship equipped with modern aesthetics.
Taylor Custom 11155 Adirondack Spruce/Cocobolo Grand Symphony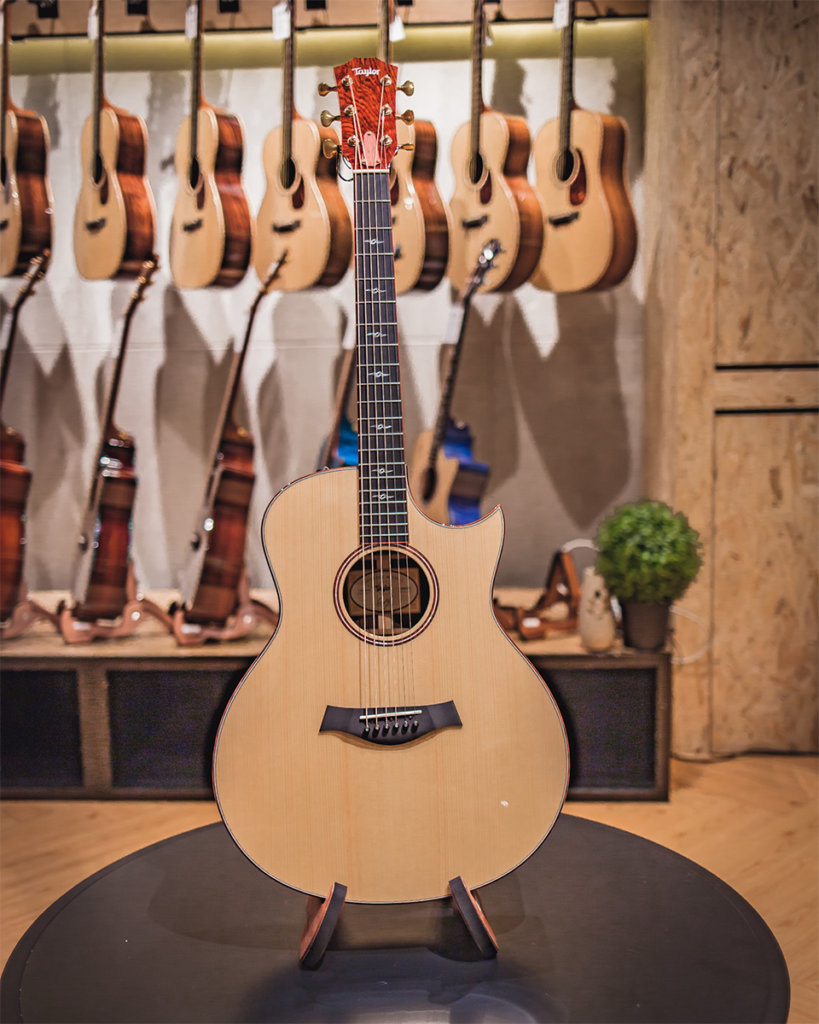 A Bob Taylor innovation, the Grand Symphony shape was designed to push the sonic boundaries of the acoustic guitar. Deeper, richer and louder than any Dreadnought or Grand Auditorium shape, the 11155 Grand Symphony is perfect for any singer-songwriters wanting full sounding accompaniment packaged into the compact form of one guitar.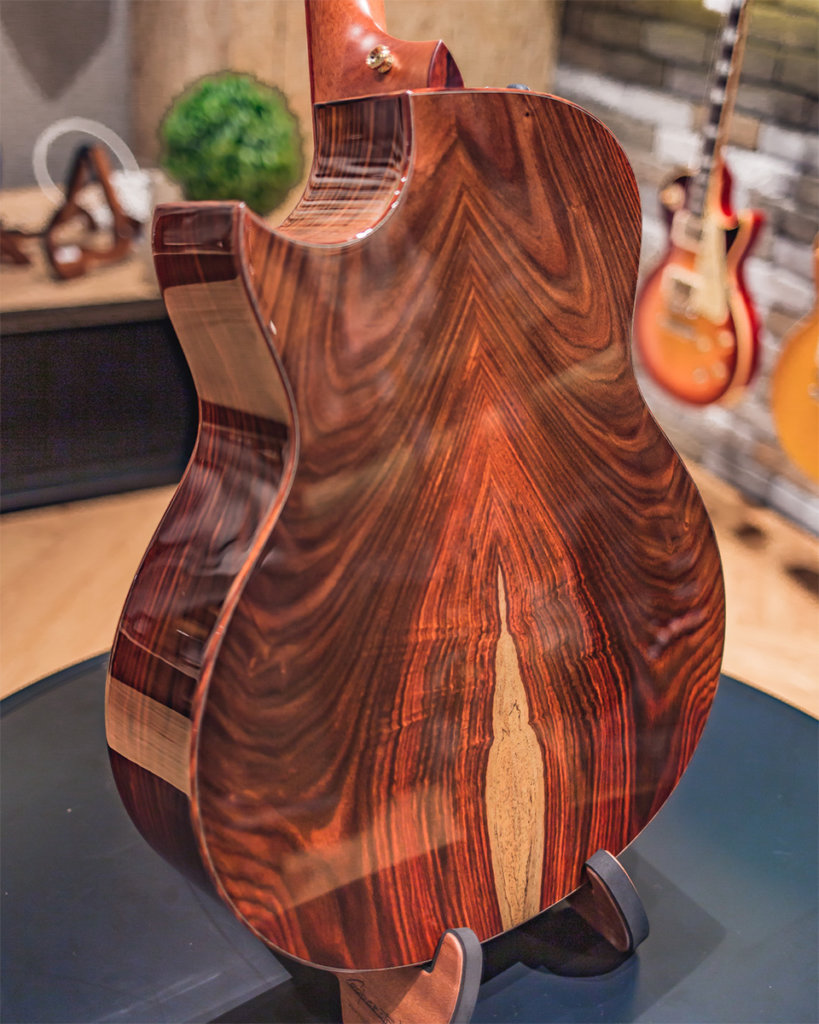 For focused and punchy low-ends, Taylor opted to use Adirondack spruce for the top and partnered it with a phenomenally ornate cocobolo back and sides. The end result is a guitar that covers a wide frequency range that responds well to fingerpickers, strummers and flatpickers alike. Expect rich complex overtones, robust volumes and sweet articulation with this one.
Taylor Presentation Series PS12ce V-Class Cocobolo/Sinker Redwood Grand Concert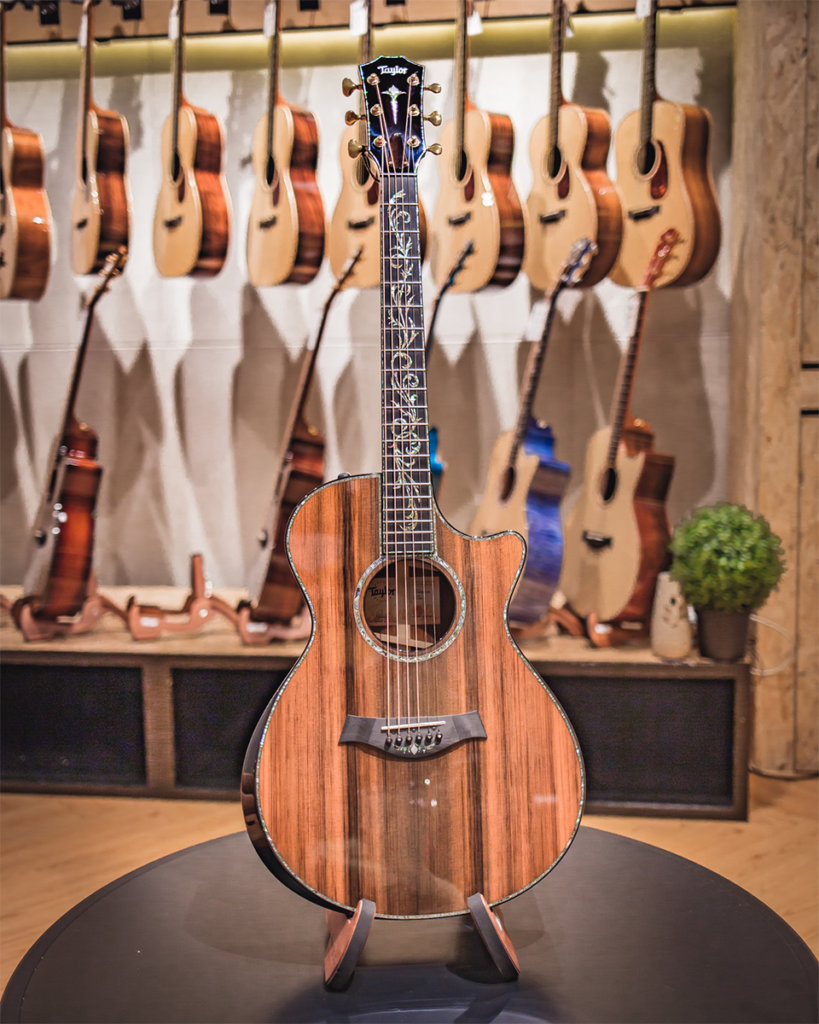 The pinnacle of Taylor's acoustic line, the Presentation Series melds exceptional beauty with Taylor's world famous playability and function. From a design standpoint, Taylor did not spare any expense with the PS12ce – Mother-of-Pearl Noveau Vine inlays, sparkling paua trim and a bevelled ebony armrest. But all of that would mean squat if the PS12ce did not sound good – but boy does it play well.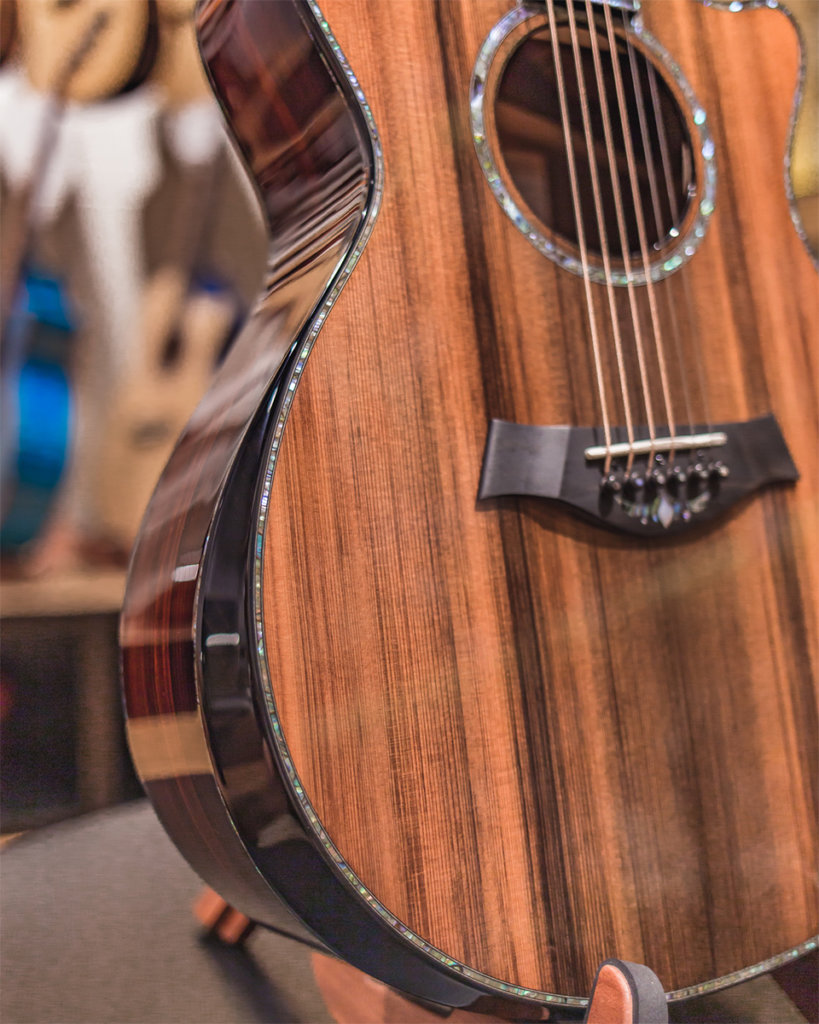 Featuring some of Taylor's finest cocobolo and sinker redwood this guitar sings sweeter than a bluebird on the arrival of spring. The 24-7/8″ scale length makes this the most "comfortable" guitar to play, with easier fretting and a slinkier feel due to the lighter string tension. The smaller footprint of the Grand Concert shape also gives the guitar glimmery clear mids and trebles that makes the PS12ce truly ideal for the avid fingerpicker.
Taylor Presentation Series PS14ce V-Class Blackwood/Sinker Redwood Grand Auditorium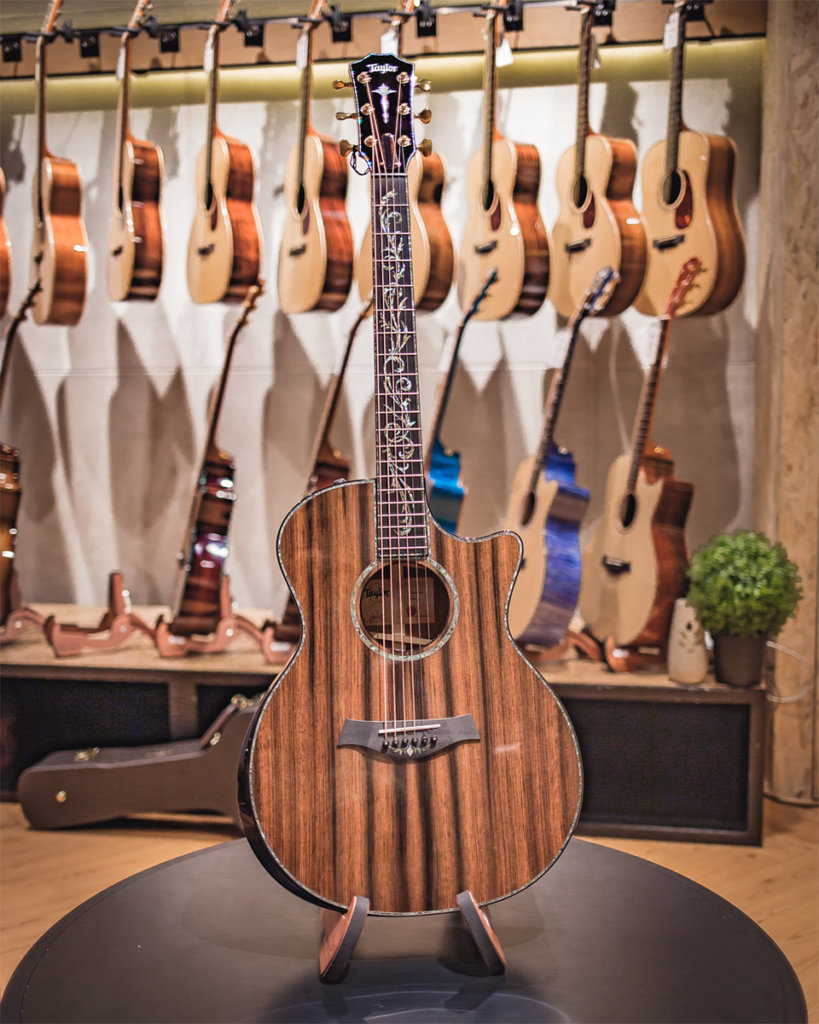 Another member of the Taylor's elite Presentation Series, this Grand Auditorium boasts the rare tone wood pairing of an old-growth sinker redwood top and Tasmanian blackwood back-and-sides. A powerful and dynamic sound that not many other guitars have, this guitar is as much a looker as it is a songstress. A skilfully bevelled ebony armrest brings both visual and ergonomic comfort to whoever is lucky enough to wield this melody machine. Slightly larger than the aforementioned PS12ce, you can look forward to a boomier low end and sparkly highs due to the unique properties of Tasmanian blackwood.
---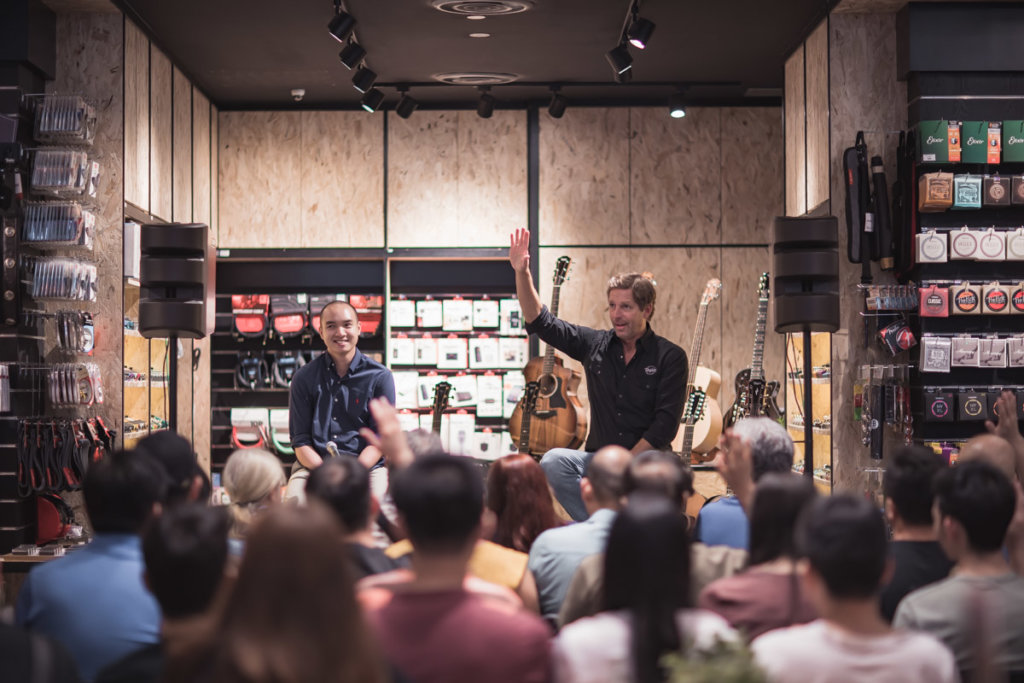 A huge thank you to everyone came down to support the event! We extend our sincerest thanks and gratitude to the people over at Taylor Guitars for graciously allowing us to host the Road Show again and also for taking the time to drop by and sharing pearls of guitar knowledge with the rest of us!
Swee Lee is the exclusive distributor for Taylor Guitars and you can always check out our collection of Taylors on our online store here, or come into our stores to give them a try.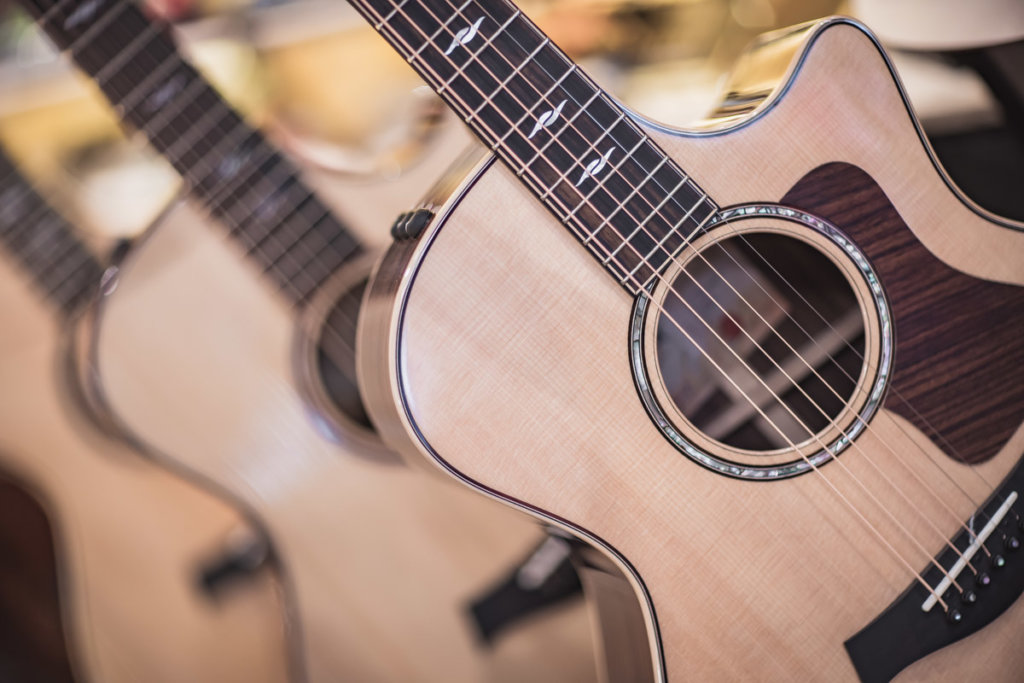 One-of-kind custom Taylors are also available for commission, and you can turn your dream acoustic guitar into reality by making an appointment with us. Drop us an email at byappointmentonly@sweelee.com.sg to find out more about customisation and exclusive Taylor models.