Can we expect great things from 2021? Only time will tell, but we're off to a good start thanks to Taylor Guitars. The innovative builder of acoustic guitars have announced not one, but TWO new series of acoustic guitars to their line up – the American Dream and Grand Theater (GT). So what's the lowdown on these new acoustics? Read on as we delve on what the buzz is all about.
Taylor American Dream Series
Sweet dreams do not have to be exclusive to your sleeping hours, with Taylor's American Dream Series, you can have lucid bliss during your waking moments too. Jokes aside, let's talk about exactly what the series brings to Taylor's extensive catalogue.

Named after the guitar shop where Taylor Guitars was founded way back in 1974, the genesis of the American Dream Series stemmed from the economic downturn arising from the COVID-19 pandemic. Taylor took it upon themselves to get guitars into the hands of the people in a difficult time when it was needed the most.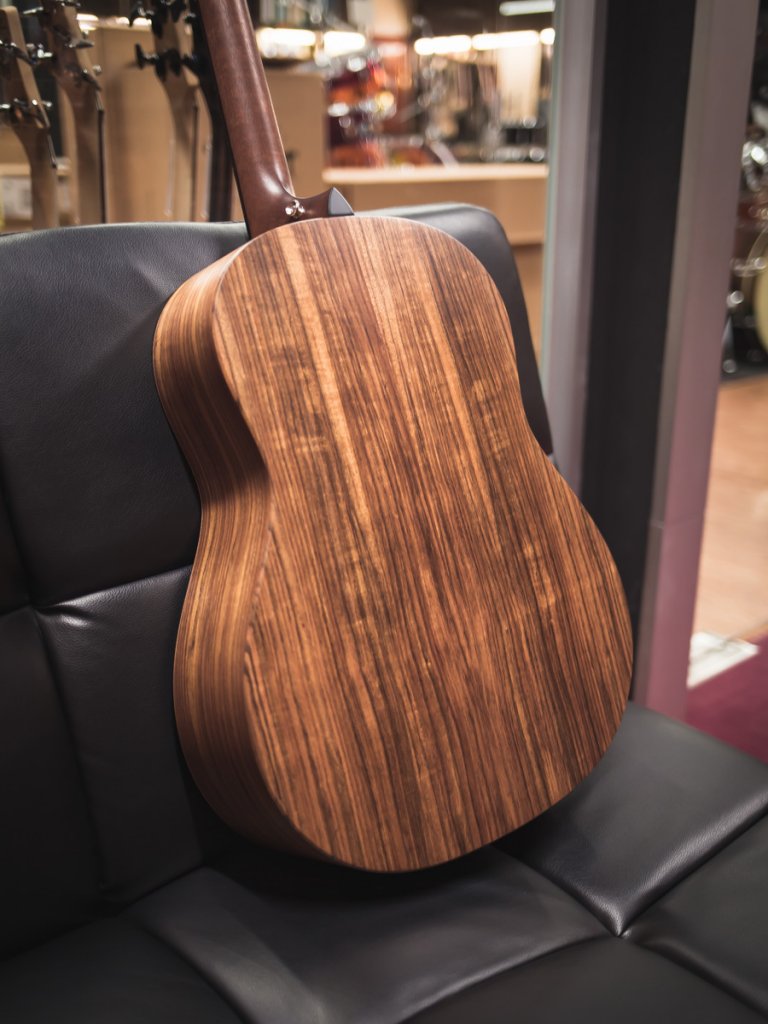 Stripped down yet top notch
In virtue of the aforementioned goal, the American Dream series is indisputably Taylor's most affordable US-made models. At first glance, the series has an old-school vibe and aesthetic similar to the great pre-war acoustics, highlighted by the stripped down approach to construction and finishing. This doesn't mean skimping out on materials though – all guitars in the range are full solid wood builds for richer tones and resonance. Taylor has also brought the revolutionary V-class bracing to the series thus making the highly acclaimed acoustic architecture available to many more guitar players.
Sloped shouldered excellence
As at launch, the American Dream Series is available in one body shape – the Grand Pacific. A Taylor exclusive body design, this sloped-shoulder acoustic silhouette is the brainchild of luthier wunderkind and Taylor Master Designer: Andy Powers. Taking inspiration from California's Laurel Canyon acoustic scene of the 60s and 70s, the Grand Pacific draws many parallels with the classic Dreadnought shape – a smooth top end and lush bass with a voice that functions well as the centrepiece or as an accompanying instrument.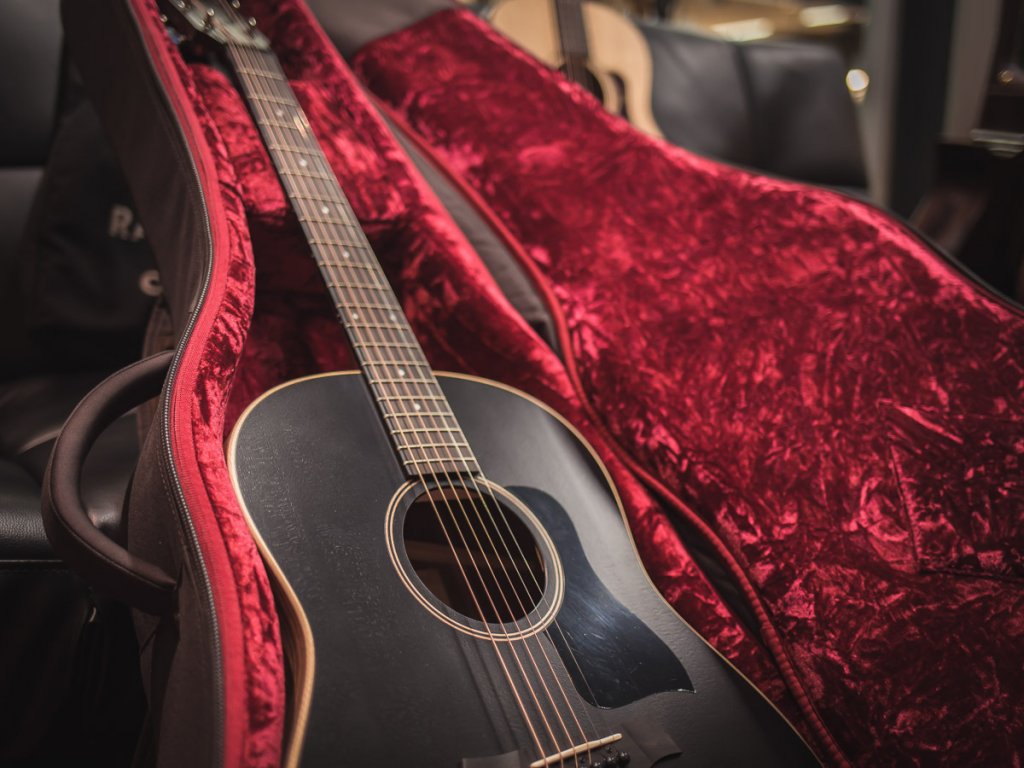 Taylor American Dream Models
At present, there are two wood options represented by the AD27 and AD17 variants.
The Taylor American Dream AD27 features a solid mahogany top with solid sapele back and sides. With tonal characteristics of deep bass and prominent midrange – it is the perfect option for players who prefer a mellower sound with vintage looks. Additionally, the solid sapele back and sides supply focussed overtones and robust projection that fingerpickers and flatpickers will undoubtedly enjoy. For players needing a little electronic boost, the AD27e adds Taylor's ES2 electronics for all amplification needs.
The equally priced AD17 models feature a solid spruce top and solid ovangkol back and sides. One of the most popular tonewoods in acoustic builds, spruce has a sweet and smooth profile that stays in the Goldilocks' zone in terms of warmth and brightness. Paired with solid ovangkol – a wood with many tonal similarities to rosewood – and you've got a great acoustic with punchy projection and whole lotta volume. Just like with the AD27, the AD17 model has a pickup installed version in the form of the AD17e. Both the AD17 and the AD17e also have blacktop options for acoustic players who prefer a more understated (or evil) look to their instruments.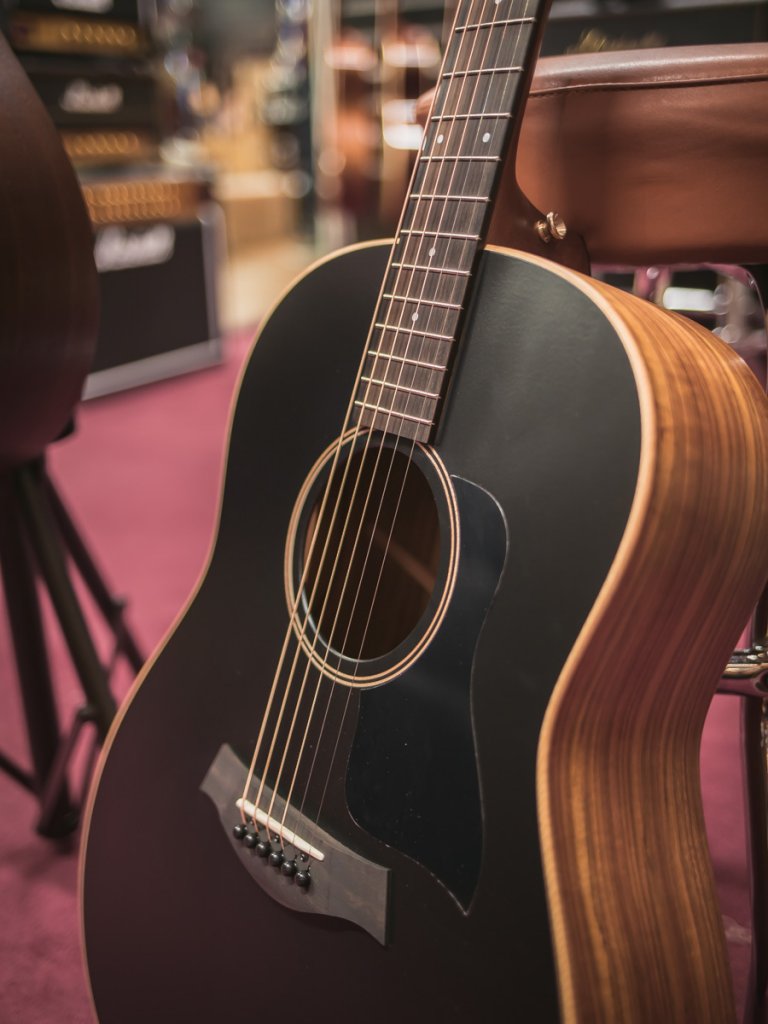 All in all, the American Dream series represents premium performance guitars with streamlined construction and fittings to serve the most important aspects of the instrument – feel and sound. Designed for tough and trying times, these guitars have everything you need and nothing you don't.
Taylor Grand Theater (GT) Series
First things first, let's talk about how the GT series came to existence. Guitar traits like playability, mobility, ergonomics are fast becoming some of the most important factors players look for in an acoustic guitar. Choosing smaller bodied acoustics (look at the GS Mini!) over the larger traditional shapes have their benefits, but compared to the traditional dreadnaught and powerhouse jumbo shapes, it isn't a fair fight when it comes to tone.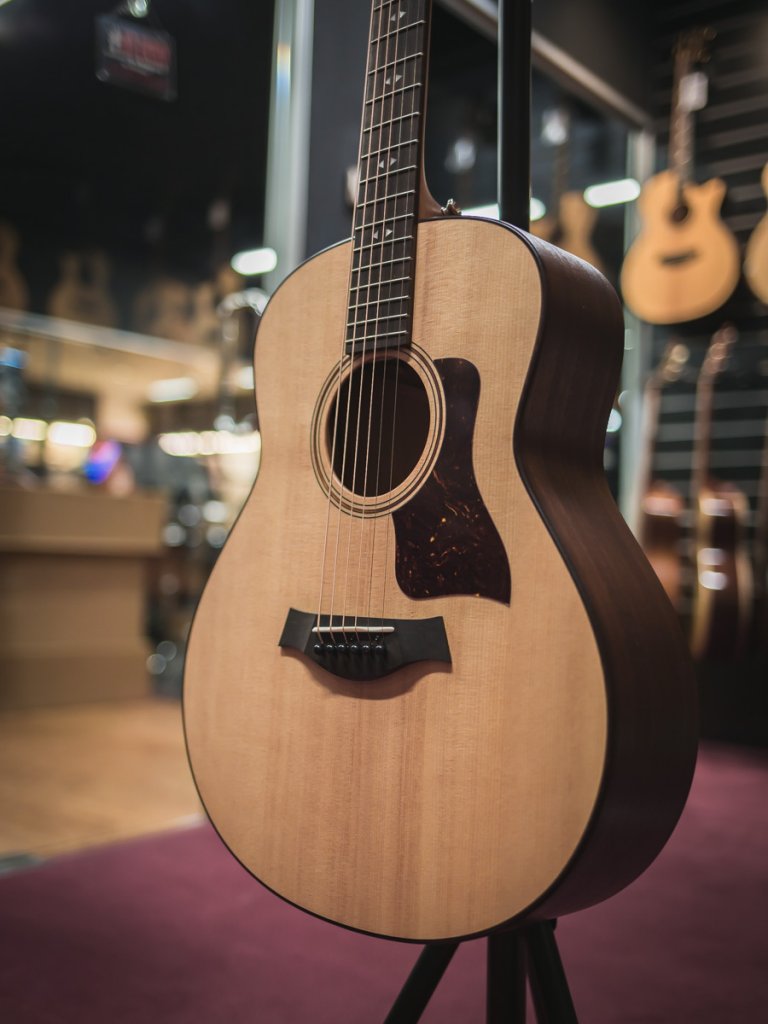 Once again: Enter Andy Powers. Never one to settle for the status quo, the new Grand Theater series is designed from scratch to meet the end of creating a new category of acoustic size – one that meshes the best aspects of smaller guitars and the tonal vibrance of larger-bodied acoustics. So have they done the impossible?
Punchy & Portable
Crafted on Taylor's California campus, the GT's unique proportions make it a completely new body shape – one that has not been seen in the acoustic-verse. Derived from the familiar jumbo Grand Orchestra shape, the Taylor GT has its proportions scaled down which include a shallower body and a smaller of 24-⅛" scale-length. This unorthodox scale length translates to being a little longer than the beloved GS Mini and a bit shorter than conventional Grand Concert shapes – providing a slinky fretting feel thanks to its reduced string tension.The smaller Grand Theater body shape results in supremely comfortable playing experience, but true to its promises, retains the rich voice of a full-size, all-solid-wood guitar.
The Show Must Go On
The GT series of guitars gets their voice from a solid Sitka spruce top paired with solid Urban Ash back and sides. Reclaimed from Southern California's bustling metropolis, Urban Ash doesn't only deliver the sweet tone that's reminiscent of mahogany but goes hand in hand with the sustainability movement that Taylor guitars have pioneered within the music industry. Expect a guitar with a warm, punchy midrange accentuated by crisp treble notes and an impressive bass response that goes beyond what you'd expect from its size.
You'll also notice a seldom-seen tonewood in the spec sheet – responsibly sourced smoked eucalyptus is used for the fretboard. It's a unique tonewood that delivers the feel of a rosewood fretboard but imbued with the rich tonal character of ebony.
In the finish department, Taylor's GT acoustics use an ultra-thin, water-based finish, optimising the acoustic resonance and sustain. This also works in conjunction with Taylor's brand new C-Class bracing pattern, a development that equips these guitars with a full and robust bass response and the power to punch well above their weight class.
The GT launches with two models: the all-acoustic GT Urban Ash and its ES2 electronics equipped counterpart – the GTe Urban Ash. As with the American Dream series, guitars from the Grand Theater Series also ship in the super-durable yet lightweight AeroCase for the ultimate in portability and protection.
---
Other models like the GT 811e and GT K21e will be arriving later this year. You can pre-order these Taylor American Dream and Grand Theater Series guitars at our pre-order page today!

As always, be sure to stay tuned to the Swee Lee Blog or our website for updates on new gear coming into our stores!
Read more: 2020's Most Popular Guitar and Basses