The hectic start of the year has gone by so quick – another holiday season is fast creeping up! If all the festivities around you weren't enough of a reminder, we're here to tell you Chinese New Year 2022 is almost here! There's still time to fill up those red packets, stock your larder with yummy goodies, and grab some Lunar New Year-themed gifts.
Lunar Chinese New Year Special 2022
We're definitely in full CNY preparation mode here at Swee Lee, and even the music stuff isn't spared. Lots of them fit comfortably into the festive theme. In fact, we reckon they'd make great accompaniments to your Chinese New Year celebrations. Don't believe us? Take a look!
P.S. We're throwing in a little extra prosperity to the proverbial pot. Swee Lee is giving away a bunch of Ernie Ball merchandise this CNY. 'Huat' are you waiting for? Hit the button below to learn how you can win a whole bunch of goodies! This giveaway lasts from the 1st to the 3rd of February 2022 – so be quick.
Read more: Buying Your First Drum Kit: A Guide For Beginners
Auspicious hues
Chinese culture loves to ascribe meanings to everything, and colours aren't spared from this behaviour. That's why red is such a common sight during many celebrations since it's believed to symbolize good fortune and happiness. And there's also yellow, which was a favourite of royalty in the past. It's the symbolic shade of many Chinese emperors and also lends its name to the Yellow River. Since these following items are decked out in the abovementioned shades, we're guessing that means they're super 'ong' too.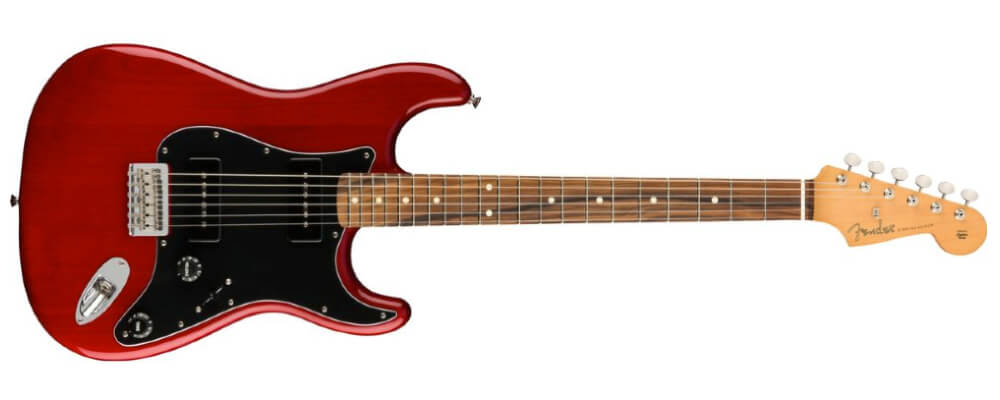 Old school aesthetics meets modern playability. That's how this scarlet beauty is best described. She handles like a dream too, letting you show off your speediest riffs on its fast-playing pau ferro fingerboard. Depending on how far you push 'em, the dual MP-90 pickups shuttle between single-coil clarity and beefy aggression. No matter which tonal direction you decide on, it'll be easy to shape your final sound with the control knobs and 3-way selector switch. The results are bound to leave you tickled red.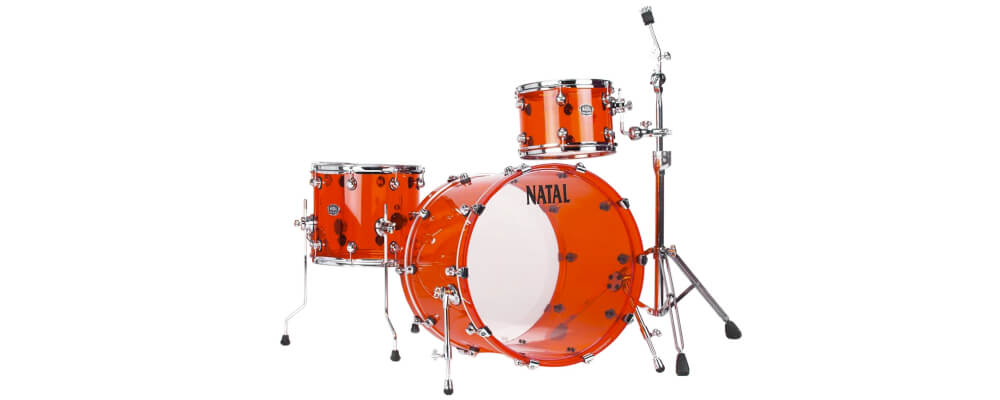 Chinese New Year is many things, but quiet isn't one of them. So a set of ear-splitting, body-shaking drums should fit the bill to a tee. Taking inspiration from Arcadia's award-winning Original series, the set's snare, tom, and bass drums shells are seamless, adding to their strength and resonance. With boosted low ends and snappy sustains, acrylics are especially delicious-sounding in pop, rock, and dare we say it – catchy CNY tunes? Seriously, they're just begging you to tap out a 'tong tong chiang' or two. And they've even put on their best red dress for the occasion.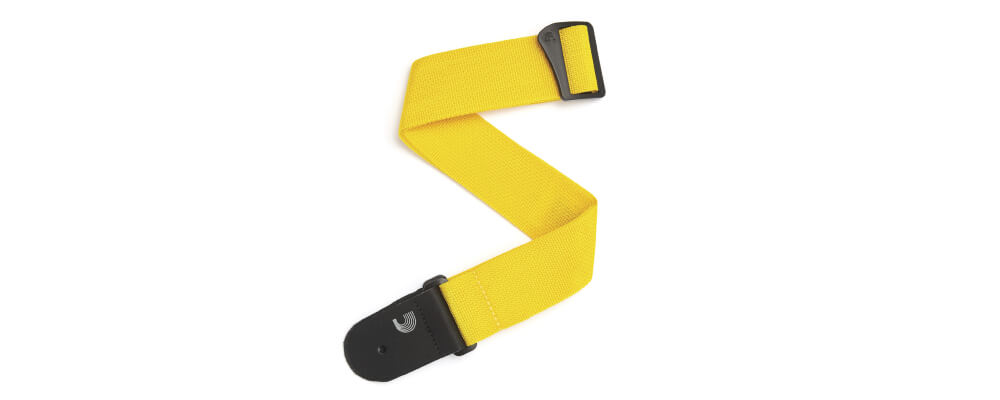 Remember when we said emperors used to wear yellow to symbolize their status and power? You can be rock n' roll royalty too. Just chuck these sunshiny Planet Waves straps on your guitar, and voila! Instantly majestic. Made from heavy-grade polypropylene, these adjustable straps are extra supportive and should carry you through thick and thin. Exactly what every good ruler needs.
Tigers (and other cats)
Move over, oxen. The year of the Tiger is upon us. Hear it roar! Apologies to anyone who's hoping that their new purchase slips under the radar, away from the prying eyes of friends and family. Because just like the big cat steals the attention wherever it prowls, you're bound to have all eyes on you when you stroll in with any one of these picks.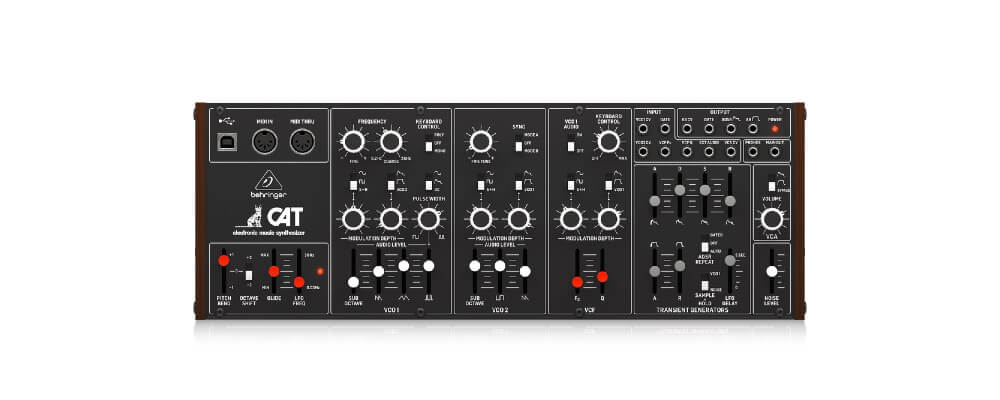 Taking its cue from a 70s era cult classic, this synthesizer has some serious bite, and even more serious stretching power. Packed into its system are two analogue oscillators with four tweakable waveshapes, and the duophonic operation means you have full, yet independent control over the twin VCOS. Syrupy tones get even denser with six modulation sources, but you can sharpen your claws on the self-oscillating-resonant filter that controls harmonic and envelope generation. We'll cut the tech-speak short. Just know that the sound-shaping potential is endless with this one.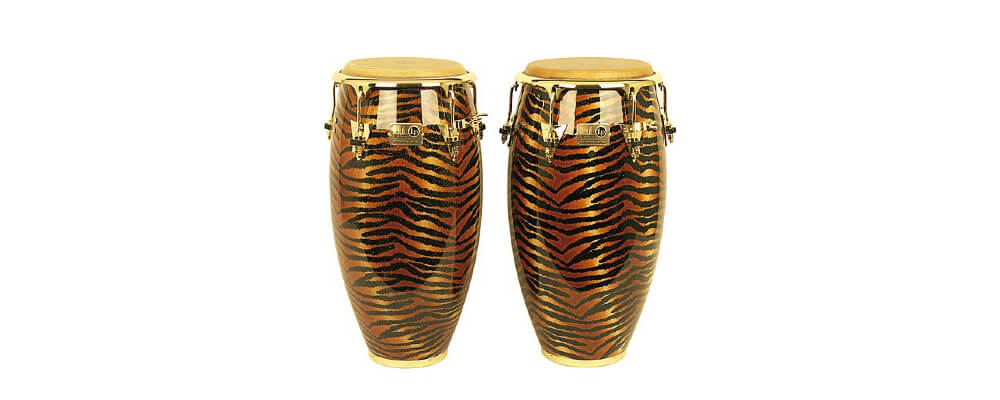 For more than three decades, Raul Rekow's intricate, infectious rhythms accompanied the lively tunes of Carlos Santana's band. Though he may have left us, the conguero's legacy lives on in this signature quinto that bears his esteemed name. Or should we say, tigers his name? Forgive the terrible pun, but this stripy drum's showy pattern is a real standout, complete with gold sparkles and hardware. Here's the best part. A portion of the dosh these drums earn will go straight to the Big Cat Encounters Foundation. You get to play an awesome instrument, and the tigers get to stick around for a few more generations. Fur-real, the purrfect win-win situation.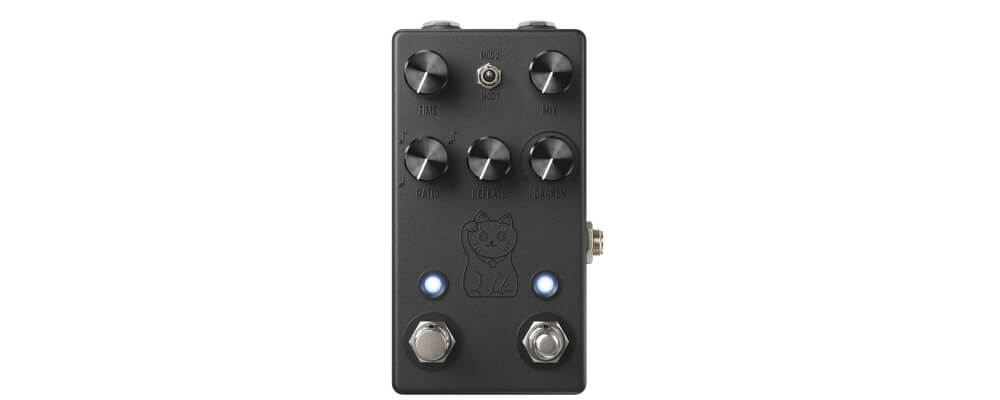 Speaking of fortuitous scenarios, how about this delightful pedal? Ok, so it's not a ferocious tiger, but it's still a cat. And a lucky one too, at that! An embossed maneki-neko sits calmly on the front, beckoning your attention towards two modulation modes – 1 imparts a gentle shimmer to your tone, while 2 ramps up intensity and depth. Toggle between the saturated, grainy vintage Tape mode and the clearer, crisper Digital mode, while dialling in Mix and Repeat functions when you've settled upon a chorus. There's no need to paws for effects, quite literally. Just hit the tap tempo and ratio switches to instantly pull in the subdivisions you need.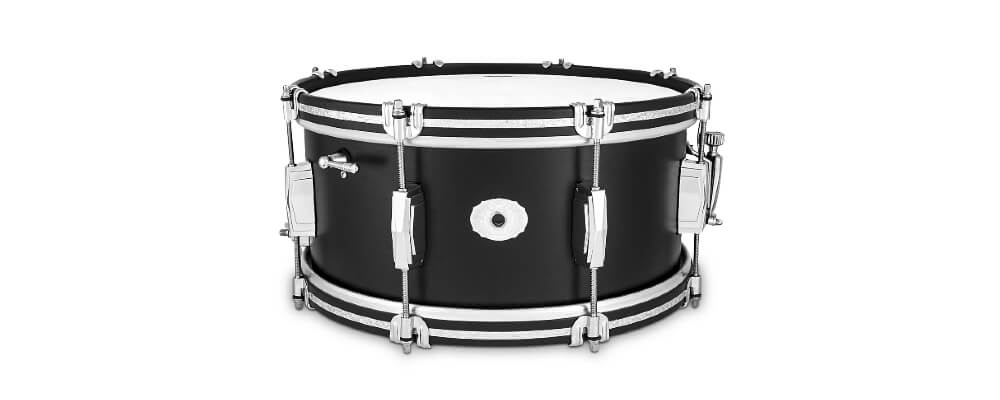 Black tigers are one of the rarest creatures in the animal kingdom. Since you'll probably never get to see one in person, why not give your attention to this ebony snare instead? It's pretty much the same thing in music instrument form. Limited edition with a sleek finish and shiny claw hook tensioners, this snare gets its inner strength from the Legacy mahogany and poplar-blend shell. Thanks to the house-blend woods, there's warmth in every beat, but also a helping of dryness from the maple ruche-rings. You'll be feline good about adding it to your drum collection.
Lunar calendar
Did you know that Chinese New Year is called the Lunar New Year in some places? That's because it follows the lunisolar calendar, which uses astronomical happenings to identify dates. The moon plays a huge role. Months start with the new moon, and years are welcomed in on the second or third new moon after the winter solstice. Pay tribute to our celestial benefactor with these namesakes, and maybe you'll get an extra blessing during this festive season.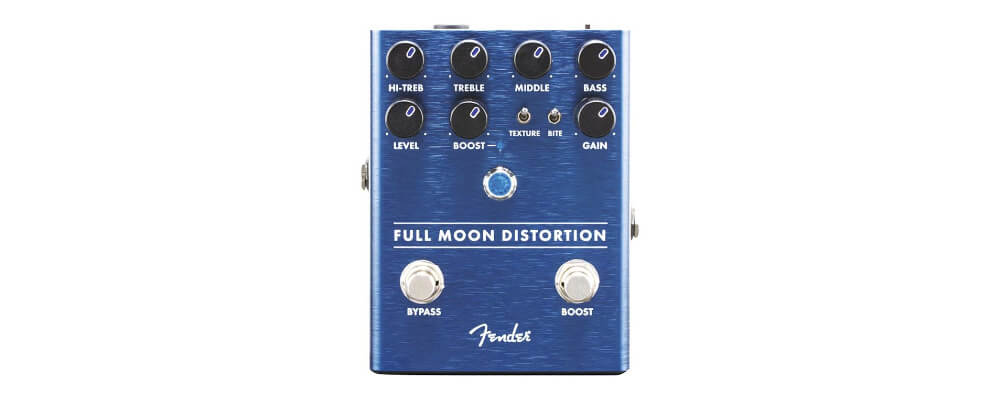 Even when the rest of your setup is already stellar, this gadget promises to outshine them all. Though lightweight, it stands up to hours of relentless stomping with an anodized aluminium chassis. Seven LED-backlit knobs glow softly in the dark, so even as you perform for midnight crowds, you'll manage to stay on track of your settings. Ease in with the 3-band EQ for high-gain sculpting, then fiddle with the texture and bite switch for some satisfying clipping and harmonic shifting. Still want more out of your pedal? Kick the second footswitch into gear and prepare to be blown out of this world by 12 decibels of confrontational post-gain Boost.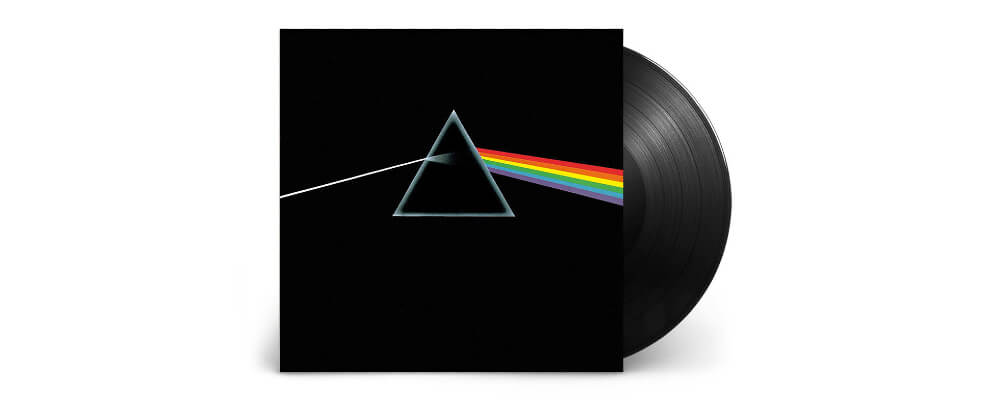 It's not all bright and brilliant on that distant rock up in the sky. The side that doesn't reflect sunlight is an enigma, one that Pink Floyd's 9th album subtly echoes. Moody and haunting, Roger Waters' lyrics spin the minutiae of daily routines into lush anthems, flitting over how vicious yet ephemeral human life can be. Paired with offbeat, often jarring instrumentation, the whole thing feels almost like how floating in space might. Lonely, disconcerting, and yet awe-inspiring. From the second 'Speak to Me''s heartbeat waxes in, surfacing sporadically through well-known pieces like 'Time and Money', before waning in ending song 'Eclipse'? You're an astronaut on the journey of a lifetime.
Precious metals, precious stones
Keep your diamonds and pearls, we're decking ourselves out in jade this year. Ancient Chinese fables consider it a symbol of immortality. You can guess why royalty was sometimes buried in jade suits, then. It also carries the virtues of morality, intelligence, and heavenly attributes. Gold, in contrast, has more obvious, earthly hallmarks. Namely, wealth and prosperity. Nevertheless, it's just as prized. If you've ever gotten a gift of gold and jade, you'll understand that the giver is wishing you long life and abundance. So, umm, take these picks as our blessing to you!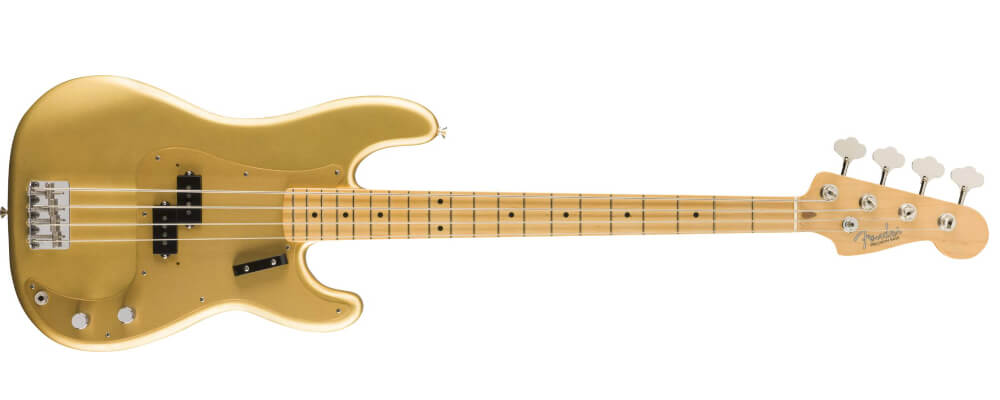 Upon its introduction in the 50s, this versatile bass created an industry darling that has yet to lose its lustre. Today's split-coil pickup retains period-correctness with enamel-coated coils and Alnico 5 magnets, but it is still as diverse as ever. From clear mids to warbly trebles, you're spoilt for choice across rock, jazz, and fusion genres. The 4-saddle bridge with threaded steel saddles ensures your tunes never go off-key. Though there was nothing wrong with the way the original looked, we think this burnished gold veneer truly shows off the Precision as the treasure it is.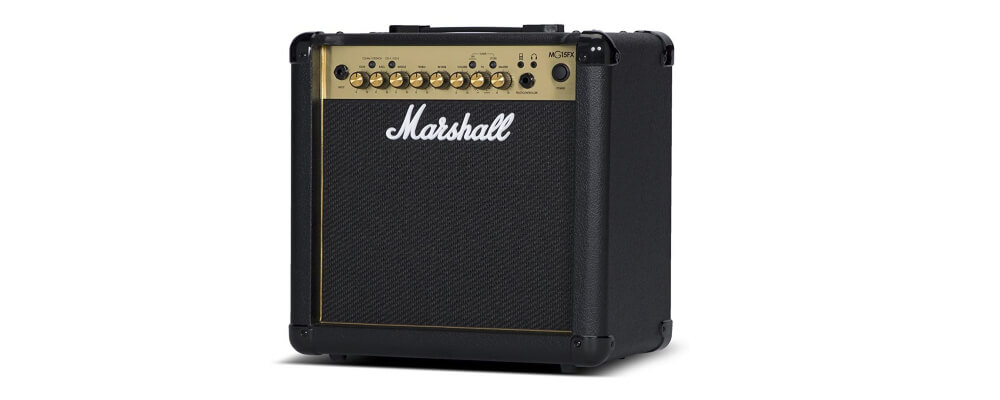 All that glitters is not gold, but the MG15G sure does sparkle with its unadulterated British tone. It's tiny, but it gets things done! And by things, we mean shaping sound through Clean or Overdrive channels and a 3-band EQ. Despite mimicking the tone and response of a tube amp, it still has all of its solid-state durability, making it a good option for both practice and busking. Its sound is massive, loud enough to cut through noisy concert venues. But if you're sticking to jamming in your room, you'll be glad for the emulated headphone and line outputs. All in all, a top-dollar purchase that's worth its weight in, y'know.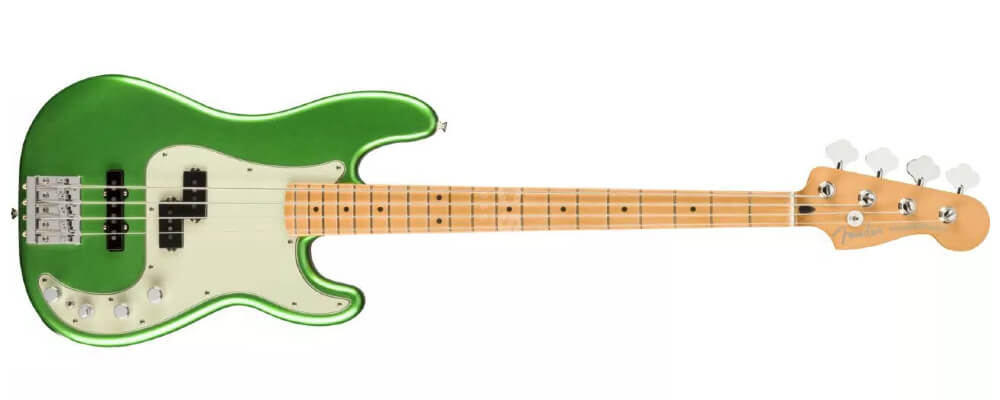 Here's proof positive that jade = immortality. Fender's basses have been around for ages and this latest iteration seems poised to follow in their footsteps. The Player Plus has everything its Player predecessor has but dialed up to the maximum. Especially efficient in the midrange, courtesy of its 3-band EQ, it's also fast on the uptake. Active/passive toggles switch signal intensity in the blink of an eye. Hate unnecessary buzz? So do the Noiseless Jazz Bass bridge and single-coil pickups that iron out signal static for a silky smooth sound. In this eye-grabbing shade, it's bound to be a gem in any guitar collection.
---
And so ends our little foray into Chinese culture for 2022. Maybe you've learned something new about the season? Or more likely, you've just stumbled upon something you're itching to get hold of.
Lunar Chinese New Year Special 2022
If you wanna see how we celebrate Chinese New Year, mosey on down to any of our Swee Lee stores. Not able to make it down to our brick and mortar locations? Check out our website instead. Whatever you celebrate, we're sure to have something in line one of these days. Drop your details in our mailing list and we'll keep you posted.
Before we get the party started, here's us signing off with a Happy Chinese New Year and Gong Xi Fa Cai to you and your family!
Read more: Swee Lee Welcomes Ernie Ball Music Man