What's the first image that pops into your head when someone says the words "electric guitar"? For many of us, it's the distinctive Strat axe. Even those who hate taking sides will admit to having a soft spot for this model. Everything from its looks to its distinct sound ensures that this iconic instrument will never go out of trend. Almost every brand and boutique name has come up with their own interpretation of S-style guitars.
Shop S-Style Guitars Under $1,000
For the uninitiated, an S-style or Stratocaster is pretty recognisable. The vast majority sport a double-cut shape, six-in-line headstock, tremolo bridge, and 3 single-coil pickups. Well, maybe not so much that last detail – configurations have become increasingly diverse these days. HSS and SSS are the ones you'll see most often, particularly on traditionally built guitars. Every now and then, a HSH or HH will pop up. Each arrangement has their champions and critics, so this is one area where preference weighs heavily.
The Strat's signature sound is often attributed to its bolt-on construct and single-coil lineup. It's a tasty, versatile addition to any genre ensemble. The pristine, dynamic tone slips neatly into clean funk and blues riffs. Go heavy on the overdrive and there's your rock concert sorted. If you're messing with a humbucking pickup, that meaty grind will have metalheads headbanging immediately.
No doubt, Leo Fender's iconic guitar has come a long way since 1954. Every year, expectations for new Strat launches are sky-high. And companies deliver on the goods. As fans, we're not complaining. The more the merrier! However, the sheer number of makes out there could get overwhelming. Hence why we're cutting through the red tape. These 7 showstoppers are our nominees for the best S-style guitars out there.
Read more: The Best Rock-Ready Guitars for Under $500, $1,000, and $2,500
S-tronomical units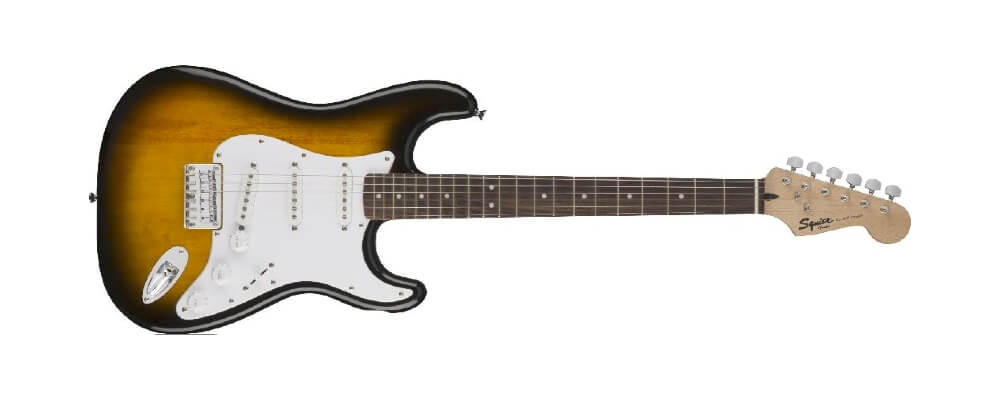 Our list's first guitar might be your first guitar too. Squier's Bullet line is compact and lightweight, just the right qualities a beginner needs. Its size might be smaller, but its voice sure ain't. That familiar Strat ring comes loud and clear through the trio of single coils. Bridge tones chirp brightly, while the neck pickup buzzes with Texan-style blues. But this little guitar isn't done impressing. Oh no, it goes the extra mile with sound shaping options. Which is a 5-way switch and 2 onboard tone controls, for those of you who want to explore.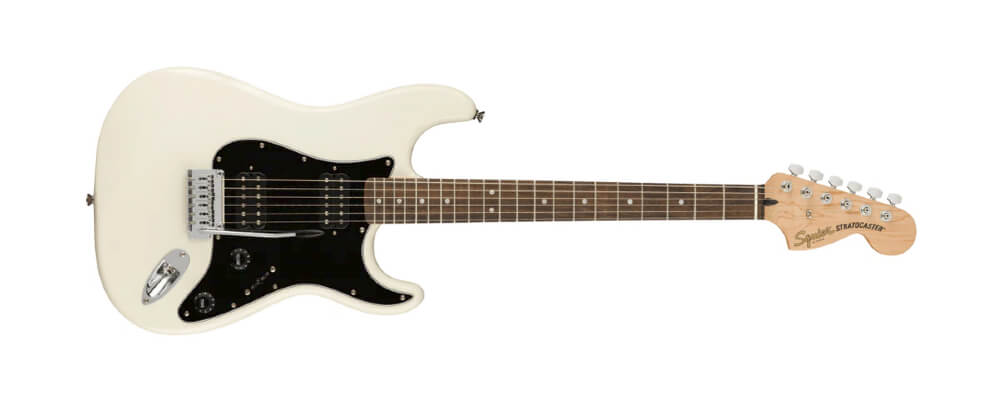 If you like your S-style to stand out, the Affinity HH is rock-ready. Bring your heaviest hits because there's nothing gentle about this beast. Its offbeat HH configuration utilises 2 ceramic humbucking pickups for maximum chomp and crunch. The 3-position blade along with master volume and tone controls opens up the soundscape completely. For all its aggression, there's a friendlier side to this guitar. Namely, a "C" profile bolt-on maple neck with Indian laurel fingerboard that responds effortlessly to chording and lead runs.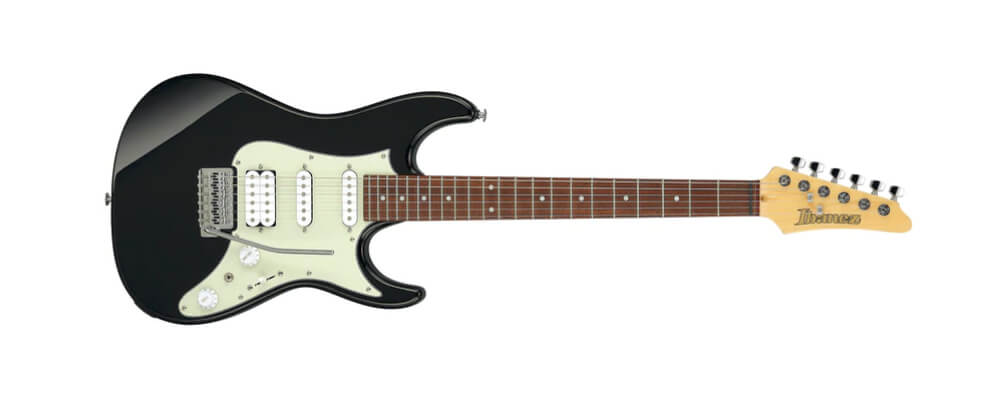 This Ibanez's AZES series pioneer is stuffed to the brim with stuff normally found only on premium models. Its poplar body and jatoba fretboard conjures up a rich, warm midrange with crisp high ends. No hardware complaints either. The HSS combination is the best of both worlds, with oodles of spank and gain. Flip the mini switch and the Accord humbucker lets single-coil mode take centre stage. With the Dyna-MIX9 and 5-way pickup selector, you've got 9 sound variations at your fingertips. That's basically a gazillion in guitar speak.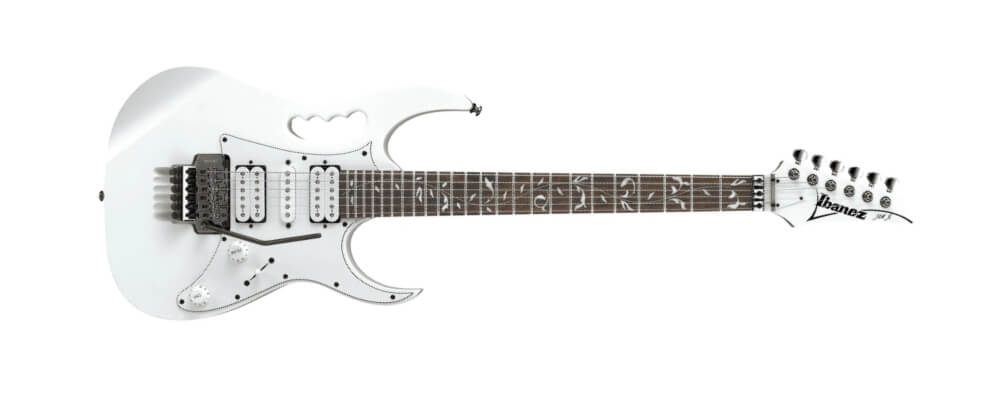 One icon deserves another. Steve Vai's own S-style rendition is instantly identifiable. Is it the "monkey grip" handle that punches through the body? The swirl of pearlescent vines inlaid across the fingerboard? Or just a swaggeringly cool essence that permeates each Wizard III neck-enhanced note? Whatever it is, we're digging it. And we're betting that once they get a taste of what the Quantum humbuckers and single-coil HSH formation can do, the audience will too. Honestly, "Vai" can't all guitars be as irresistible as this one?
We wouldn't be surprised if the X stands for X-treme. As in, extremely good-looking guitars that handle even better. Modern metal maestros are in for a treat with the SLX. The basswood construction extends into an oil-finished through-body maple neck with a swift-playing rosewood compound-radius fingerboard. That translates to endless sustain, along with comfy nimble top-end runs and bending that won't fret out. It's not just about the feel, your guitar needs to sound great. This is where the two Duncan-designed humbucking pickups come in. Harmonics central, baby.
Sterling by Music Man Cutlass SSS Electric Guitar, Maple FB, Fiesta Red ($499)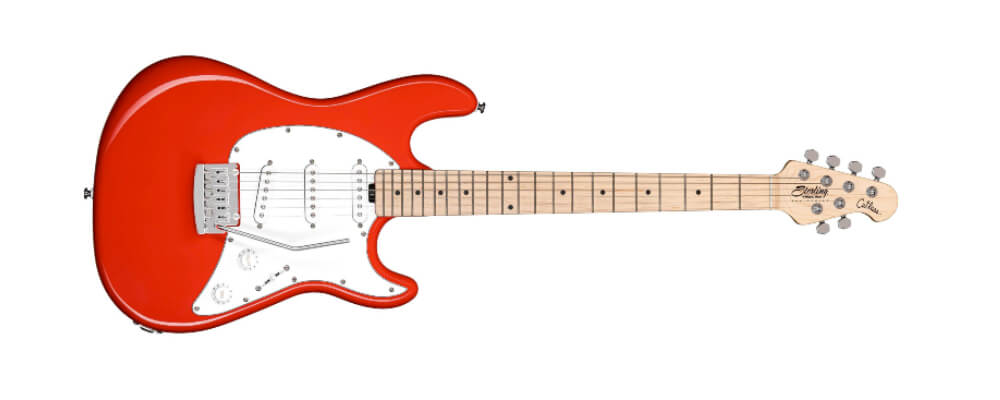 Shiver me timbers, it's a treasure trove of S-style goodness. Music Man's solidbody effort blends vintage appeal with modern ingenuity. Bent-steel saddles on the tremolo transport you back to the 60s, while its set of six locking tuners keeps a firm grip on tuning stability. That doesn't mean you can't juice up this guitar for a variety of genres. Music Man's patented truss rod adjustment wheel – found on the heel of the neck – sets you up for tool-free changes on the fly. That'll give you more time to admire the bell-like chimes emanating from the trio of single-coil pickups.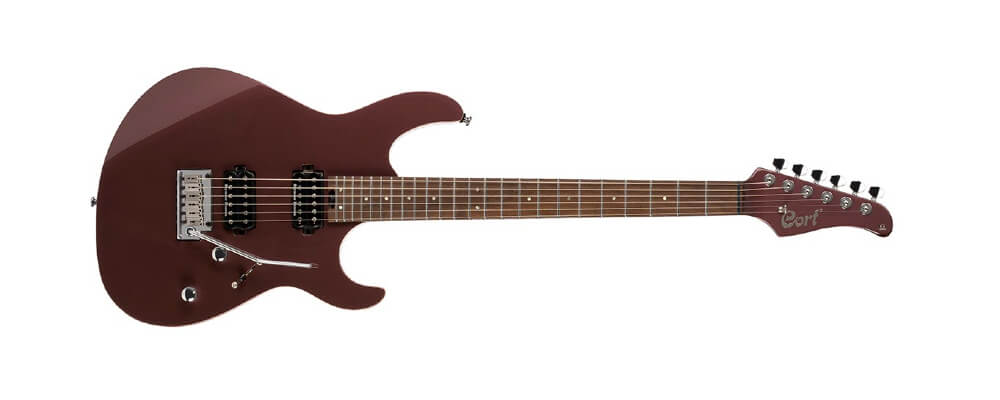 Imagine owning an affordable S-style that looks like it came straight out of a boutique guitar catalogue. Stellar build quality, best-in-class specs and hardware. No more daydreaming, Cort's G300 Pro is reality at its finest. Bolt-on roasted maple neck, heat treated for extra stability. Graph Tech precision-cut nut with a CFA-III two-post six-saddle vibrato. Chrome finishings. Really, the only thing that could make this better is a a hot-rodded combo of Seymour Duncan humbuckers. Like a bridge-bound JB and a Jazz at the neck. Oh wait, that's part of the package too. You're welcome.
---
That's all for today, folks! As always, choosing a guitar comes down to a few things. Personal taste, style of play, and budget – to name a few. Remember, these are our pet picks but they don't have to be yours. We've got more S-styles in our catalogue in case you'd like a further browse. Whichever you choose, you're bound to end up on Cloud 9. 'Cause that's how it works in the Strat-osphere.
Shop S-Style Guitars Under $1,000
On the lookout for another type of guitar? No sweat, our Swee Lee stores are locked and loaded with different makes and models. If you're not sure what your dream axe is called, search it up on the website first. And as you're browsing, why not fill out our newsletter form? It's a one-stop bonanza where you'll be privy to recent arrivals, top tips, and exciting deals before the masses.
Read more: Ibanez AZ, AZS & AZES: Vintage Guitars for the Modern Age