There's a new headstock in town, and it's not just this new shape we're excited about. Announced at Winter NAMM 2020, Epiphone followed Gibson's lineup restructuring and streamlined their instruments into the "Inspired by Gibson" Collection.
Not only do the guitars now look more reminiscent of their Gibson counterparts, Epiphone have also taken a page from Gibson's famous "open book" headstock, something which many fans have been hoping for for years.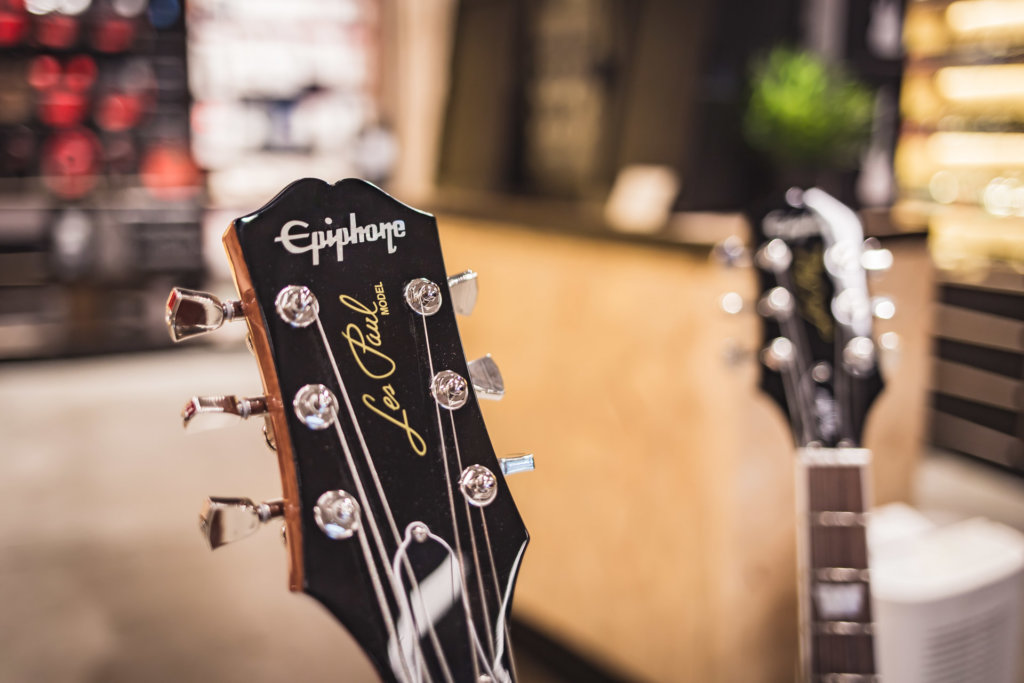 No thanks to the age old slogan "Only a Gibson is good enough", Epiphone have had to graft their own identity despite having identical models as their more expensive sibling. They've come a long way – from its famous TV appearance with John Lennon on "Top of the Pops" to being mainstay guitars for players like Gary Clark Jr and Matt Heafy.
It's not surprising that, perhaps, we might be seeing Epiphone at its zenith today with their "Inspired by Gibson" Collection. Let's take a look at this new range of Epiphones, which have just arrived in our Swee Lee stores amid lots of intrigue and excitement.
Epiphone "Inspired by Gibson" Collection
The "Inspired by Gibson" collection includes the Epiphone Original Collection and the Epiphone Modern Collection. As its name suggests, these guitars look and feel closer to the more expensive and US-made Gibsons than before.
Original Collection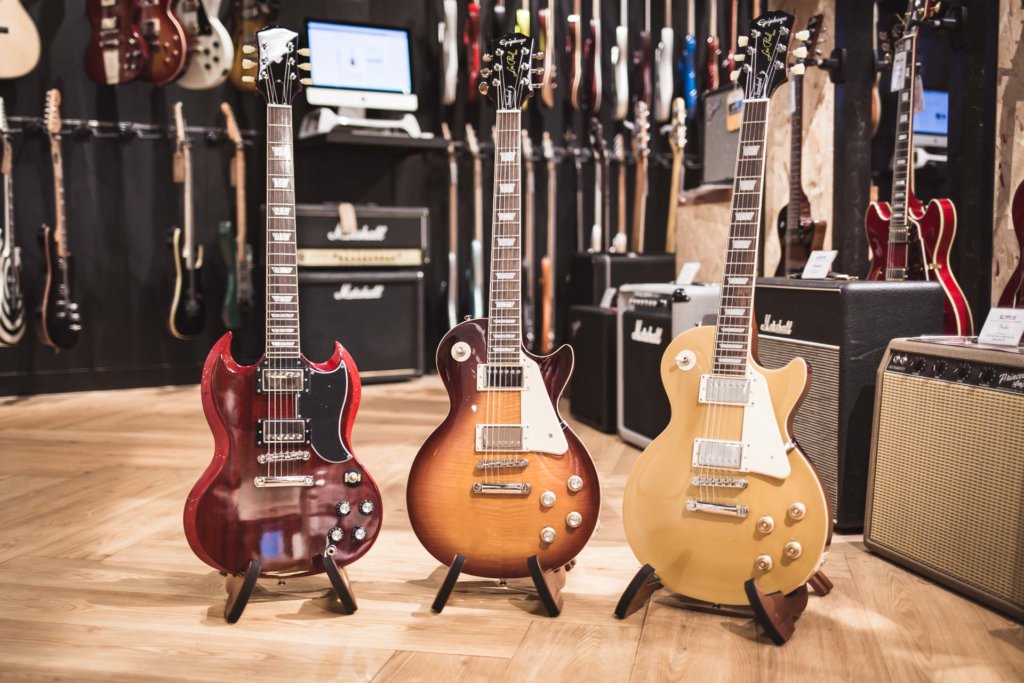 The Original Collection looks every bit the part and features classic finishes and upgraded electronics – for starters, CTS electronics come as standard.
Epiphone Les Paul Custom Electric Guitar, Ebony

The coveted and classy Black Beauty, slung by players like Jimmy Page and John Fogerty, first made its debut in 1954. The new Epiphone Inspired by Gibson Les Paul Custom features the same Custom-style mahogany body and ebony fingerboard as the original, and is outfitted with a pair of PAF-esque ProBucker pickups.
Epiphone Les Paul Standard 50s Electric Guitar, Heritage Cherry Sunburst

Inspired by the world's most valuable guitar, the Les Paul Standard 50s is as close as it gets without spending Gibson Custom Shop prices. The finishes available are classic, the CTS pots are wired 50s style and the neck profile is modelled after the original '59 Les Paul. It even has a long neck tenon, once only available on the highest end guitars Gibson make!
Epiphone Firebird Electric Guitar, Vintage Sunburst

Undeniably cool, Epiphone's take on this Firebird is inspired by the 1963 classic. The original was designed by famed automotive designer Ray Dietrich and featured quirks that were decades ahead of its time. Epiphone honours this classic with authentic contours, period-correct finish and ProBucker mini-humbuckers.
Epiphone SG Standard '61 Electric Guitar, Vintage Cherry

From Angus Young to Santana, the SG is a rock icon immortalised through the years, none more illustrious than the 1961 SG – the year it first launched. Spec'd with Alnico II ProBuckers and a solid mahogany body for authentic vintage grunt, this package presents a high-quality, bang-for-buck axe ready for any occasion.
Modern Collection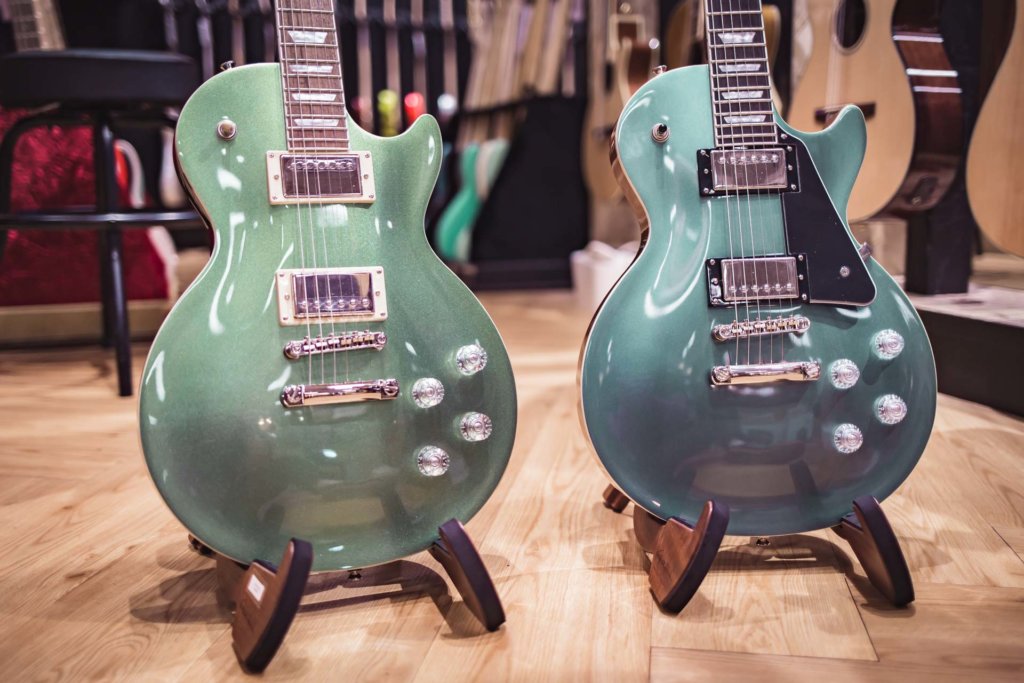 Past meets present in the Modern Collection. This is where you'll find daring finishes and more player-centric features. The guitars come equipped with push/pull pots, weight relieved bodies, slim taper necks, and eye catching finishes.
Epiphone Les Paul Modern Electric Guitar, Faded Pelham Blue

Aside from the brilliant Faded Pelham Blue finish, the new Les Paul Modern is decked out with features that were never considered traditional, but are practical and made for the players of today. For starters, the neck profile is an asymmetrical slim taper, accumulating at a contoured heel for the comfortable high fret access. Tonal options are aplenty, with coil-splitting, phase switching, and a treble bleed circuit available at pull of a knob. Oh, and locking tuners never hurt anyone, too!
Epiphone SG Modern Figured Electric Guitar, Trans Black Fade

You'll find some of the prettiest finishes in the Modern Collection, and this SG's Trans Black finish perfectly captures the flames on its AAA flame maple veneer top. Like the Les Pauls, the SG Modern comes with all the tone altering features like coil-splitting, phase switching and CTS electronics.
Epiphone Les Paul Muse Electric Guitar, Wanderlust Green Metallic

A completely new name in the Epiphone lineup, the Les Paul Muse might be the most radical of the Modern Collection. Its seven different striking metallic finishes are just a start – the Muse features a slimmer, lightweight, resonant chambered okoume body with a body contour and is powered by a pair of Alnico Classic PRO humbuckers for those who need a little extra output.
---
Swee Lee is stoked to have the "Inspired by Gibson" Collection available in stores. The best way to experience these fantastic instruments is to try them out for yourself by heading down to one of our Swee Lee stores. Or, you can check out the collection online here.