Eventide wowed the pedal world in 2014 with the H9, a stompbox jam-packed with studio-grade reverbs, delays, and other effects. Now they're back with their latest multi-effects pedal, the H90 Harmonizer. What makes this pedal such a game-changer? Read on to find out.
Timeless algorithms and innovative effects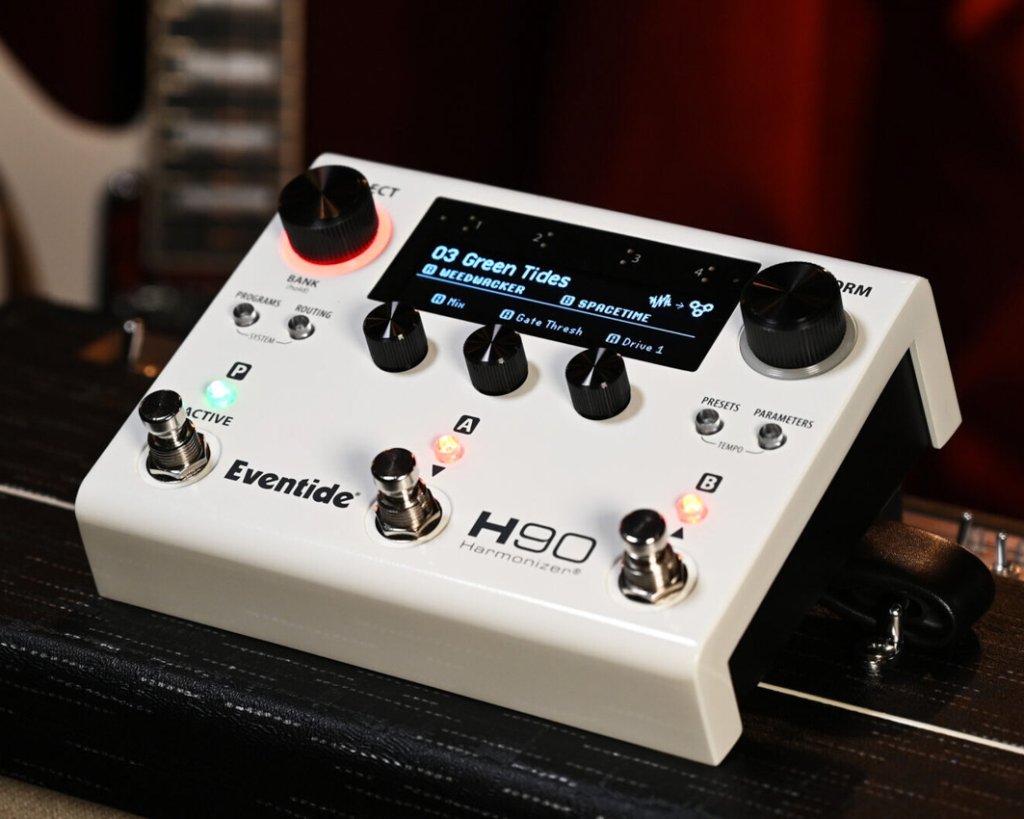 The H90 combines the best parts of the brand's flagship H9000 rack unit with the pared-down simplicity of the H9 Max. That's a huge library of 62 ARM-derived algorithms contained in one box. Everything from modulation, overdrive, tremolo, and delay is represented here, but the H90 goes a step further with 10 new effects. While 3 – Instant Phaser, Instant Flanger, and SP2016 Reverb – are faithful representations of classic Eventide rackmount effects, the other 7 are brand-new additions.
Polyphony harnesses the ultra-responsive SIFT (Spectral Instantaneous Frequency Tracking) technology to track and pitch shift your tone accurately. There's also the unusual Prism Shift, which takes a single chord, then isolates, staggers, and pitch shifts to create three voices from it. Even-vibe mimics typical phasers, but throws stereo functionality and envelope followers into the mix. For delays, choose between Head Space, a retro-style 4-head tape delay, or the modulated bucket-brigade Bouquet Delay with self-oscillation. Inspired by the cult classic Ibanez Tubescreamer, Weedwacker brings a screeching 2-stage overdrive to the mix. Finally, Wormhole is all about pitch-warped reverb with extra modulation.
With so many algorithms to play with, Eventide wants to make sure you get the chance to test them all out. Twin-turbo Program Power runs two algorithms at once, so you don't need separate pedals to combine effects. As an added bonus, true spillover ensures that delays and reverbs in between refrains will blend effortlessly into one another.
Hear it in action below:
Improved interface and functionality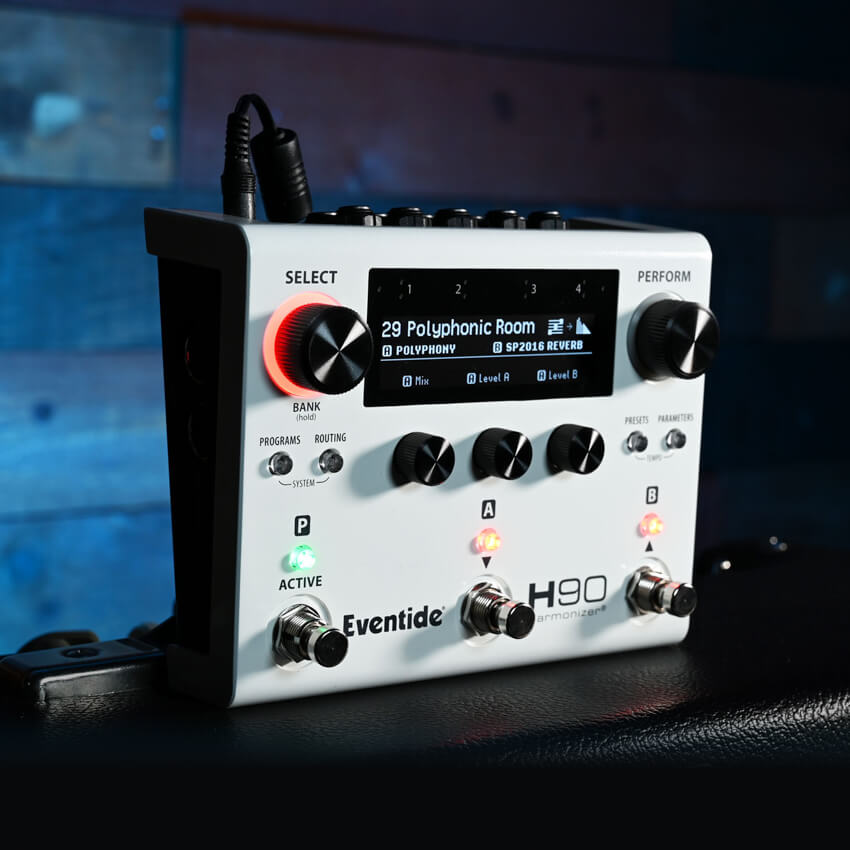 To combat endless menu-diving, the H90 introduces 5 tactile push knobs for rapid, precise control. The two larger dials let you swap between Select, Bank, and Perform modes. As the name suggests, Perform instantly allows you to program footswitches and access map functions like preset insert bypass, tap tempo, and momentary states. And let's not forget the amount of tweaking and sculpting you can achieve when the high-res OLED display and 7 LED buttons come into play. Despite the vast array of functions, the interface remains clean and intuitive. You can even extend the range of control to your mobile device via the companion app for macOS and Windows.
Even more connectivity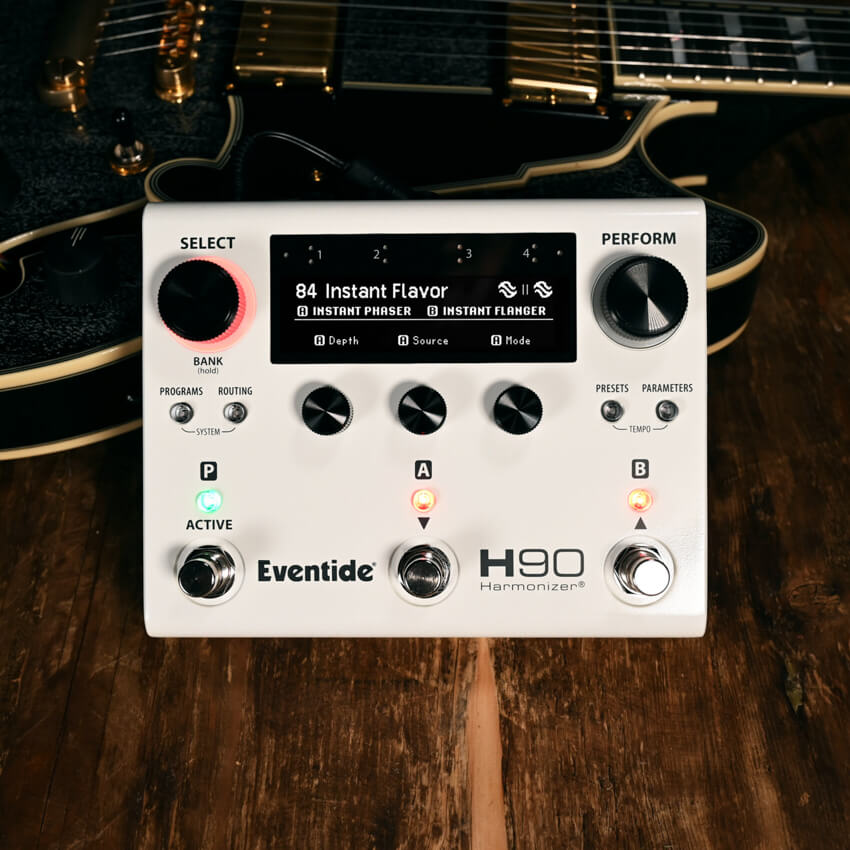 You get four mono audio ins and outs, dual expression control ports, and 5-pin MIDI in and outs, while USB connectivity enables software updates and instrument/line level operation. No matter what you throw at the H90, the multi-effects pedal can handle it, so bring on your preferred pedals and auxiliary switches.
We mentioned the audio jack ports earlier, but there's more to them than meets the eye. The H90 Harmonizer has the ability to combine two mono inserts, essentially creating a single stereo insert. This enables you to seamlessly integrate effects at any point in the signal chain. Dual Mode is equally versatile, completely separating inputs and outputs into two stereo paths. From then on, you can choose to explore 4-cable routing with amps, process 2 instruments simultaneously, and more.
With so much going for it, the Eventide H90 Harmonizer is one of the best multi-effects pedals currently available. Accessible, versatile, and user-friendly – this is a must-have whether you're an amateur musician or a studio professional looking to give your music that extra oomph.
Read more: Neural DSP Quad Cortex Processor – Next Generation Amplifier & Effects Modelling