Contemplating reasons to learn a new music instrument? Well, you've come to the right place if you're looking for that and the best instruments to learn music with!
Alongside its relaxing qualities, science has demonstrated that learning an instrument is beneficial to refining brain structure and forming neural connections. Think improved long-term memory, development of spatial intelligence, and the ability to recognise patterns – all key skills for mental and academic performance.
Shop Beginner Instruments
And picking up a new instrument isn't just for the young ones. Music is for everyone – no matter your age, skills, passion and tastes. The act of playing music has been tied to retaining listening proficiency and staving off age-related cognitive decline in adults. And if all that isn't convincing enough, just remember that music is just a fun way of expressing yourself creatively. Whatever the reason behind your euphonious endeavours, join us as we run down the gamut of instrument types to find the one that's right for your very own musical journey!
Ukulele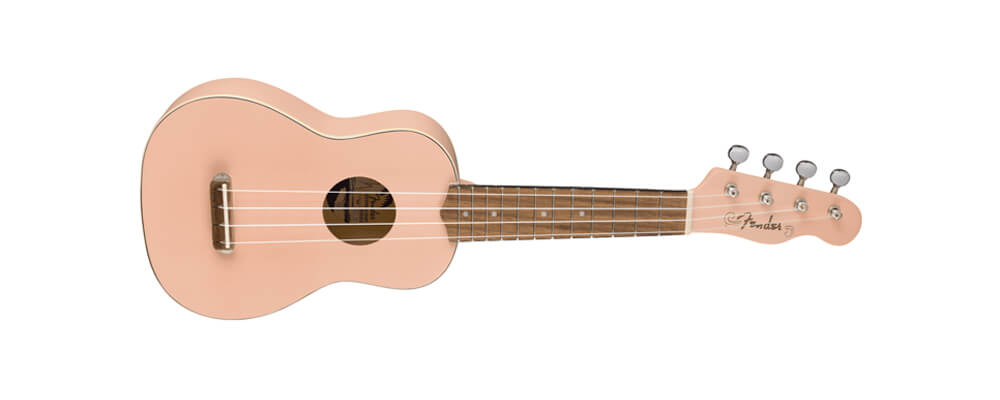 Although most commonly associated with Hawaiian music, the ukulele actually has its roots in Portugal, but made its way to the archipelago in the 1880s via Madeiran immigrants. King Kalakaua (of the Hawaiian Royal Family) was so taken by it that he championed its inclusion at royal musical events, and the instrument has been a staple in Hawaiian music ever since.
These days, the ukulele typically comes in a variety of four sizes, allowing players to dabble in different genres and styles. Small, lightweight, and relatively inexpensive, it's an ideal beginner's launchpad, especially for those who want a portable instrument. Its pleasant tone adds a cheerful lilt to any song, and because it only has four strings, you'll find yourself learning the chords in no time. Since the ukulele shares a similar tuning structure (G-C-E-A) with the guitar (E-A-D-G-B-E), along with similar techniques and principles, it's also a good starting point if you're thinking of trying out another fretted instrument in the future.
Acoustic and classical guitar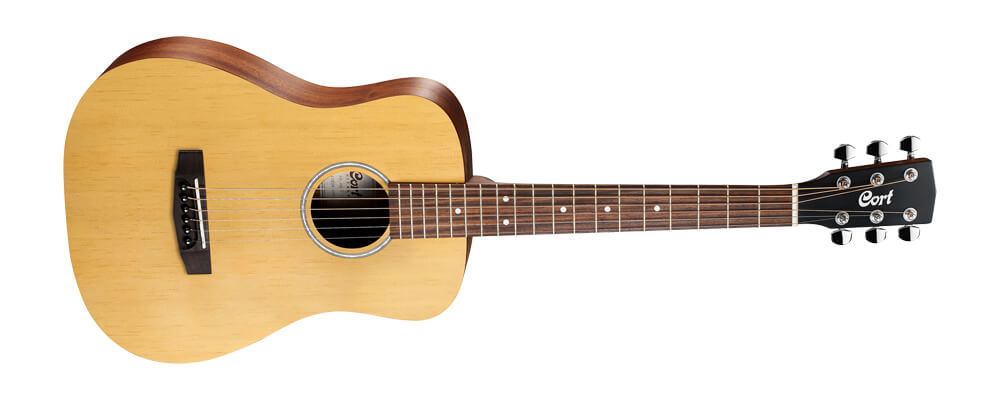 The guitar is one of the most beloved instruments out there for a reason. For starters, it's a common staple in modern songs across a diverse range of genres, including rock, folk, and jazz. Its portability only adds to its mass appeal. You can easily lug a guitar to a social gathering or impromptu jam session at a moment's notice. Few other instruments are as easy to sing along to, and the acoustic guitar doesn't require any extra accessories to be playable. Casual learners can quickly strum chord progressions after a few lessons. Looking for a challenge? Then you might enjoy the intricacies of fingerstyle or flatpicking.
Opt for classical nylon strings if you want a gentler experience for your fingers. The thicker and softer nylon strings draw out a mellow timbre that melts right into bossa nova, jazz, or Spanish flamenco melodies. These guitars generally have a smaller build, a wider fretboard, and eschew features like electronics and cutaways.
The alternative tonal options are the modern steel-stringed acoustics, which owe their crisp and bright sound to the higher tension of the strings, offering the player a surge of power with a focus on clarity and treble. You'll hear them featured more commonly in the popular tunes of today than their nylon counterparts for this reason.
Bass guitar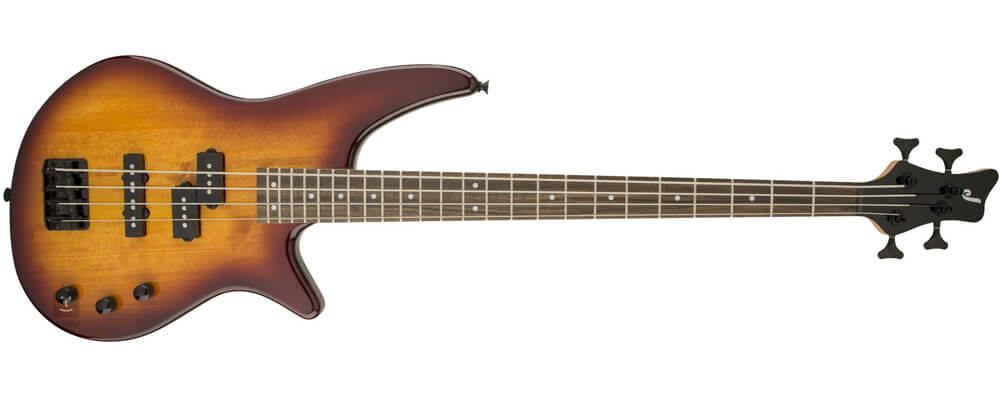 If the guitar doesn't have enough "oomph" for you, perhaps consider giving the bass a try. They're performance-oriented, stunning to look at, and are a major boost to one's coolness factor. Although similar-looking to an electric guitar, basses are usually larger, with thicker strings and a longer scale length that produce a deeper and grittier tone – perfect for chugging out meaty riffs.
Unlike the electric guitar, the bass guitar usually has four strings – a less intimidating to tackle straight-on if 6- strings are an overwhelming proposition. You do need an amplifier to get the best out of your solid-body electric bass guitar, but don't let that deter you. This just means that you'll be able to try out a wide scope of sounds and effects throughout your musical progression, keeping the playing experience new and exciting.
Bass guitars are the understated heroes of the rhythmic section, often working hand-in-hand with drummers to flesh out the backbone of a song. Add percussive slaps and finger taps to any composition, and you'll understand why they've become so indispensable to any music genre. And since guitarists are a dime a dozen these days, a good bass player will almost always find themselves in high demand during band recruitments.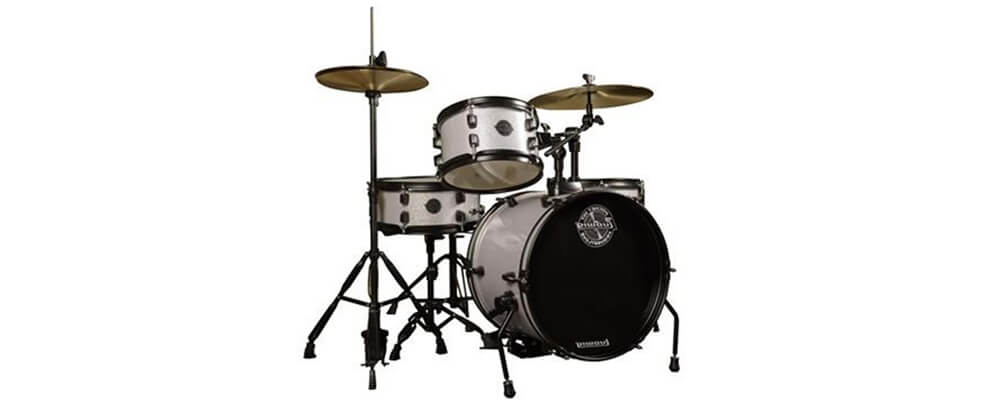 Some people love a challenge, and those people are usually drummers. Few other instruments offer the kinetic stimulation and sensory experience obtained from pitting a pair of sticks against a drum set, and it's a great opportunity to bash out stress and frustration too. If nothing else, the drums are the heartbeat of almost all music, and you'd be hard-pressed to find a song that doesn't heavily rely on them. If you lack the space for a complete drum set, or just want to start small, you can't go wrong with the trio of a kick drum, high hat and snare. Once you've gotten the hang of it, you'll be adding pieces to your kit like a real pro. Apartment dwellers fearing noise complaints need not feel left out. An electric drum set could be just what the doctor ordered.
Parents, here's why you might want to turn your little ones onto the drums. Drumming typically utilises all four limbs, cementing a link between the brain's visual cues and the body's muscular coordination. In short, it builds fine motor skills, develops dexterity, and teaches them to focus for longer periods of time. Younger children are also more attuned to picking up complex rhythms, much like learning a new language. Plus, which kid wouldn't jump at the chance to make all the noise they want with your approval?
Older students, don't despair! While you might find the drums a little more challenging at the beginning, commitment and perseverance will also get you to the level you'll want to be at, so just keep practicing.
Read more: Learn a New Instrument: Drums and Percussions
Digital pianos & keyboards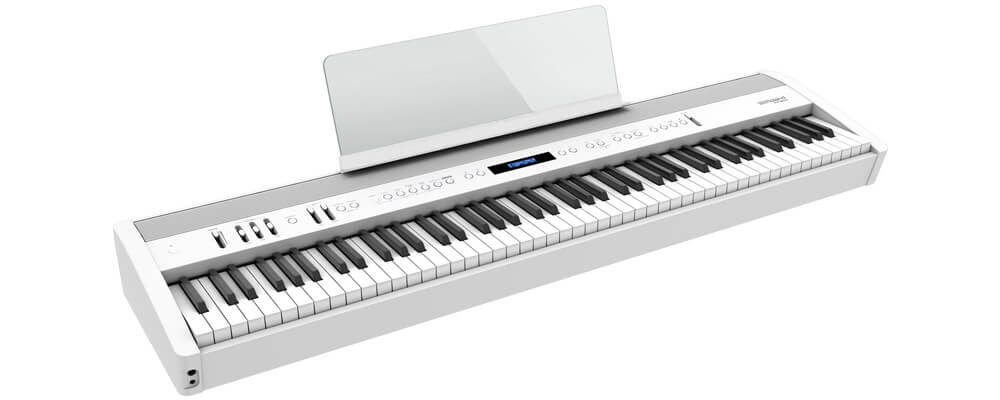 While guitars and drums may be cool, the piano is downright elegant. Sleek, monochrome keys are just as at home launching into elaborate baroque sonatas as they are trilling out a present-day romantic ballad. Everything sounds great on a piano. Moreover, piano playing is linked to a medley of mental and physical advantages. Cortical remapping, enhanced mathematics and language skills, and fine-tuned hand-eye coordination are amongst the myriad of bonuses you can get from tickling the ivories.
Keyboards are the Swiss-army knife of the musical sphere. They're more portable than the traditional piano, and at the press of a button, you can imitate other instruments to a tee, or even lay down some sweet bass and drum accompaniments. Technology has even progressed to a point where there are keyboards that let you can wirelessly connect to a smartphone to tap into a huge resource of free lessons!
Needless to say, if you can play a keyboard, you're good to start planning out your own one-man musical gigs.
Read more: 8 Keyboards and Pianos for Beginners
Bells and triangles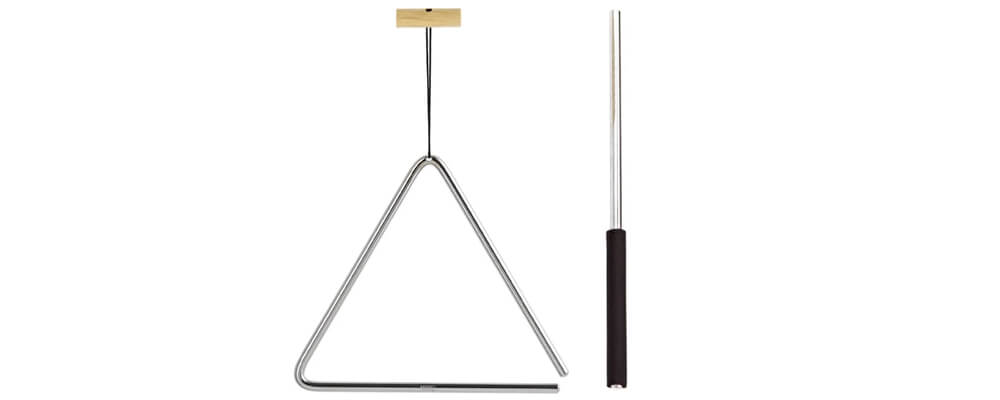 While often overlooked for flashier instruments, these petite percussive tools are just as fun to perform and learn with as you might expect. Wrist bells, agogôs, bell sticks, cow bells, and chimes can easily be played without needing hours of training initially, the perfect entryway instruments for children or adults.
And then, there's the humble triangle. Try using different beaters to produce varied tones. Experienced musicians cite trickier techniques like triangle rolls, and many a classical piece is centered around its unique sound. Even mainstream acts like Queen and Joni Mitchell have incorporated it, and the Foo Fighters' Drew Hester has been known to perform triangle solos at their concerts.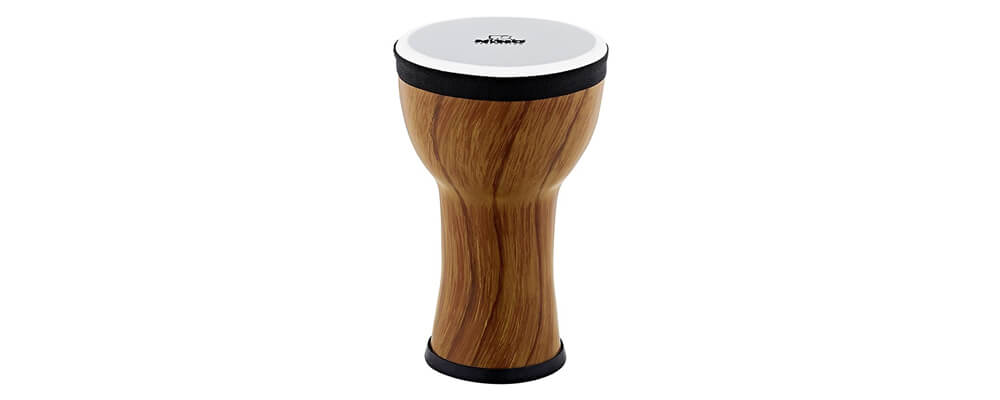 One of West Africa's best-known instruments, the djembe's loud and powerful sound keeps it standing out amongst the crowd, and it is an excellent addition to a world percussion set. The goblet-shaped body is traditionally carved out of hardwood, and a rawhide or synthetic drumhead is stretched over it. You can control the pitch of the sound it makes by striking it towards the center, edge, or somewhere in the middle. For an interesting twist, attach a kessing to your djembe and marvel at the dry, rattling tone it produces. While most players sit with it between their legs when performing, the djembe also transforms into a portable music-maker with a strap, so you can dance to your own drum beat as you play.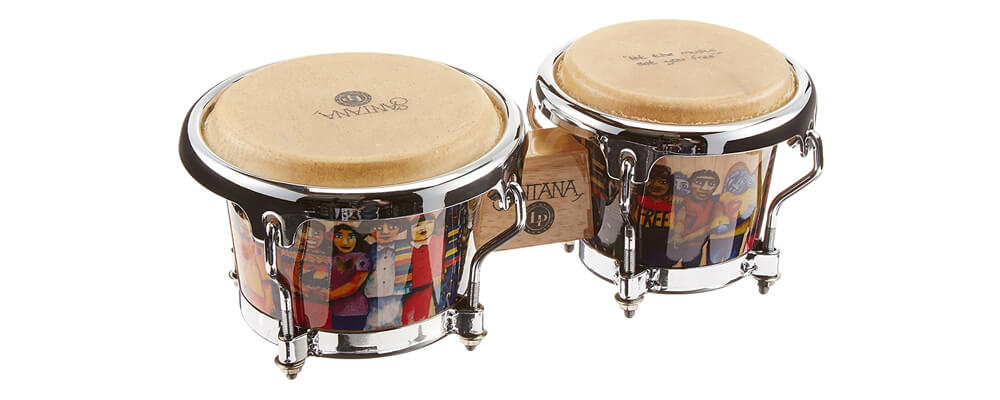 Derived from Central African drums, bongos are popular with hand drummers, and feature predominantly in salsa, Latin Jazz, and other Afro-Cuban music. Much like the djembe, these little powerhouses can be struck at different points on the head to create varied sounds, but you should use your fingers instead of your palms. Hit it with one, two, or three fingers to change how heavy the tone is, and switch between the larger drum (hembra) and smaller drum (macho) to add accents while you practice your martillo.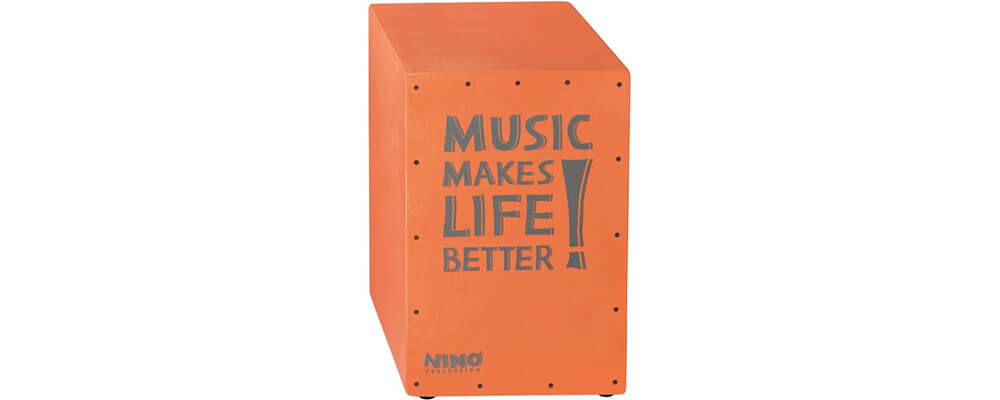 Meaning 'box' or 'drawer' in Spanish, the fittingly-named cajón may look simple and unassuming, but don't sleep on its versatility. This Peruvian instrument isn't omnipresent in Afro-Caribbean music for nothing, and its reach has slowly extended to blues, pop, funk, and even Irish folk music. It might owe its popularity to how intuitive it is to play. Just sit on the box, tilt it between your knees, and slap away at it. Most people use their hands, but brushes, beaters, and even drum-pedals are fair game. Really, your imagination is the only limit here.
Read more: Your Guide to Buying a Cajon
Hand drums and cymbals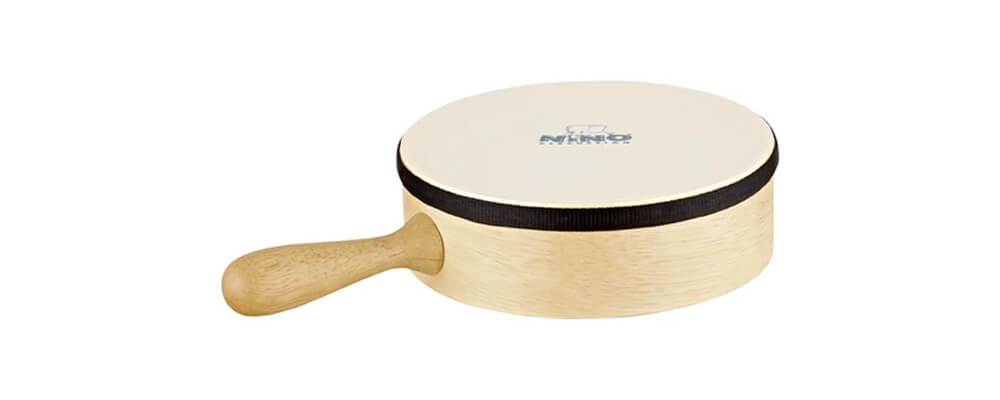 Considering starting a family band? A pair of cymbals is a smashing fledgling instrument for a child. While you might normally think of cymbals as part of a complete drum set, these shiny plates are entertaining on their own merit. Different models produce equally varied sounds, so keep an ear out for the tone you want, whether it be light and shimmery, or bright and full.
On the same note, a set of hand drums might also be up your alley. They're a natural introduction to basic rhythms and pattern recognition. Lightweight frames mean that even the smallest child can handle them with ease.
Assorted percussion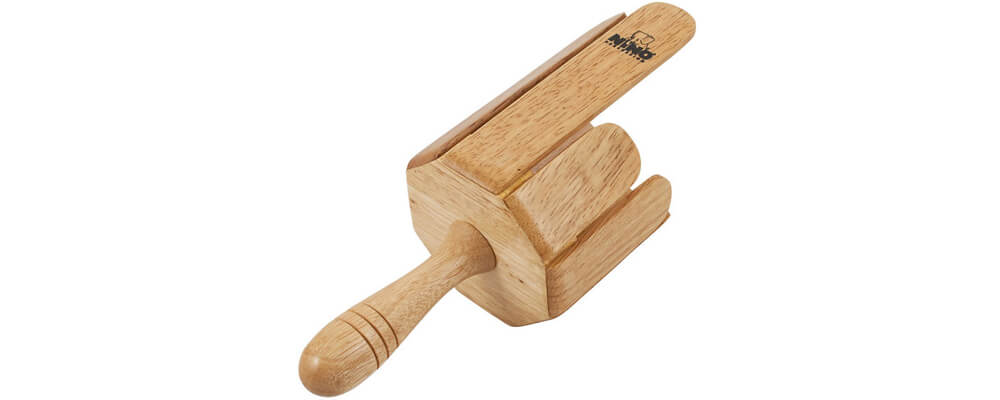 Historians believe that the oldest musical implements are percussion-based, so it should come as no surprise that this prodigious family has such a comprehensive field of instruments. Many of them are also incredibly child-friendly, since they require nothing more than enthusiastic shaking or smacking to produce sound, like rattle sticks, stirring drums, a-go-go, tambourines, shakers, and maracas. For example, upend a rainstick and listen to the pebbles trickle down its hollow interior, evoking the serene sound of a rain shower – pretty cool if you ask us. Each one of the instruments in this category generate loads of unique sounds, so if you're looking for a musical safari this is undoubtedly the place to start!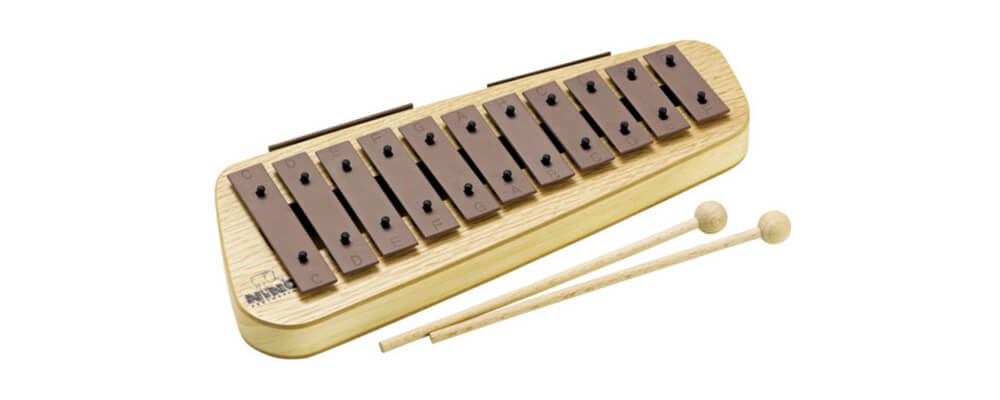 Here's an instrument you might not have realised you wanted to play until now. Enter the glockenspiel. Often mistaken for a xylophone, this portable frame weaves a set of tuned plates or tubes together to mimic the layout of a standard piano keyboard. As you strike away with your mallets, you'll be following in the footsteps of Panic! at the Disco, Radiohead, and Jimi Hendrix, all of whom have employed glockenspiels in their hit songs.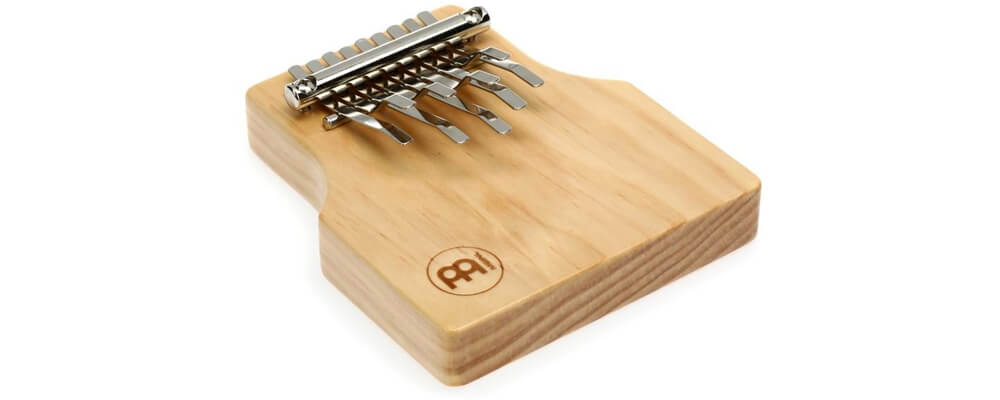 You'll find this trademark instrument of the Shona people in Zimbabwe. The kalimba (not to be confused with its older sister, the mbira) is sometimes dubbed a thumb piano, consisting of a soundboard fitted with steel keys that you stroke and depress. What results is a pure, bell-like tone that wouldn't sound out of place in a music-box's repertoire.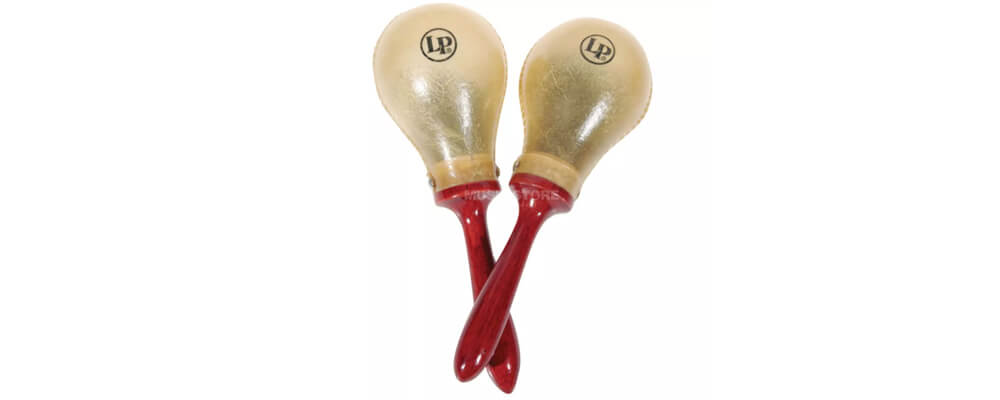 Are you a fan of Latin-American music who's also looking for an instrument that's compact enough to tote around? Perhaps you'd like to give the clave or Cuban güiro a spin. The devil is in the details with these seemingly easy-to-play yet challenging-to-master percussion tools. The claves' bright clicking noise is distinctive, and changes depending on how you hold and strike each clave, while each strike, shake, or scrape of the güiro creates its own unique sound. Keen on flamenco dancing? Castanets might be your thing. Choose a smaller set for a crisp, lighter tone, or go big for a richer, mellower tone.
---
Now, if you've finally made your decision after all this, it's time to head to our website to seal the deal. But if you're still sitting on the fences, why not travel over to one of our Swee Lee stores, and see which instrument tickles your fancy?
Shop Beginner Instruments
Stay tuned to our website and the Swee Lee Blog for more product highlights and new gear that will be coming in soon.

Read more: How to Find the Perfect Beginner Electric Guitar