If stringed instruments aren't exactly up your alley, there's always the boisterous world that is drums and percussions.
The oldest known musical instruments known to man have made leaps and bounds today – modern percussion is as wide-ranging as they come with more types of drum and percussion instruments that you can shake a stick at.
Drum kits, Cajons, Bongos – it's easy to be overwhelmed by choices, even for those who aren't starting out! So, we've put together a quick-and-easy guide to get your drumming journey started.
Drum Kits have been providing the beat to modern music since the early 20th century. While the drum kit got its start as the rhythm section in jazz bands, they have crept their way into every imaginable contemporary music genre today.
If you're a beginner or a hobbyist looking to start out with the sticks, a 5-piece drum set will get you on your way with all the basic sounds that you need: a snare drum, a bass (kick) drum, dual mounted toms, and a floor tom.
While you can choose to add an assortment of drum extensions and toms later down the road, many drumming greats have made do with the basic 5-piece throughout their illustrious careers.
Ludwig LC17511DIR Accent Drive 5-Piece Drums Set w/Hardware, Throne & Cymbal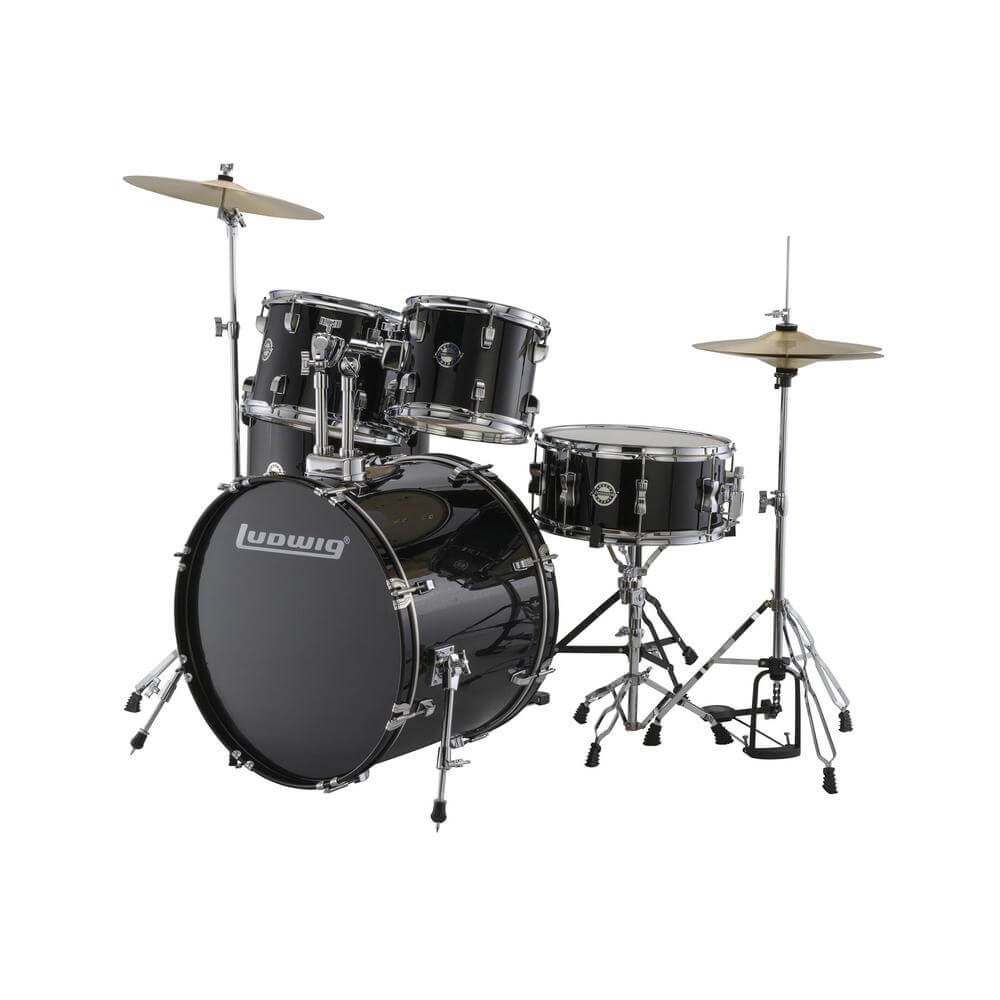 If you're serious about drums then you'd do well to start off with a solid foundation; and it doesn't get any more solid than the Ludwig LC17511DIR Accent Drive.
A complete 5-piece drum kit that gives you everything you need to get you off and running (a kick drum, a snare drum, two mid toms, a floor tom, a hi-hat stand, 13″ hi-hat cymbals, a crash cymbal, a snare and hi-hat stand, a kick drum pedal, and a throne), you'd be hard-pressed to find any other kits that delivers such great value. Compounded with the famous Ludwig build quality that has been supplying legendary drummers with their iconic sounds for over a century and you know that you've got a kit that will be ready to rock right out of the box.
TAMA RM52KH6C-BK Rhythm Mate 5-Piece Drums w/Hardwares & Cymbals, Black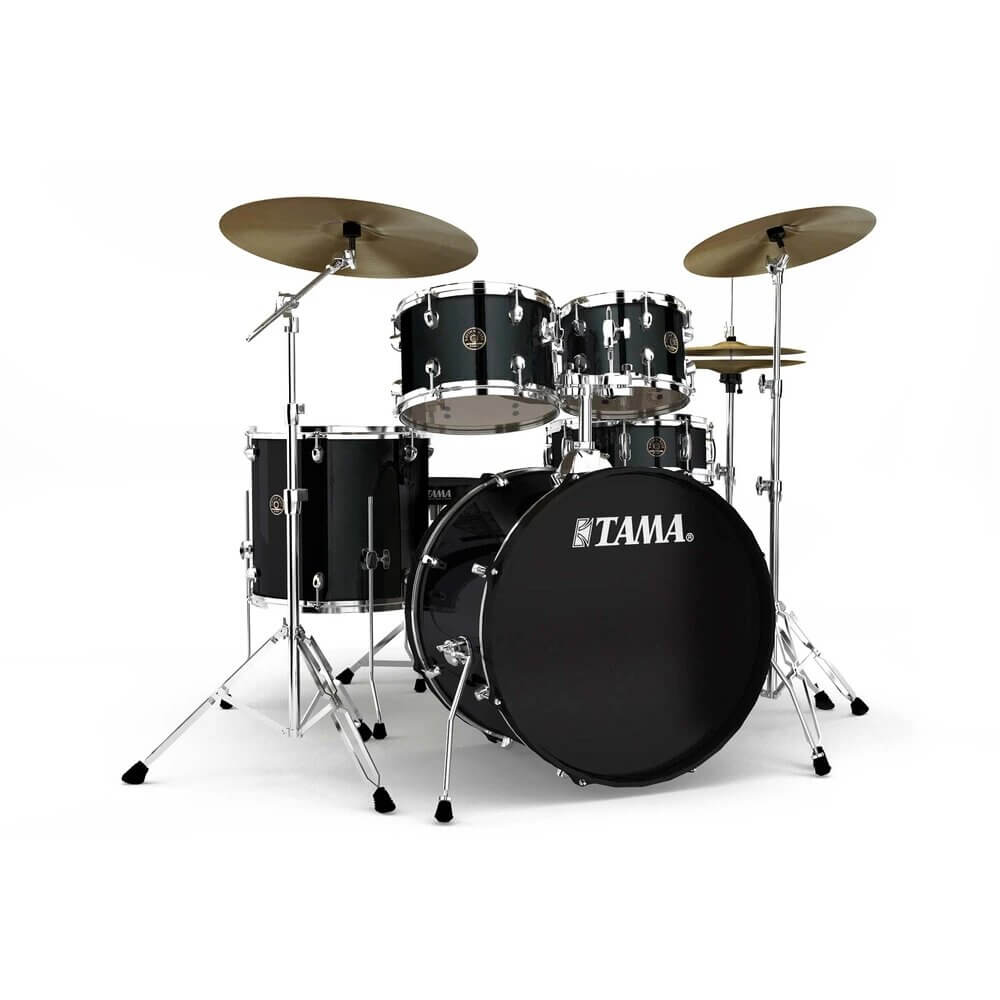 You don't have to compromise on quality when you purchase your first kit! In a world where many starter kits are plagued with bad construction and low-grade materials, Tama's Rhythm Mate series is a great choice if you want a quality drum kit that has all you need to start playing drums.
You get a 5-piece drum with stands and a drum throne, and a cymbal set together with their HP10 adjustable drum pedal. The Rhythm Mate is built to Tama's impeccable standards – as one of the leading drum builders in the world, you can rest assured knowing that your kit has been through stringent quality control processes stemming from immaculate Japanese craftsmanship.
Few can afford the luxury of banging on their drum kits without the neighbours calling the cops! Enter the electronic drum kit.
Modern electronic drums are equipped with an increasingly realistic library of drum sounds and velocity-sensitive triggers that rival the sonic and tangible qualities of the acoustic drums. They're ideal for silent practice sessions with headphones and are also versatile enough to be used in a band setting hooked up to a PA system for amplification.
Alesis Surge Electronic Drum Kit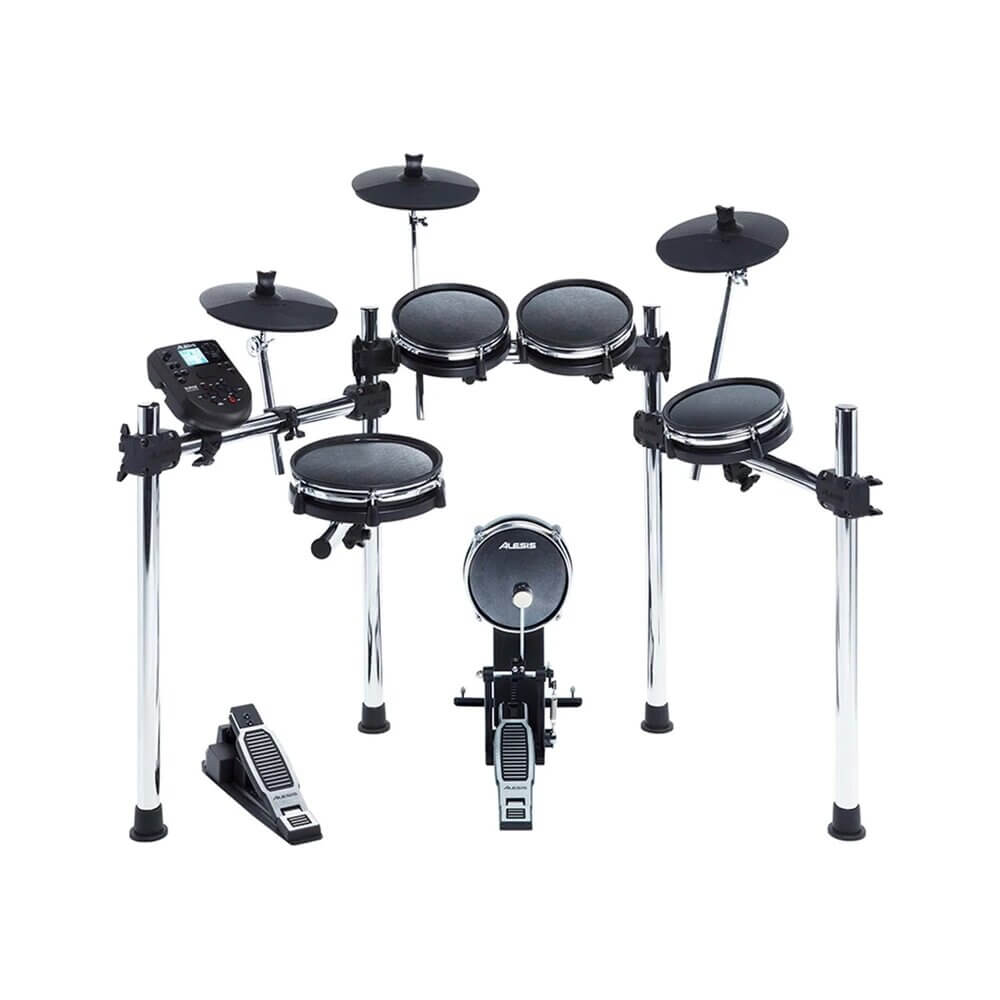 An electronic kit for the modern drummer – the Alesis Surge Mesh Kit has a whole array of performance features that differentiates it from the other electronic sets out there. Most notably is its full set of tunable mesh heads that allows for a custom playing response – unheard of at this price point!
The Surge also comes complete with 40 classic and modern ready-to-play kits that can be tweaked to your heart's content. For the extremely detailed types, you can also use the 385 superior drum, cymbal, and percussion samples included in the Surge module to create your very own custom kits. Coming at you with 60 practice tracks, an inbuilt metronome, a USB-MIDI output, and a music input – it's a great practice and music creation tool for drummers of all levels.
Unless you've got a friend in the drumstore, you'd be forgiven if you think that all cymbals are made equal. While most cymbals are made from brass or bronze, oftentimes cymbals can be characterised by the quality of the alloy, the shape of the cymbal and the method of their manufacture.
Cymbals go a long way when it comes to shaping your personal sound as a drummer. Whether you're looking for some cymbals for your first kit or simply looking for a change of flavour from your stock cymbals, they're a lot of fun to go shopping for.
SABIAN SBR5003 SBR Performance Cymbal Set (14in Hats, 16in Crash, 20in Ride)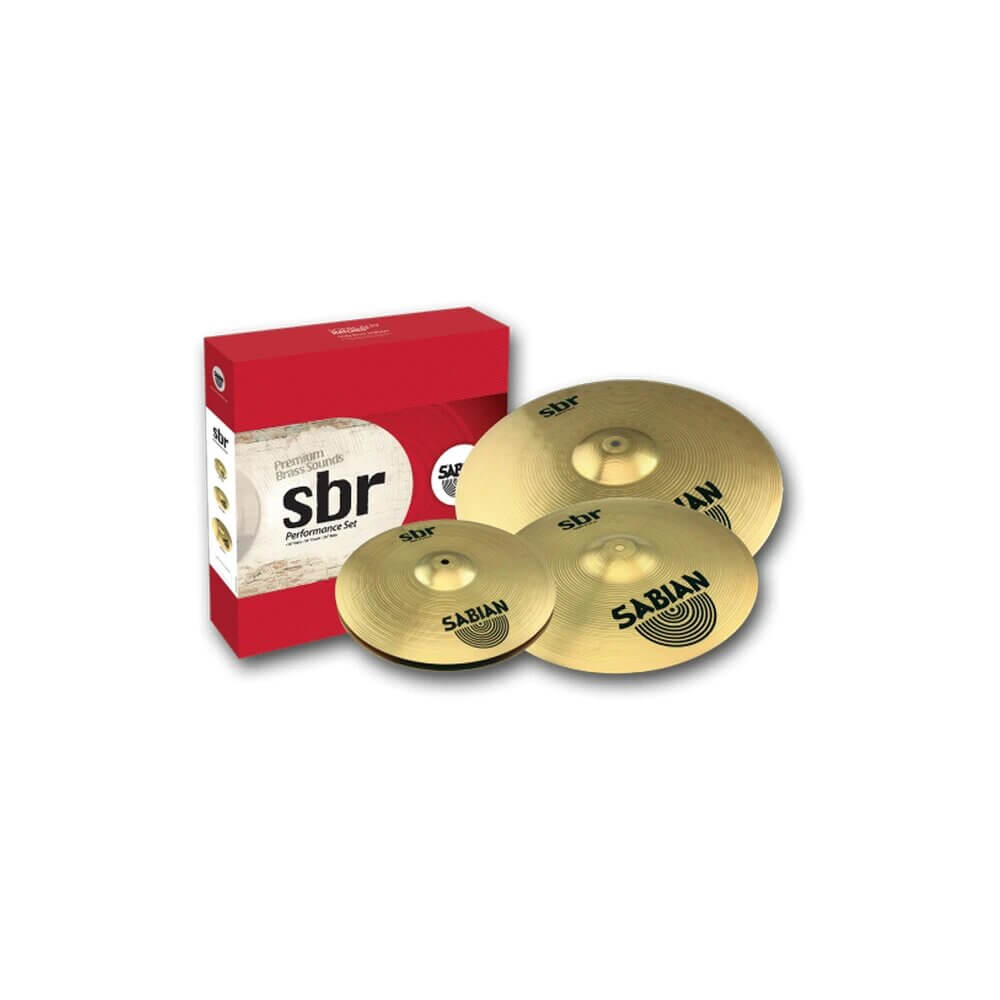 If you're looking for a focused cymbal sound to complete your kit, the Sabian SBR series should be right on your radar! Featuring a 14″ SBR hi-hats, a 16″ crash and a 20″ ride, the SBR5003 Performance Cymbal Set has a crisp, bright, and expressive top end that livens up your drum sounds in an instant. If you're looking to spice up your kit without thinning out your wallet, you'd do no better than to scoop up these great value Sabians.
MEINL Cymbals BCS141620 BCS Cymbal Set (14in HiHat, 16in Crash, 20in Ride)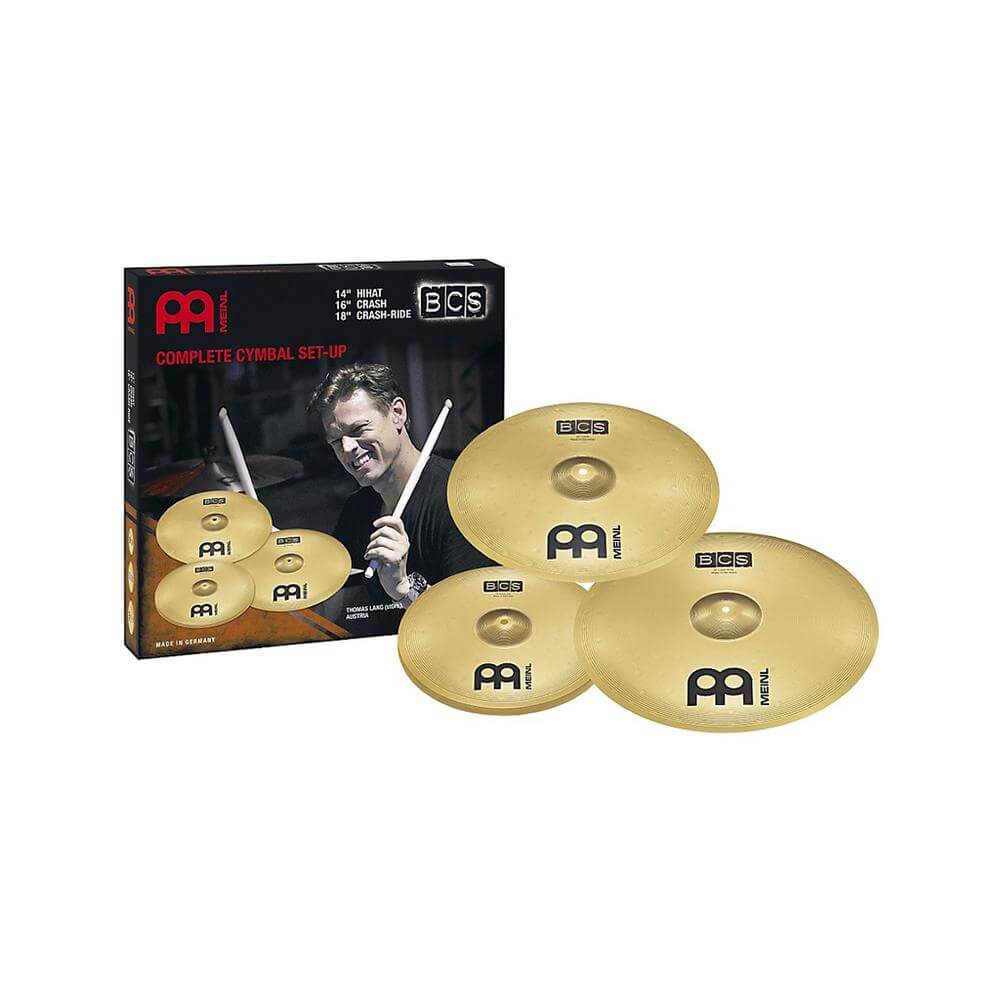 Based out of Germany, Meinl is actually one of the first companies to offer pre-packed cymbal sets as we know them today. With that in mind, it seems apt that the Meinl BCS cymbals are featured on this list.
Designed for beginners and student musicians using a durable brass alloy, the BCS set gives you the best of both tone and durability while you build up your drumming chops. These cymbals offer excellent value and have the sonic versatility to fit any style of music that you may be getting into while exploring your sound.
A box-shaped percussion instrument that originates from the country of Peru, the cajon was created by African slaves as a means of finding solace in their traditional African drum music during their captivity. Made from repurposed packing boxes left behind from work, these first cajons were easy to disguise as a seat or stool to evade the disapproving attention of their captors.
In current times, the cajon has become a widely played instrument seen with buskers or bands performing in venues around the world. And it's extremely easy to learn – you can hit the cajon just about anywhere on its face, and you'll produce a unique drum sound.
Pearl PBC-513CBC Chip Board Box Cajon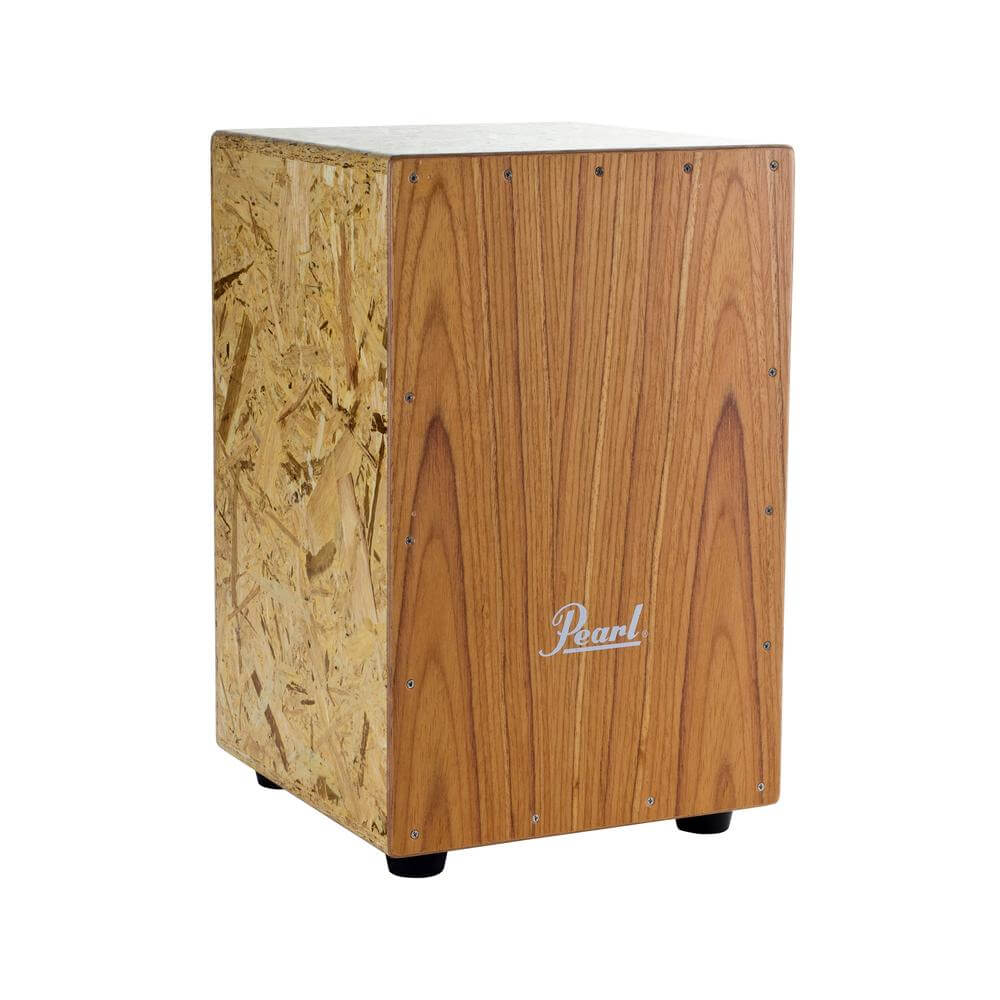 A great choice for the environmentally conscious beginner, the Pearl PBC-513-CBC combines Thai oak and chip board to create a durable and great sounding cajon. Using their expansive expertise in drum manufacturing, Pearl has managed to imbue recycled wood with increased strength to make it a viable material for percussion instruments.
MEINL Percussion CAJ2GO-2 Backpacker Cajon, Natural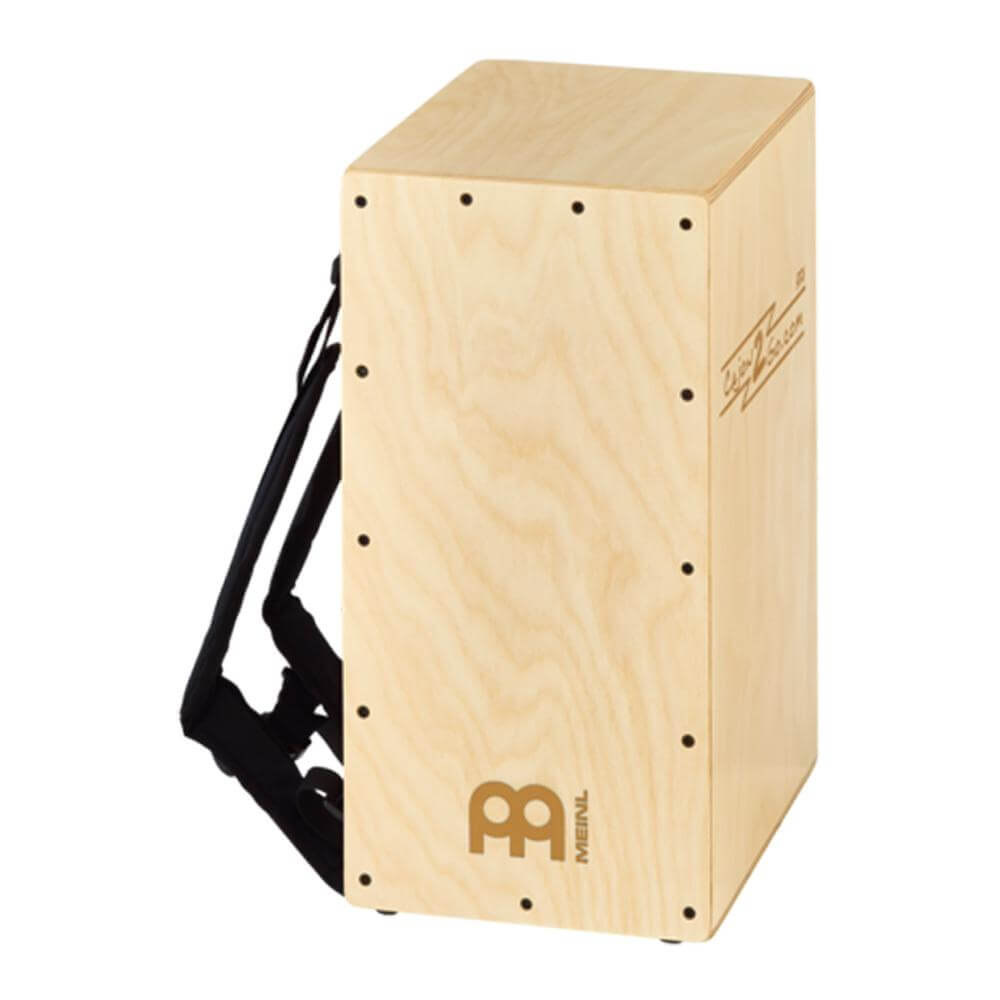 Take your cajon just about anywhere with the CAJ2GO-2 Backpacker Cajon, a perfect portable percussion instrument made to go where no cajon has gone before.
Lightweight and resonant, the CAJ2GO is fitted with extra strong padded shoulder straps so you can carry it around like a backpack. Sonically, the long, narrow birchwood body of the cajon gives you a deep bass on the front end and cutting accents and crisp finger rolls on the sides. The CAJ2GO-2 is also equipped with rubber feet that allow the cajon to resonate at its full potential in addition to protecting the instrument from the abrasiveness of the ground.
The conga has its origins both in Africa and Cuba, hence its designation as an Afro-Cuban percussion instrument. While congas were widely incorporated into Cuban music by the beginning of the 20th century, the late '30s and '40s saw the conga grow exponentially in the international scene. During this era, some of the greatest musicians brought the conga into the mainstream with the advent of Latin Jazz.
Today, the conga still sports the same barrel shape as it did in the early 20th century, but it has gone through significant changes in both barrel design and materials.
Latin Percussion LPA646B-AW 10 & 11inch Aspire Wood Conga Set w/Basket Stand, Natural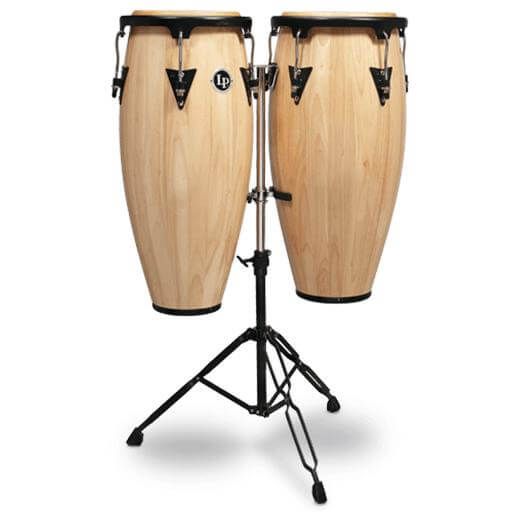 A great conga set for beginners and experienced percussionists alike, the Latin Percussion LPA646B-AW Aspire Wood Conga Set is a sweet-sounding set that is built to last. Standing at 28" tall, these congas are constructed from environmentally friendly Siam oak and are equipped with rugged hardware, comfortable EZ Curve rims, robust tuning lugs, a tuning wrench, and natural rawhide heads. Included in the set is a height-adjustable double conga stand that holds the 10″ and 11″ drums in place.
Natal NGU1011-MCN Natural Wood Congas 10inch and 11inch Chrome Hardware Stand, Matt Natural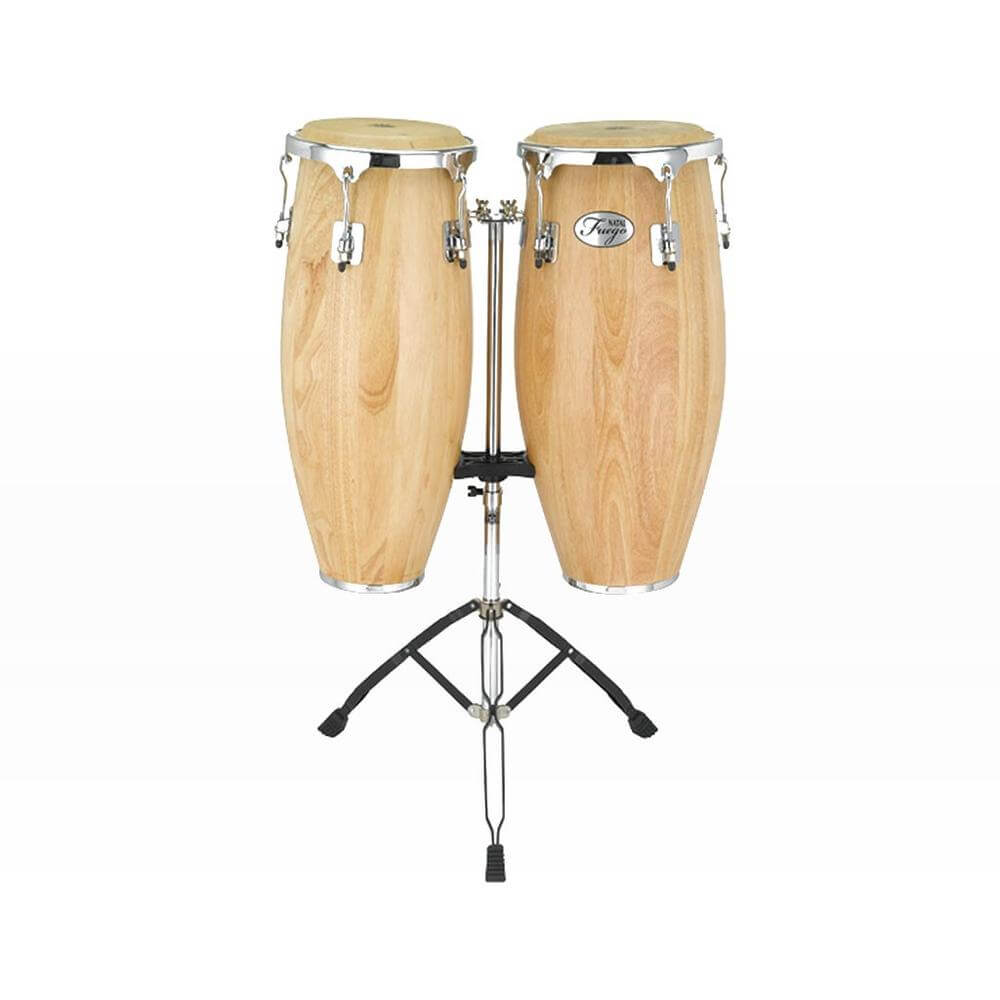 Founded in 1965, the Natal Percussion Company have a long history of producing high quality percussion instruments that captured the interest of various music greats. Fast forward to today, the company has remained faithful to their original designs and even utilises the original moulds in their manufacturing process.
This commitment to quality has remained steadfast with the NGU1011-MCN, a remarkably pleasant sounding conga set with rich and warm overtones. With Thai oak shells, natural hide heads, and sturdy chrome-plated hardware, these congas are a great platform to get into Afro-Latin percussion!
Hailing from West Africa, the djembe is another popular percussion instrument that has made its way out of the Afrcan continent. The djembe derives its name from the material of which the instrument is made – wood from the djem tree, a high-density type of wood found in Mali and goat skin (be) is used for the drum head.
While the djembe can come in different sizes and shapes, it is usually around 70 to 100 cm high with a diameter of 30 cm at the top. Traditionally, the djembe is played with both hands as the drummer stands with the drum held between his legs whilst the instrument is secured with a strap that goes over the shoulder.
Latin Percussion LPA630-AWC 12-1/2inch Aspire Tunable Djembe, Natural/Chrome Hardware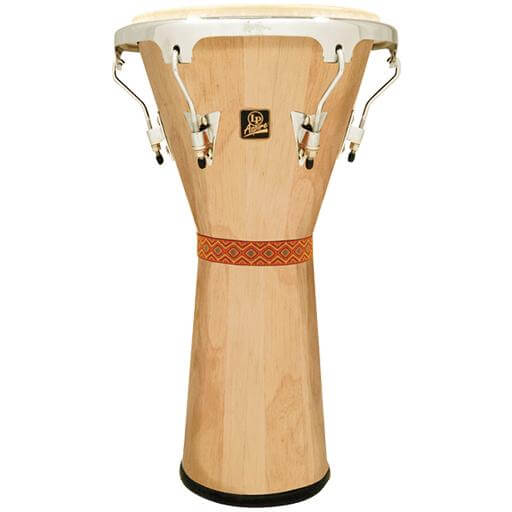 If you're looking to make your first foray into the world of African percussion instruments, you'll find that the Latin Percussion LPA630-AWC is a worthy contender for your attention. The LPA630-AWC sports Siam oak and a genuine goat skin membrane for authentic djembe sounds while employing modern mechanical innovations for durability and tuning stability. Whether you're looking to join a drum circle, have fun with friends, or introduce some flair into your recordings, you simply can't go wrong with this nifty djembe.
MEINL Viva Rhythm VR-SDJ12-SH 12inch Community Djembe, Boom Series, Pre-Tuned Synthetic Head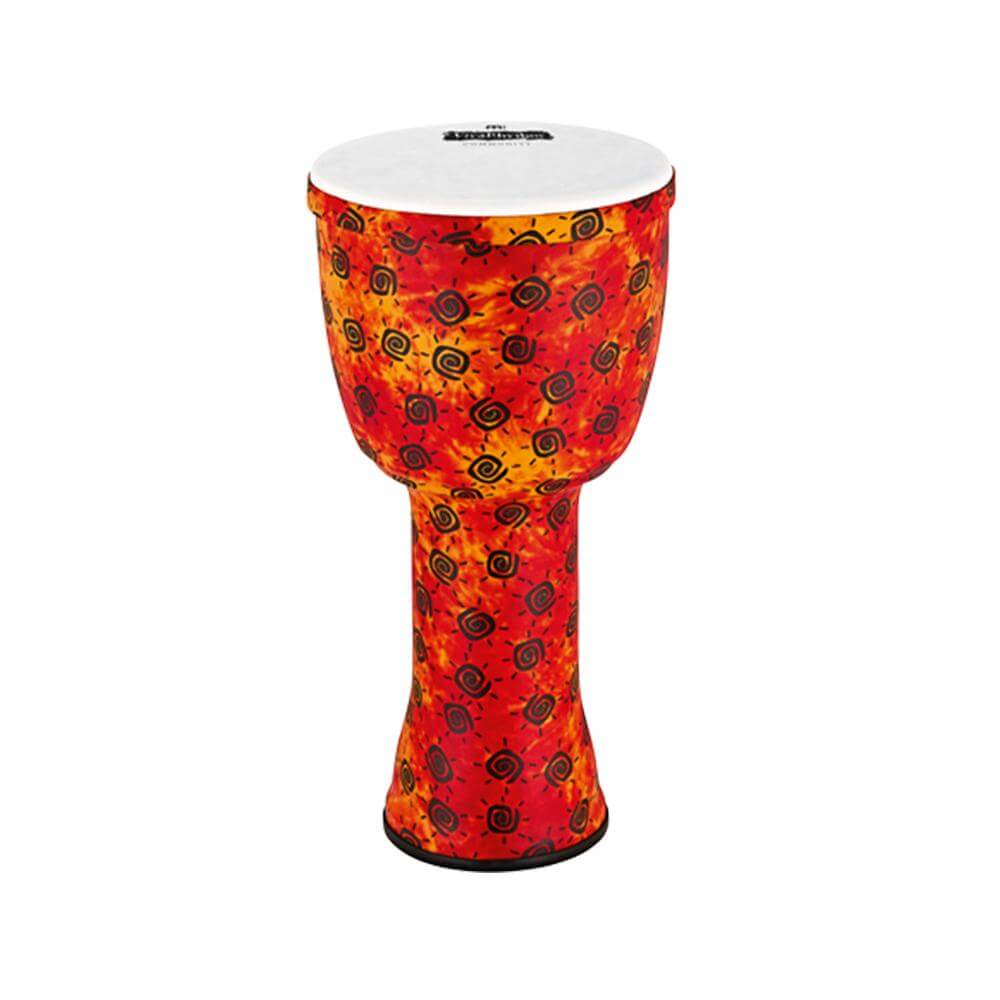 Made from 100% synthetic shell and head, the MEINL Viva Rhythm djembes are the perfect "take me out" drum with their durable and portable design. Their lightweight synthetic shells deliver a rich, resonant sound that rivals even bigger drums in terms of projection. Best of all, these quirky instruments employ the usage of VivaRhythm Pop Off Djembe heads that can be placed on or taken off the drum instantly without any tuning procedures, making them ideal for beginners and percussionists who just want to play.
Bonus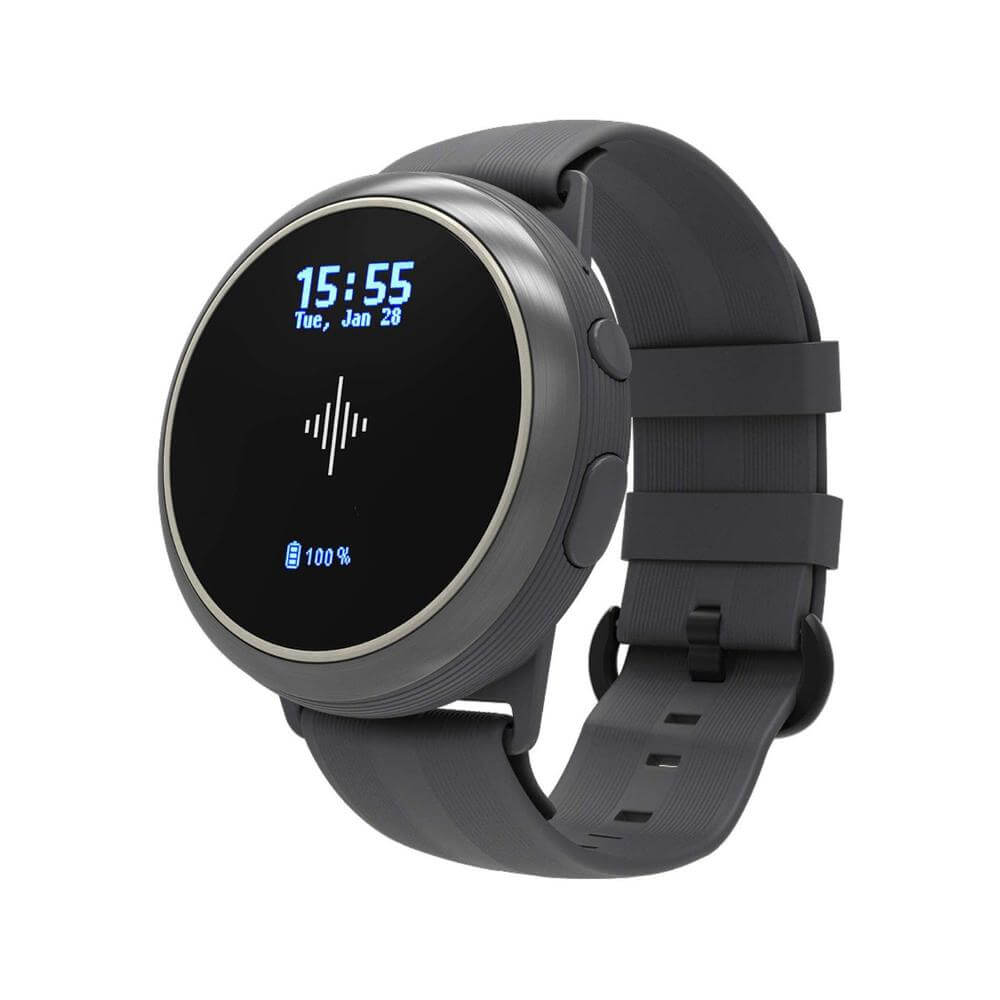 A bonus inclusion due to its sheer utility, the Soundbrenner Core is an awesome piece of gear that plays well into one of the core functions of a drummer – keeping time.
An intuitive haptic metronome, the Soundbrenner releases powerful pulses on your wrist or anywhere on your body so that you can stay on tempo without any annoying beeps and boops associated with older timekeepers. In addition to its usage as a metronome, the Soundbrenner also functions as a contact headstock tuner and a dB meter/alarm – useful for quick tune ups and saving your ears during gigs!
Best of all, the Soundbrenner Core can also be used as an everyday smartwatch – allowing you to take calls, receive texts, and set wake-up alarms right on your wrist without having to pull out your smartphone .
If you've got rhythm in your bones, drums and percussion will undoubtedly be a great way forward for you to express yourself. A new skill, increased neuroplasticity and you get to burn away some calories with some cardio – what's there not to love about the drums?
If you enjoyed this read and would love to check out the breadth of percussion based instruments in our wares, place your cursor right over here!