Only last week, we initiated Supro into our exclusive list of brands. Now we shift the spotlight to its sister brand, Pigtronix. If you're up-to-date with your boutique guitar gear titans, this is definitely a name you'll recognize. Perhaps you've seen their adorable mascot, hog-stronaut Marvin, floating around the Internet.
It's pointless to cast pearls before swine, but what about pedals? If Pigtronix's catalogue is any indication, those boars have some serious grade-A gear savvy. Every item on their menu comes with a huge portion of FAT – that's "Futuristic Analog Technology". As the phrase implies, Pigtronix products are all about forward-thinking designs and the latest in audio gadgetry.
Though Pigtronix's aspirations may be cosmic, their array of unique pedals has landed them a sizeable earthly following. Now that we're officially part of that fanbase, it's your turn to hitch a ride on their spaceship.
Read more: Swee Lee Welcomes Supro USA
Boar-n to be famous
Go the whole hog
Let's rewind to the late 90s when David Koltai and Brian Bethke were still wide-eyed college students. Another friend – mysteriously nicknamed Pigpen – had constructed an envelope-controlled phase shifter with help from Craig Anderton's "Electronics Projects for Musicians". This was such a novelty to Koltai and Bethke that they joked of one day running their own gear company.
Fast forward to 2001. Koltai, now an aspiring guitar player in New York City, had recently developed an obsession with guitar gear. Recalling the DIY shifter, Koltai reached out to his old friend Pigpen and asked to learn the craft of building his own gear. This was to be Koltai's initiation into the world of analogue pedals.
As Koltai began studying the build of classic stompboxes, he began to incorporate his own modifications into their circuitry. Eventually, he accumulated a whole arsenal of one-of-a-kind pedals that he'd deploy during his band's performances.
In 2003, Koltai reunited with Bethke and the pair decided to pursue their dream of starting their own pedal business. Absara Audio was started after the duo's products received positive feedback from the Summer NAMM show in Nashville. The first product they rolled out under Pigtronix was, befittingly, an envelope-controlled phase shifter which immediately grabbed the attention of Maroon 5, John Scofield, and a number of guitar greats.
By the time Winter NAMM arrived the next year, Pigtronix was soaring high. Around this time, the duo met two individuals who would play a huge part in their evolution. The first was Bruce Zinky, but we'll talk more about him later. The second was Howard Davis, head of engineering and pedal design at Electro-Harmonix during their heyday. Davis knew everything there was to know about pedals, so it was only fair that he became Koltai's mentor.
Reap what you sow
In the 10 years that followed, the company focused on creating niche pedals that were unlike anything already on the market. Even as other establishments were going digital, Koltai saw sky-high value in innovating analogue pedals to fit modern guitarists. As he put it, "Pigs aren't going to fly, they're going to outer space".
And go interstellar they did! Pigtronix's esoteric concepts earned devotees in bands like Aerosmith and Muse, to name a few. They tackled everything from infinite loopers with near zero-latency to dual-wielding fuzz and overdrive distortion makes. All their products were massive best-sellers, netting them enough dough to move into a commercial space in Long Island.
And Bruce Zinky? Koltai was a huge admirer of Zinky's works, particularly with his Supro renascence, and the two became firm friends. When another company expressed interest in acquiring Supro, Koltai countered with an offer of his own. And so in 2014, Absara acquired Supro, firmly catapulting them to the forefront of the guitar business.
Then came the new decade. Bond Audio, the parent company of D'Angelico was on the hunt for a worthwhile investment in 2020. Unsurprisingly, they set their sights on Pigtronix and Supro, uniting the New York trio into a conglomerate. This merge brought on board with it a compendium of research and design capabilities, along with worldwide distribution capabilities. With all these at their disposal, there was no stopping Pigtronix's upward trajectory. Ad astra!
Peddling pedals
Though Pigtronix loves their vintage tones, they're committed to pushing the boundaries of analogue pedals with modern technology and hardware. Furthermore, they make it a point not to oversaturate each department, producing only a select number of pedals per type at a time. Bearing their constantly evolving set list in mind, we're limiting this article's picks to our favourites.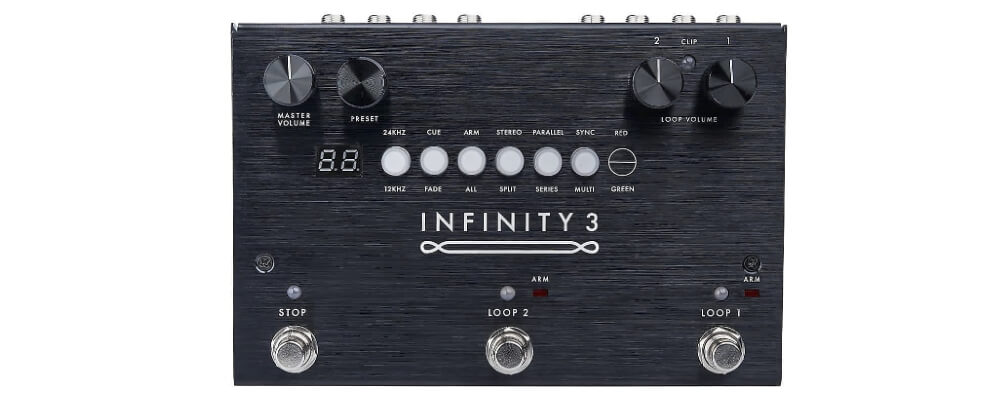 As the latest iteration in the highly-acclaimed Infinity series, the 3 has a lot to live up to. Fortunately, it does more than its fair share. On top of being easy to operate, it's extremely flexible and adaptable. Performance is hi-fi and latency-free, avoiding any unwanted delays. Dual stereo loop pairs cater to player spontaneity, promising instant recording, playback, dub, undo, and redo capabilities.
If you love chewing over your tracks, the Infinity 3 is set up with a whopping 3 hours of recording time on 50 loop pairs. That's practically a lifetime in experimentation. It's a well-connected device too. MIDI control with "intelligent clock jitter correction" allows for smooth integration with DAW frameworks. Sync sounds to a click track or drum machine, and the pedal does the hard work of keeping perfect time.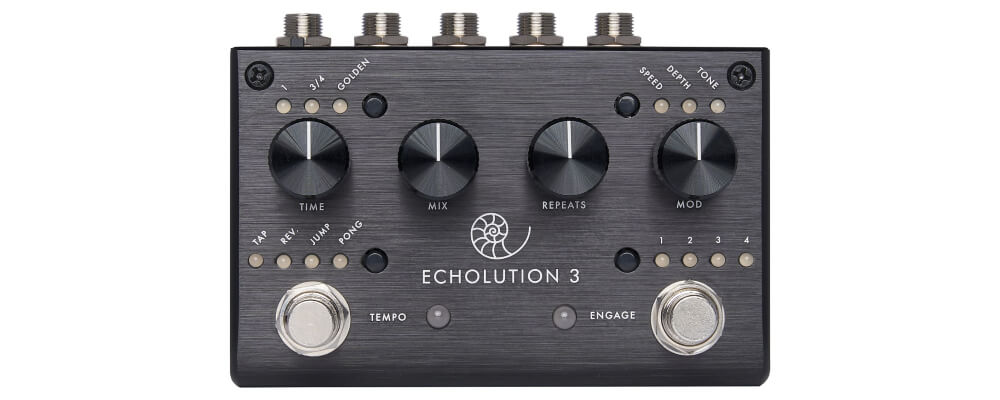 If third time's the charm, then the Echolution has desirability down pat. It's every bit as sleek as its forerunners, feature-heavy enough for veteran pedal users, yet still remains effortlessly simple to maneuver. You'll note the huge headroom circuitry that doesn't skimp on programming power and digital adaptability. Its "Preset Select" feature pairs with a remote switch for on-the-fly switching between your best-loved settings. So plug in as many functions as you like.
The spiral shell on its front gives the game away. Pared down, the Pigtronix Echolution is a delay processor that flits between 100ms and 5s of delay time. It subdivides taps into 1 of 5 time divisions, including the Golden Ratio Phi. Mashing together blends of taps and delays, you're amping up for intricate polyrhythms that take on a life of their own as the music marches on.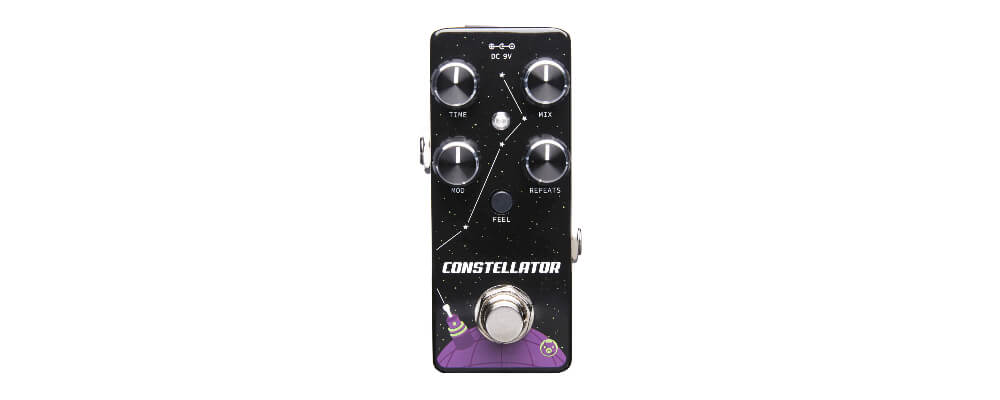 For something that barely casts a shadow on a pedalboard, the Constellator has tons of tricks up its sleeve. This mini stomp gets its vigour from a pair of MN3005 BBD chips, boasting a max. delay of 600ms. There's the typical array of "Time", "Mix", and "Repeat" dials, along with a Mod knob for hazy repeat modulation. Its core voice does anything from tangy rockabilly to deeper metallic chugs with aplomb.
Where the Constellator gets really interesting is the "Feel" button. It toggles between chorus and vibrato, so the option to transform tracks either subtly or extensively is there. Layer heavy modulations for psychedelic meditations if you want. Alternately, channel vintage tape machines on the fritz with self-oscillation, sending oversaturated riffs into a glorious frenzy.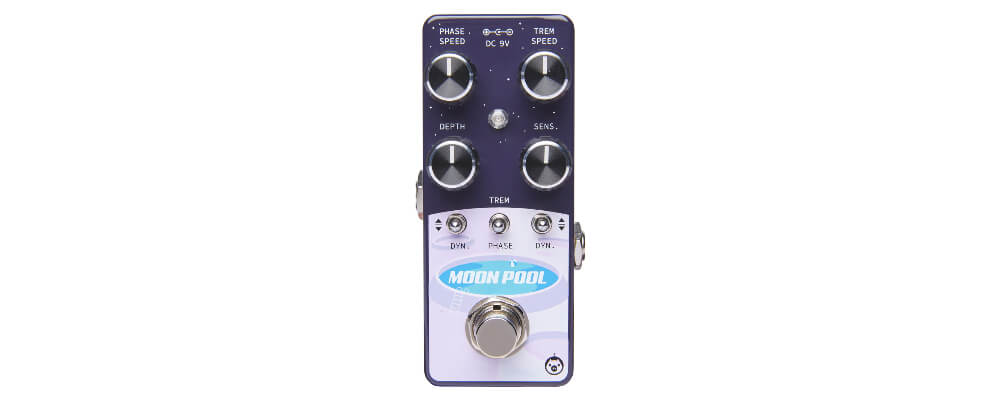 Yet another tiny treat that holds its own amongst larger compadres. As a dual LFO phaser-trem combo, it's packed with both practical effects and interesting manipulations. Feed a jittery tremolo through a lazy phaser, and bars become deliciously lush and liquid. While there are dedicated controls for both modes, twin toggles enable rate flow and speed-savvy dynamic mastery. Rest assured it's easier to use than it is to explain.
While most vintage-style phasers make do with just a rate knob, the Moon Pool takes its watery washes seriously. Depth control gives all the colouration you'll need. At its lowest, there's still a decent range with subtle animation and nuance. Take it up several notches, and it's springy, bubble-gum goodness. Word to the wise, play around with different phase-tremolo settings to see where the best balance lies. It's an ocean of possibilities.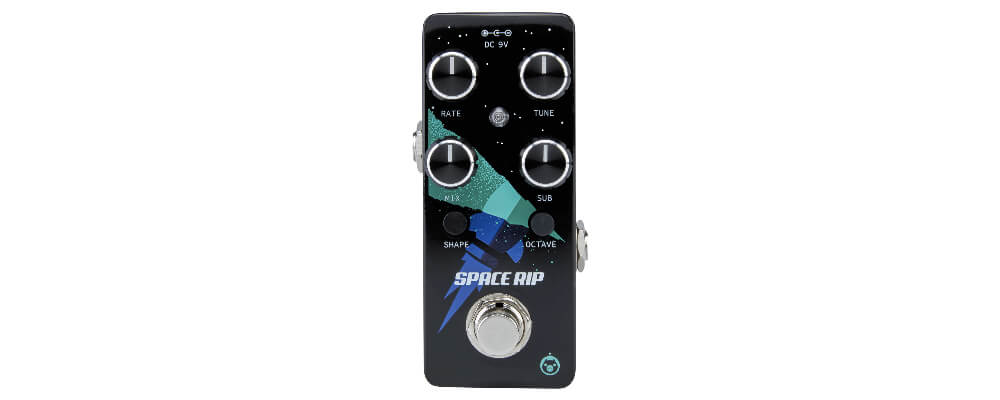 Not much room to spare but still want a serving of analogue pulse width modulation synth? That's a niche ask for sure, but the Space Rip carves out that space just fine. A quartet of dials (Rate, Tune, Mix, and Sub) stud its surface, along with oscillator-targeted buttons for waveform shape and octave setting. Set to default, the first oscillator doubles notes while the second shifts them down an octave. Click on it, and everything is shifted down by an octave.
You've probably noticed by now that the Space Rip isn't just niche. It's alien weirdness done right. You start off choosing between sawtooth or square waveforms. Then it's a matter of fiddling with the controls to cue up avant-garde sounds. Turn the "Mix" knob to its halfway point, and there's an explosion of fuzz. Dial in more of the "Sub" to highlight the octave effect, or roll it back for a stellar melody line that's out of this world.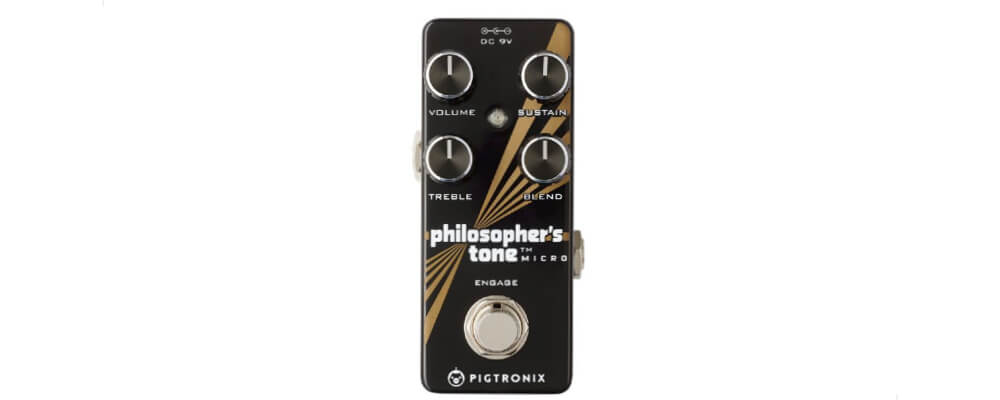 The original Pigtronix Philosopher's Tone is a legend, winning multiple awards for its pioneering design. Now shrunk down to a micro-sized stomper, it's still a prize. There's ample amounts of headroom, courtesy of the amp-driving volume knob. Despite shedding the "Grit" function, the "Blend" dial remains intact for gradual doses of compression in parallel to your signal.
Prefer an EQ shift without any compression? Here comes the treble control with cut or boost to the rescue. Conversely, you could also use it to dial in a modified tone with compression. It works both ways! Compression itself never gets too squished but sings with plenty of pristine sustain. Taking the extra top-end into account, the Philosopher's tone isn't merely a compression pedal. It's a versatile tone conditioner that adds much-desired flair to your solo sessions.
---
There's much to salivate over when it comes to Pigtronix and their highly-specialised pedals. As we said before, their range is in perpetual flux, so no guarantees that any pedal you're eyeing will be in stock for long. And if you do spy a stompbox on their website that we don't have yet, drop us a line. We'll sort it out for you.
One of these pedals got you all starry-eyed? Come tell us all about it at a Swee Lee store. We love a good gear chat. Otherwise, stick to perusing the astronomical array of items on our website. There's a lot to get through, so drop your details in our newsletter form. We'll let you know what to look out for next.
Read more: B-Stock Products Explained