The cajón, a box-shaped percussion instrument originally from Peru, under the hands of skilful drummers has proven to have more tonal options than its six sides seem to suggest. But that hasn't stopped creative musicians from adding more and more hand-percussion and accessories to their cajon set up to take the humble box-drum to the next level.
Desiree Tay is one of these musicians flying the percussion flag high in Singapore. The energetic 20 year old can be seen lugging her gear to bars and festivals around the island and has become the go-to cajon player and drummer amongst her peers.
With gigs spanning the genre spectrum of folk (Jean Seizure) to soul (Krysta Joy), and even classic rock (Shirlyn + The UnXpected), Desiree manages to cover it all with her collection of instruments. We ask Desiree about the percussion gear she owns and what she'd recommend to anyone looking to expand their set up and their sound.
Over to Desiree…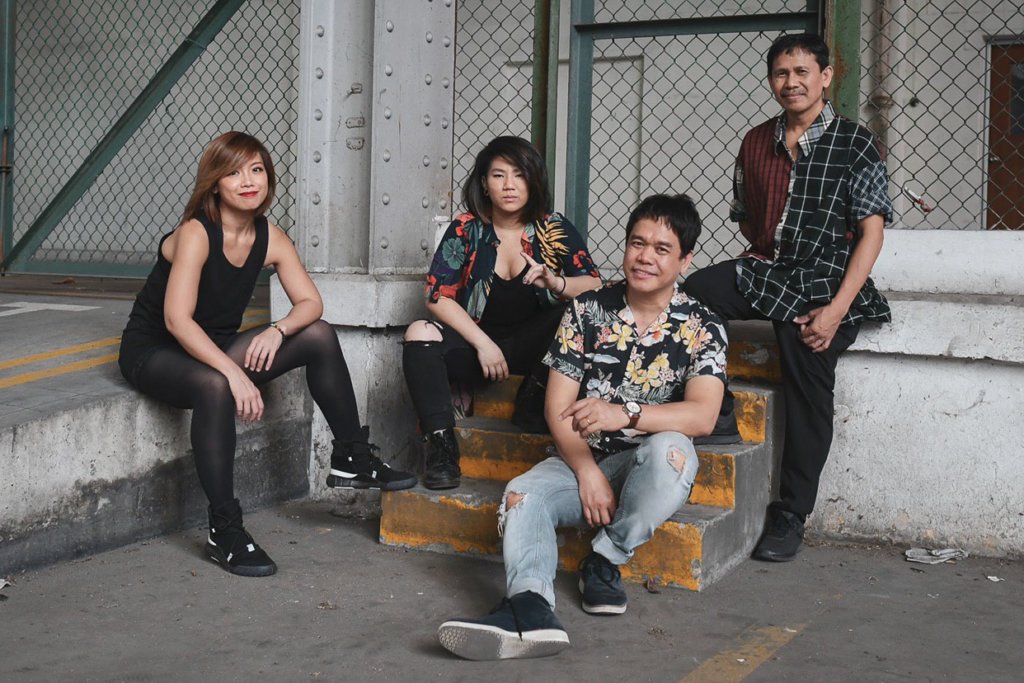 Cajons
Meinl Percussion Subwoofer Cajon, American White Ash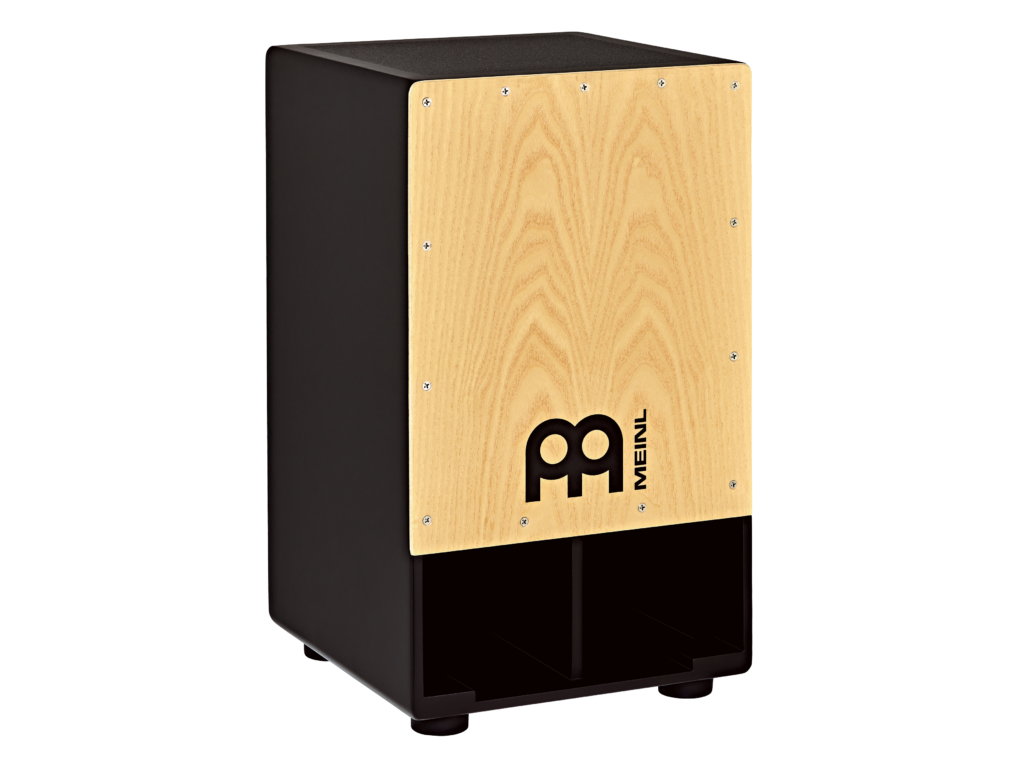 This is my first cajon gifted to me by my dad — he was actually the one that introduced it to me. He said, "I saw a guy hitting a box — it was pretty cool — do you know what it is and how to play it?" I said no and the next day he drove me down to Swee Lee to check this "box" out.
At Swee Lee, [long time staff member] Yadni picked out a few cajons for me to try out, but no cajon stood out the way the Meinl Subwoofer cajon did. The reason why this cajon caught my eye was because it had a forward projecting sound port in place of the traditional rear facing style and it was different compared to the other cajons she picked out. When I tried it out, the bass was pretty amazing and Yadni told me that the cajon has an internal reflex channel which resulted in an enhanced bass note projection and I'm all about that bass (no treble).
Anyway, we got the demo piece and the rest is history.
Meinl Percussion Jumbo Bass Cajon, Walnut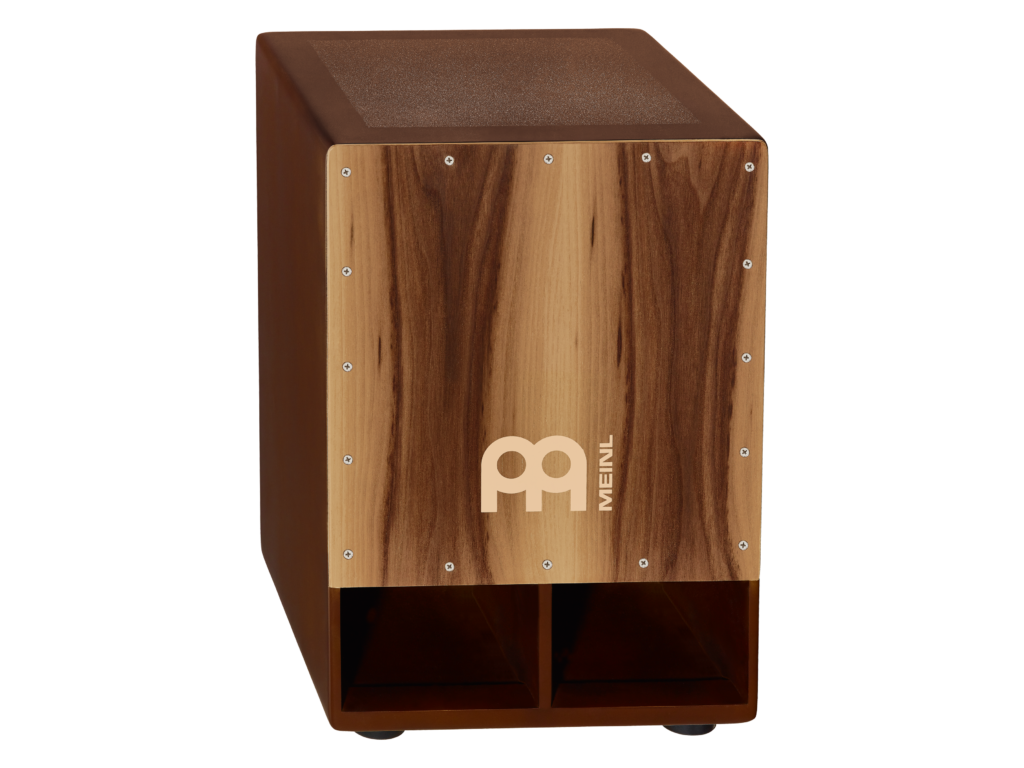 5 years later I came across the Jumbo Bass Cajon while surfing the net.
I contacted Don at Swee Lee Bras Basah and bought it the next day. It's similar to my first cajon, but is slightly bigger, heavier and produced much more immense and deeper sounds than my first one.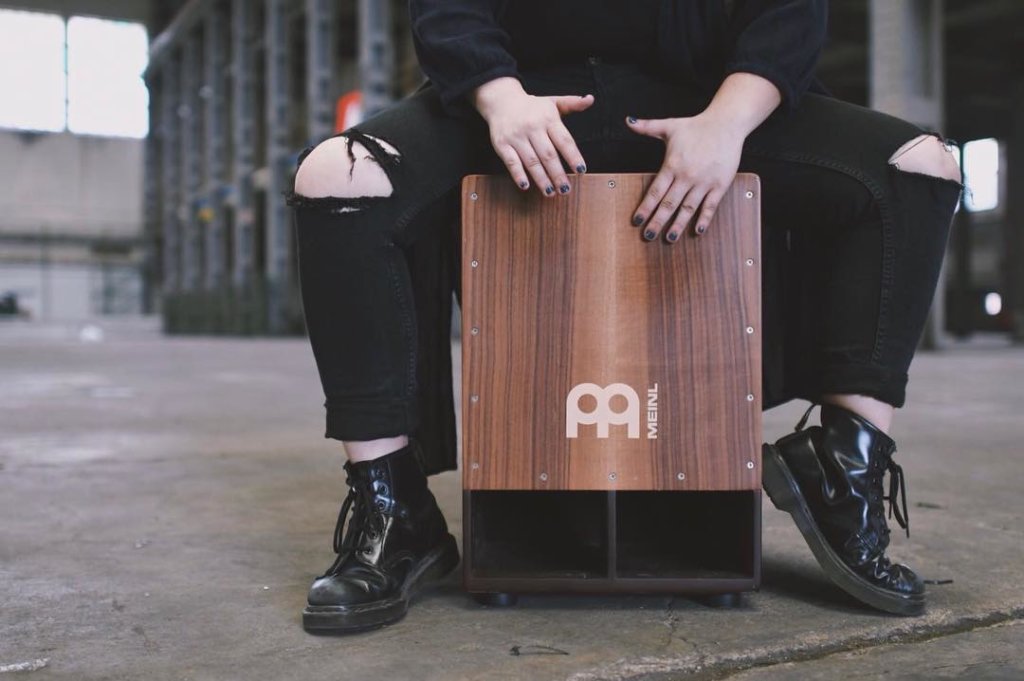 For those of you looking to get a bass-ier cajon, this Jumbo bass subwoofer gets the job done!
Natal Percussion Black Cajon, Natural Panel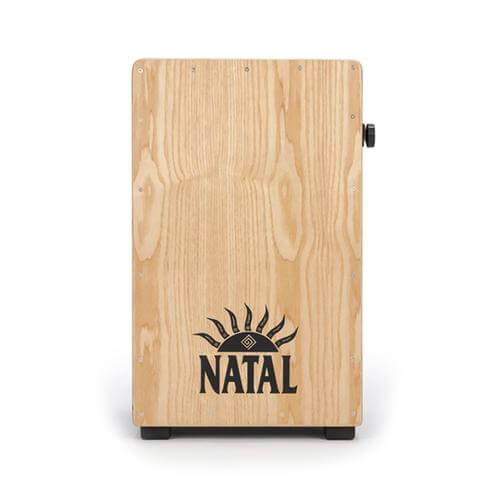 People often tell me to try out different kinds of cajons, but one cajon that caught my attention in recent years is the Natal cajon. I don't own one (yet), but I've been pretty amazed that a cajon with fully adjustable snare wires can come at such an affordable price! Normally, you'd think a cajon with cool features like this comes at a high price — some might even say "you pay for what you get" — but in this case, I think you're getting way more than what you pay for! ☺
I definitely recommend new cajon players to begin their cajon journey with this! It's really a steal!
Sticks
As a percussionist, it pays to be extremely aware of the tones we're creating. For example, rolling on the cymbals or hitting on a drum with a pair of sticks, brushes or mallets matter — every pair creates a different tone. Even the material of the sticks, brushes or mallets matter!
These are some of the essentials I have in my stick bag.
Vic Firth 5ADT American Classic Specialty Dual Tone Drumstick, Hickory
Sometimes, I play songs that require effects such as stick taps/crashes on bells and rolls on cymbals, and occasionally these changes are so quick that I don't have the time to switch sticks. Gosh, I can't explain the anxiety of rolling on a cymbal with timpani mallets and then quickly changing to a harder pair to produce a crisp crash tone. Luckily, my then band conductor bought us a pair of Vic Firth 4ADT's.
Two words: LIFE SAVER.
With a lil twirl or even a flip, I've switched my sticks to mallets (or vice versa). It even saves space in your stick bag!
It's like a good two-for-the-price-of-one deal and the inner aunty in me loves a good 2-for-1 deal.
Brushes
Vic Firth CB1 Brush Cajon BRU-LLET
These brushes marry elements of a brush and a mallet to brilliantly translate both slap and bass tones to the Cajon! (similar to the 5ADT's).
I use these for my cajon gigs, but if I'm playing the kit or if I need to make a strong or sharp sound on cymbals, I tend to use the Live Wire Brushes instead!
Vic Firth LW Live Wire Brushes
This pair features a retractable wire brush with small round beads on the tip of each strand for an added sharp snap on cymbals and drums. I feel like it's much stronger compared to other brushes and I personally feel like I have more control over these brushes.
Auxiliaries
Latin Percussion LP204AN Black Beauty Cowbell
I first tried this cowbell when I was in secondary school. One of the school bands I had an exchange programme with had this attached to their drum kit. This cowbell produces a rather high pitched and bright sound which I personally enjoy. It's also much smaller compared to other cowbells and it fits nicely in my percussion bag! I find cowbells pretty essential because it not only adds colour to songs but it also enhances drum solos!
One particular solo that had a fantastic cowbell element was performed by Erik Hargrove. There was a segment where he just kept the ostinato going with his legs and let the cowbell do all the talking.
Well, you know what they say… MORE COWBELL!!!!
Latin Percussion LP462B Rock Shaker
One of the most essential pieces of auxiliary in my opinion — and you don't even need to be a percussionist to own one. I've worked with heaps of musicians that always carry a tiny egg shaker in their bag.
A shaker goes well with almost every kind of song and it never fails to get you moving! The LP Rock Shaker produces a very loud traditional shaker sound that penetrates especially well in live performances. The metal body has removable end caps that allow you to adjust the amount of fill material. I personally feel that the LP Rock shaker has so much attitude and character to it.
It's snappy, it's sassy, and it should be on Rupaul's Drag Race.
Meinl Percussion Mountable Traditional ABS Tambourine, Steel Jingles, 2 Rows
This tambourine has a really durable frame that allows for hard hitting and energetic hand playing (which is perfect for me — I'm energetic like 24/7!!!). Not only do I strike it, but I even step on it when I play cajon gigs. This tambourine has nickel silver-plated steel jingles that produce a resonant bright sound and that projects well in both live and studio situations. I find this tambourine very versatile and well, versatility is the spice of life!
Roland OCTAPAD SPD-30 Digital Percussion Pad
Ok lah, this isn't really an auxiliary per se but it can replicate and produce many different kinds of auxiliary instruments so I'll just group it here.
I actually first heard of the OCTAPAD late last year so I myself am pretty new to the world of samples. A wise man* once said that he would consider the SPD-SX a "passport" that drummers are required to obtain before they can enter the world of sessioning. Well, the OCTAPAD is basically the "passport" for percussionists because it has 30 internal multi-effects that elevate your performance quality and opens up more opportunities for percussion to be developed upon. A friend of mine even taught me how to program it further using external software.
I'm still on a learning journey with this SPD-30 and I really hope I can use it more often to gig!
If you're a baller with the moolahs and you want something slightly more upmarket, another alternative would be the Roland SPD-SX Sampling Pad. It is the most advanced sampling pad to date and has a huge variety of sounds. It is also a great way to expand an existing percussion setup!
*Wanna know who this wise man is? Check out this Handpicked Arrivals article! 😉
Cymbals
Meinl Cymbals 16″ Byzance Extra Dry Thin Crash
This was the first cymbal I bought for myself. From the day I purchased it up till this day, there is nothing I own that I love as much as I love my crash. My crash is like my pride and joy — it's like a lil' baby! If you're striving for a distinctive sound, this crash cymbal gets you there thanks to its extremely dry, low-pitched tone that's packed with trashy overtones. It also has a soft response, and a remarkably fast decay. The dynamic responsiveness and musicality of this esoteric cymbal is exceptional (especially if you play with a lighter touch). It's suitable for a variety of genres such as jazz, funk, R&B, and electronic music. The dark, earthy, surprisingly crisp sound of the crash ensures that you won't sound like anyone else.
I use this crash when I'm playing on the drum kit too, but I use it a lot more for my cajon gigs. Once you feel like you're getting the hang of playing the cajon with a crash cymbal, I suggest you add a pair of hi-hats to challenge yourself (the Byzance extra dry hi-hats would make a pretty amazing addition).
Accessories
LAST BUT DEFINITELY NOT THE LEAST IMPORTANT.
I CANNOT STRESS HOW IMPORTANT THIS TOOL IS! In addition to some of my other tools, this is basically THE Swiss Army knife for drummers/percussionists. It provides nine useful tools which include hex wrenches, drum key sockets and a Phillips screwdriver (just to name a few), but the one tool that I love the MOST is its wing nut loosener.
Mad respect to the person who came up with this tool — it's because of you that I no longer need to use a pair of drumsticks to loosen the wing nut.
I guess to sum it up, my stick/percussion bag is like a tool box and I'm just a musically inclined aunty that always prepares for the worst during gigs.
Thank you for listening to my TED Talk.
If you're new to the world of percussion or a drummer looking to expand your tonal palette, check out Desiree's cajon and percussion recommendations online. For expert advice on all things drums, head down to our speciality drum shop at Peninsula Shopping Complex.