Here are our picks on some of the best acoustic guitars under $500.
Playing the acoustic guitar is tons of fun! You get to learn a new skill and better yet, you'll also be able to keep yourself entertained covering your favourite tunes. You hear it on countless songs across different genres. Also, if you didn't already know performing on the acoustic guitar – whether it be around the campfire or on a stage – is a great way of bringing people together with song and music! It's an undeniable fact – the sound of the acoustic guitar is truly timeless.
Maybe you're a beginner looking to buy your first acoustic. Or a seasoned electric guitarist who wants to add an acoustic guitar to your collection of instruments. Whatever your reason for wanting to own an acoustic guitar, you'll need to find one that suits your needs best, and, of course, be a bang for your buck.
If you've got reservations about splashing a large amount of cash for your first instrument, that's totally normal! You won't find yourself stuck with a poorly-made, uninspiring acoustic guitar. Take a modest budget of $500 – these days you could even find yourself a hell of an instrument! Want proof? Come along with us as we list out our picks for the best budget acoustic guitars under $500, with amazing value options from Taylor, Fender, Cort, and Ibanez!
10(ish) of the best acoustic guitars under $500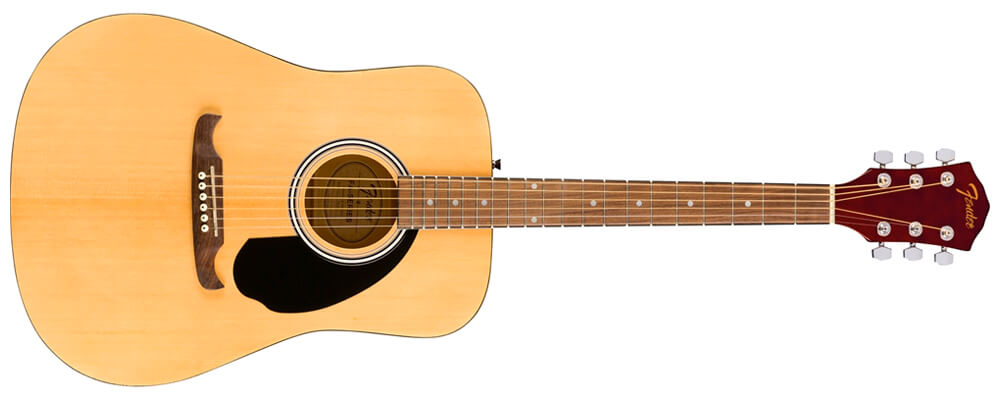 The typical dreadnought's substantial square-shouldered frame lends itself to a deeper and richer tone. With a spruce top and basswood back and sides, the Fender's FA-125 Dreadnought lives up to its pedigree. In addition to simple yet glossy good looks, this laminated guitar's ease-of-play comes courtesy of a modern 3:3 headstock and Viking bridge. If you're a gigging musician or someone who hates being parted from their instrument, the FA-125 is also lightweight enough to save you a ton of backaches.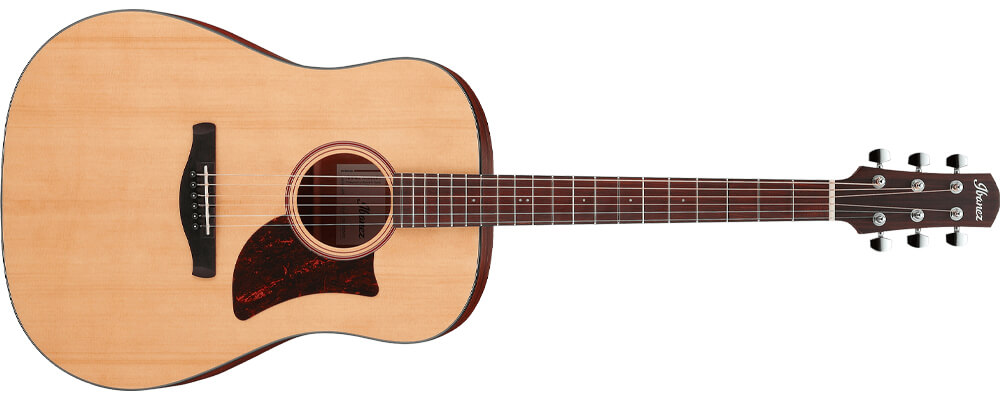 We've just spoken of big and bold dreadnoughts, and they don't come much bigger and bolder than the Ibanez AAD100-OPN. This budding behemoth is roughly 5% larger than a standard dreadnought, so it's no surprise that the resulting sound here is beefed up too. Bluegrass and folk enthusiasts will get the most out of its sonorous, resonant timbre, helped along by the X-M bracing. The elaborate X- and M-shaped support transmits vibrations efficiently throughout the bridge and body, so keep an ear open for a crisp treble and warm mid-range.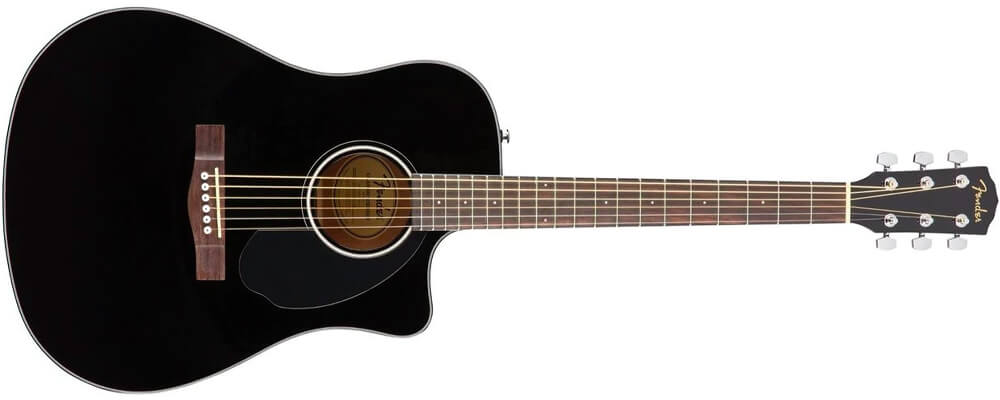 Another solid reimagining from Fender's Classic Design Series, the CD-60SCE is particularly great for both novices and intermediate players in all acoustic settings. A Venetian cutaway gives this dreadnought effortless access to the upper register, perfect for virtuosos wanting a full run of their fretboard. And it's a real all-rounder too, boasting goodies like the Fishman pickup/preamp and a built-in tuner, while an updated neck and rolled fingerboard edges promise a smoother experience for even the most intricate of tunes.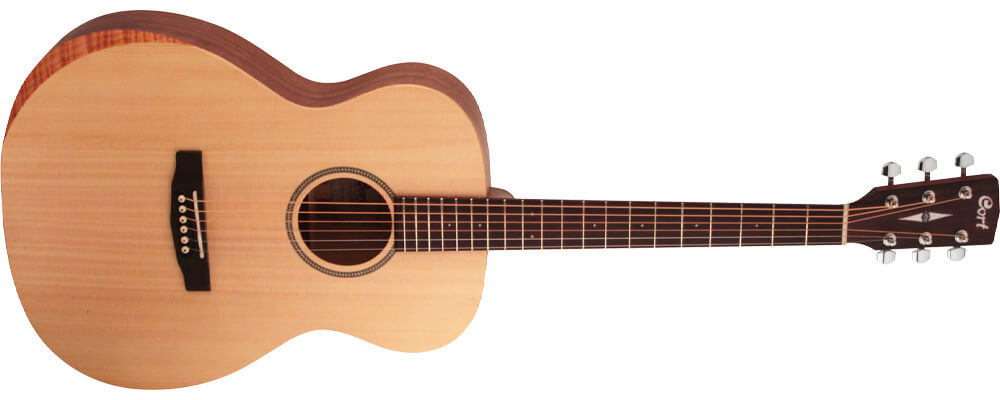 Bigger isn't always better, and this lute proves it! Harkening back to the classic 1920s OM form, this polished beauty resonates with a bright and natural voice that belies its compact size. It's all about ergonomics with this baby. You'll find the Luce's exclusive scooped surface bridge significantly more agreeable to play since its steeper angle reduces tension on strings (and your fingers!). And there's the bevelled armrest, just like it says on the packaging. Not just for visual appeal, this sleek incision also helps the guitar adjust to your body contours, so it's comfortable all the way while you play.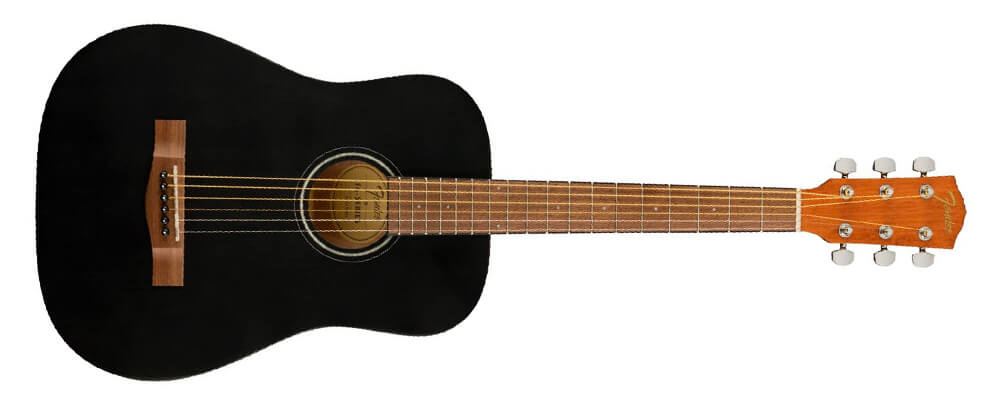 A ¾ sized acoustic guitar? There are plenty of reasons why a smaller can sometimes mean better. For starters, its shorter scale length makes it easier for smaller hands and beginners. They're also easier to travel around with, and best of all, it's a lot of fun! The Fender FA-15 makes up for its smaller size with a laminated Agathis top with laminated sapele back and sides for a nice, warm resonant tone. At this price point, it's an acoustic guitar perfect for the beginner, or for anyone who wants a fun guitar to bring along the ride.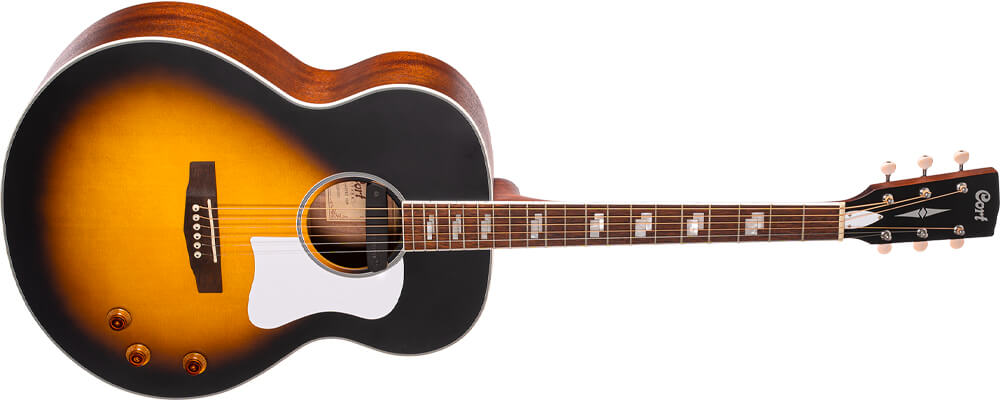 Jumbo-sized acoustic guitars aren't usually the first thing that comes to mind when players look for an unplugged option. But there's a reason why these big-bodied acoustics are popular in genres that feature lots of big, strummed chords. Jumbos like this beautiful Cort CJ-Retro produce huge projection and bottom end. And this tonal attribute becomes very evident when you strum, hard. The CJ-Retro is constructed with a spruce top and mahogany back and sides, and it even has Fishman electronics with a magnetic humbucker and top-mounted control. Talk about a serious retro look!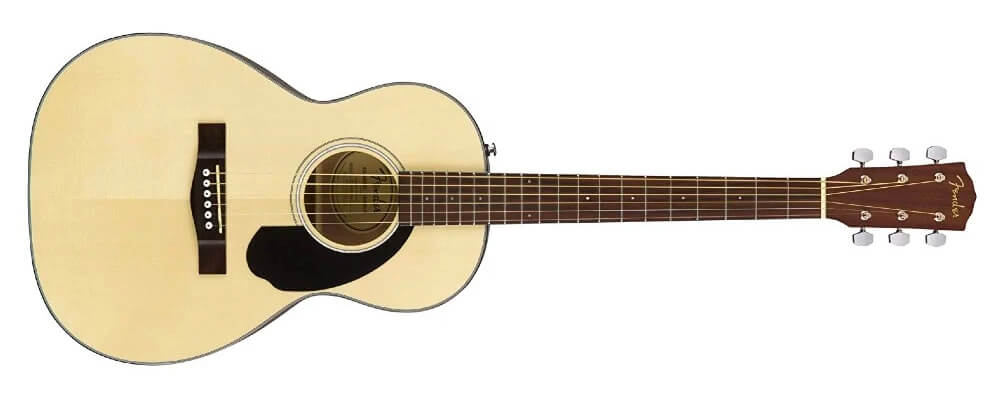 Parlor-sized acoustic guitars are another great option for players wanting a smaller guitar. They usually come with full-sized scale lengths, but they get real comfortable to play because of the reduced package size. But the most likely reason why parlor guitars have a cult-like following is their sound – it's got a boxy tone that fits right at home in bluesy and folk tunes. This affordable Fender CP-60S is a great entry into the world of parlor acoustic guitars. It features a solid spruce top, mahogany back and sides, and it's even got rolled fingerboard edges for superb fretting comfort!
Read more: Guitarology 101: Acoustic Guitar Body Shapes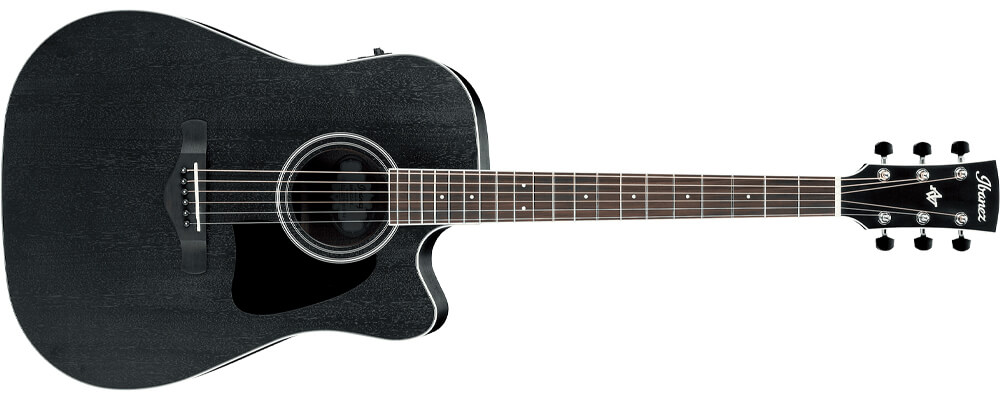 Acoustic guitars constructed with solid woods cost more to produce. That's why you see full-solid acoustic guitars at the more premium end. But there are affordable acoustic guitars that feature solid tops too. Coming in at just under $500, the Ibanez Artwood AW84CE packs a lot of great features for what you're paying. It features a solid okoume top with okoume back and sides for a rich, balanced tone. And if you're looking to play this guitar in a live setting, it comes equipped with a versatile EQ-TP2 preamp with T-bar under-saddle pickup. Its 2-band EQ gives you even more control over your live tone.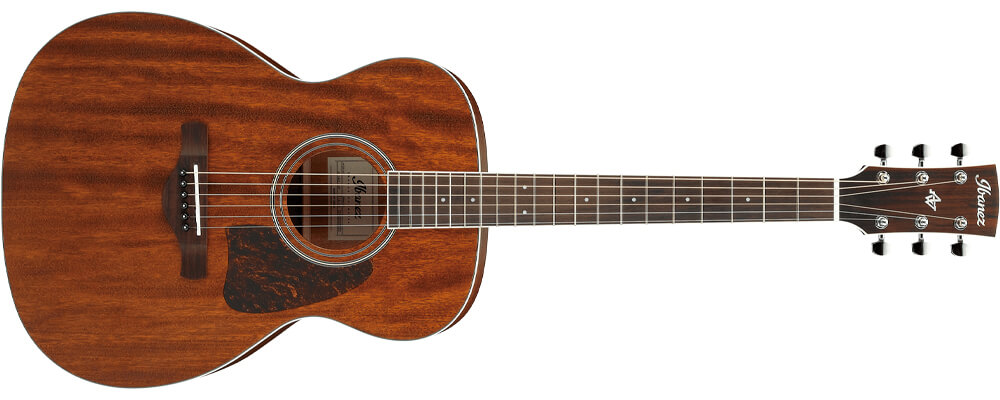 Ibanez has packed some great features into this budget-friendly acoustic guitar. The Ibanez AC340-OPN features a solid okoume top that'll only sound better the more you play. More thought has been put into making the acoustic guitar sound even better, with a bone nut and saddle coming as standard. The bridge and bridge plate are constructed from Thermo Aged ovangkol, rounding up some serious spec you only usually see on higher-end acoustic guitars.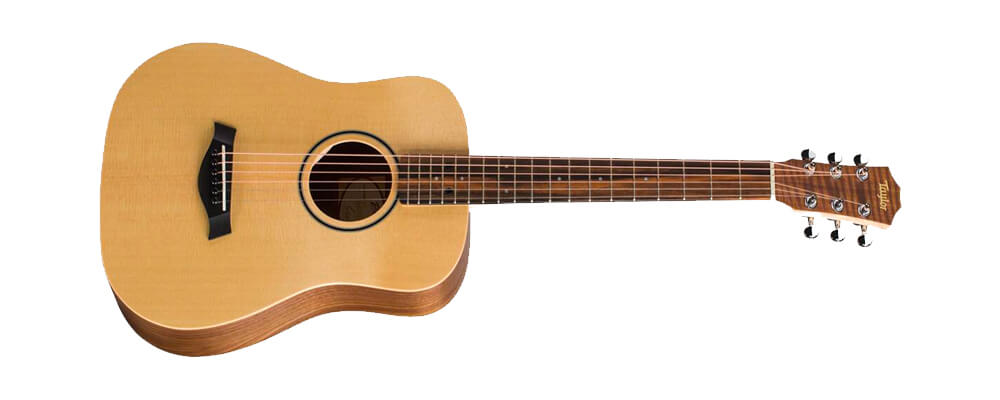 Yes, we know this pick is slightly over $500. But hear us out!
The Baby Taylor was born out of the desire to translate the best features of a high-end Taylors into an affordable package. And boy have they done it! Featuring a 3/4-size dreadnought body and 22 3/4″ scale length, the Baby Taylor is an effortless instrument that almost plays itself.
This acoustic is made with high-quality materials – think solid spruce top, layered walnut back 'n' sides, and West African ebony fretboard. Secondly, if you're looking to get better at the acoustic, having your guitar with you for practice is a good place to start. A guitar with immense portability will allow you to set up your rehearsal space anywhere you go. Toss it in the trunk or on the overhead plane compartment, you can rest assured that your trusty Baby Taylor can stay by your side. 
There's also a Baby Taylor version with a built-in preamp if that's what you fancy.
---
And that's a wrap! We've done the heavy lifting and have given you insight into some of the best acoustic guitars under $500. Trust us, the journey you'll take with the acoustic guitar is a road full of fun and gratification. While it might be challenging at some points, it will be thoroughly rewarding.
As always, Swee Lee stocks a huge selection of acoustic guitars for all types of players. Head down to our stores to give these acoustic guitars a try. That's the best way to find out if the acoustic guitar is right for you.
You can also head over to our online store to check out our collection of acoustic guitars. If you need any more advice on choosing your perfect acoustic guitar, feel free to contact us.
Related reads: