Gather around the campfire y'all – we're going to be talking about acoustic guitars for beginners.

Call us biased but the acoustic guitar is one of the most beautiful sounding instruments in the world! With countless centuries of innovation and evolution, this self-amplifying stringed instrument has gone through countless iterations before settling on the many types and shapes we see today.
While the great amount of choice is great news for honing in on the sound you have in your head, it can be quite a doozy if you're looking to pick your first acoustic guitar. That's why we've compiled this guide to help you choose the right acoustic guitars for beginners.
Without further ado, let's talk about what you should know to find the best acoustic guitars for beginners!
Types of Acoustic Guitars
So before you head into the store (or website) to hunt for your first acoustic guitar, it's best to identify what type you're keen on first! After all, the acoustic guitar is an instrument of nuance and it's the subtleties that make some of the biggest differences. Here are the variants you should be familiar with:
Nylon String Guitar
The nylon string guitar (also known as the classical guitar) is one of the oldest types of acoustics with a long 200+ year history. Expect warm and mellow sounds that are the sonic equivalent of sipping on some yummy hot chocolate on a cold, rainy day.
Nylon-string guitars have been traditionally associated with fingerstyle and flamenco music. However, you'd be remiss to think that they are a one-trick pony. After all, even pop and rock artists such as Jason Mraz and Yngwie Malmsteen have made these acoustics a staple of their sound and live shows.
Nylon-string guitars haven't been as popular as their steel-string counterparts. But if you're a first-time player or buying for children, they're really worth considering. This is because nylon strings have lower tension than their steel-string counterparts when tuned up to pitch. This feature, combined with the gentler touch of nylon, makes the learning process a whole lot easier for unacclimatized fingers.
Steel String Guitar
This is what most people picture in their minds when they think of the acoustic guitar! By far the most common type you'll see, the steel-string acoustic is a long-time staple of many mainstream music genres – think "Wonderwall" by Oasis, "More Than Words" by Extreme or anything from Ed Sheeran.

Strum one and you'll find out two things! One, steel strings have a brighter and louder sound that can sound amazing on its own or with a band. Two, fingering notes on the fretboard is a whole lot tougher (in comparison to their nylon-string counterparts). This is mainly due to steel's inherent tensile strength – so get ready for some callouses.

The steel-string format is also deemed to be more versatile in terms of sonic application due to the many-body shapes and bracing patterns they tend to come in. Due to their twangier nature, you can often see them being used for country or bluegrass runs. Fingerstyle artists have also taken a liking to the tones of steel strings with virtuosos like Sungha Jung and Tommy Emmanuel making them their instruments of choice.

Perhaps you're not keen on becoming a technical player and would just like to accompany yourself while you croon away. Well, the steel-string acoustic can do that too! Its more complex EQ range complements voices really well, hence why they've become one of the most popular instruments for singer-songwriters and folk singers.
Electro-Acoustic
Ever seen a busker with an acoustic guitar performing on a busy street and wondered how they managed to be heard over all the hustle and bustle? The power of electro-acoustics is at play, my friend! While these guitars aren't a different "type" of acoustic per se, it's something worth mentioning to beginners.
So what are they exactly? Well, conventional acoustic guitars are self-amplifying – using the guitar's soundbox as a natural amplifier. However, there's a limit to how loud you can play using unaugmented means. So if you're looking to play for a large audience you may need some electric assistance.

This is where the electro side of things comes in. By using a built-in pickup (piezo, preamp, etc) and plugging straight into a PA system or an acoustic amplifier, you can get your music heard throughout the crowd with ease.

Additionally, having the built-in pickup also helps tremendously if you are thinking of recording too. Just plug in your electro-acoustic into an audio interface and you'll be able to record clean signals right into your DAW without the hassle of dealing with soundproofing, microphone placement, and other various production headaches.
Wood to sound good
Since acoustic guitars serve as their own amplifier, much of their sonic qualities come from, you guessed it right – wood! Admittedly, while there are other factors that influence the overall sound of the acoustic guitar (bracing, string composition/gauge, body shape, material composition etc.), woods are one of the largest influencers of tone.

Here is a brief overview of what tonewoods are commonly used on acoustic guitars:

Spruce
Spruce is one of the most popular woods for acoustic guitar tops (the side with the soundhole), with many different genuses being used. Characteristically, spruce is very rigid and light – traits that make it ideal for tops as this supplies direct and clear tones. As such spruce-topped guitars are generally favoured by strummers and singer-songwriters, though many finger-stylists also find great affinity with this tonewood as well.
Cedar
Like spruce, cedar is another light and rigid tonewood commonly used for acoustic tops. However, instead of the clarity and highs you'd get with the former, cedar dishes out a balanced and warm tone. This sonic profile together with its quick response makes cedar an ideal choice for fingerpickers or flat-pickers looking for chunky single notes.
Mahogany
Mahogany is a pretty interesting wood. In fact, it is one of the only wood types that is used as the top and the backs and sides of the acoustic guitar. As a top wood, mahogany produces a punchy tone reminiscent of older vintage guitars from the Delta Blues era. This is due to its higher density in comparison to the other top woods we've mentioned above.

However, when used for the backs and sides, mahogany (in comparison to the other woods we'll describe below) has a higher response rate – resulting in a sound with rich overtones, deep lows, and warm highs.
Maple
Here's a wood that is even commonly seen on electric guitars. Maple is as utilitarian as it is exotic, owing to its immense stability and eye-catching grain. This popular wood tends to be really dense and heavy so it isn't an ideal candidate for an acoustic top. However, due to these characteristics, maple is almost exclusively used on the backs and sides. Tonally, maple contributes to the high-frequencies and attack of the acoustic, paving the way for the tonal qualities of any given acoustic's top to shine through. Whether you aspire to be a strummer or finger picker, you'll enjoy what this hardwood will bring to the table.
Rosewood
The last tonewood we will cover in our beginner's guide, rosewood is known best as the premier wood for fretboards and acoustic back and sides. While relatively dense, this dark wood has a complex bottom end with a broad range of overtones. Due to this, you'll usually see this wood paired up with a spruce top to really get that high-fidelity sound that you'll hear on pristine acoustic guitars.

Woods on the acoustic guitars can be made from either "solid" or "laminated" woods. You'll see solid wood constructions on higher-end acoustic guitars.
Read more: Guitarology 101: Acoustic Guitar – Laminates & Solid Wood
How much should you be spending on an acoustic guitar for beginners?
It is the perennial question of our existence, how much should I shell out for an acoustic guitar for beginners?
There are great guitars at any price range. But the old adage "you get what you pay for" rings true here as well. Perhaps the best way to decide is to ask yourself a series of questions about what your expectations are.
What are your goals with your first acoustic guitar? Do you plan to upgrade sooner or later? What features are you looking for? Are you just playing at home or are you planning to perform? These are just some of the questions to ask yourself in order to find a gauge of how much you should spend.
A good, well-made guitar inspires you to play more
Of course, the worries of "what if I lose interest?" and "I'm just trying it out first" will tempt you to buy the cheapest guitar possible. But this is exactly what you don't want to do. The cheapest guitars tend to have cut-corner construction and quality. As a result, the acoustic guitar becomes uncomfortable and difficult to play. Your practice sessions will end up being a discouraging and unfulfilling experience.
This is such a real problem for beginners everywhere that brands like Taylor purposefully designed an entire series of acoustic guitars just for them. Their Academy Series acoustic guitars feature a redesigned neck and slightly shorter scale length so that it's easier for beginners to fret chords and play more comfortably.
Our advice? If you're serious about learning and getting somewhere with the acoustic guitar, go for the best instrument that you can afford!

What to look out for?
Now that you've heard basically all you need to know about the woods and types of acoustic guitars, here are some important things to keep an eye out for when looking for the best acoustic guitar for beginners.
Get ready for action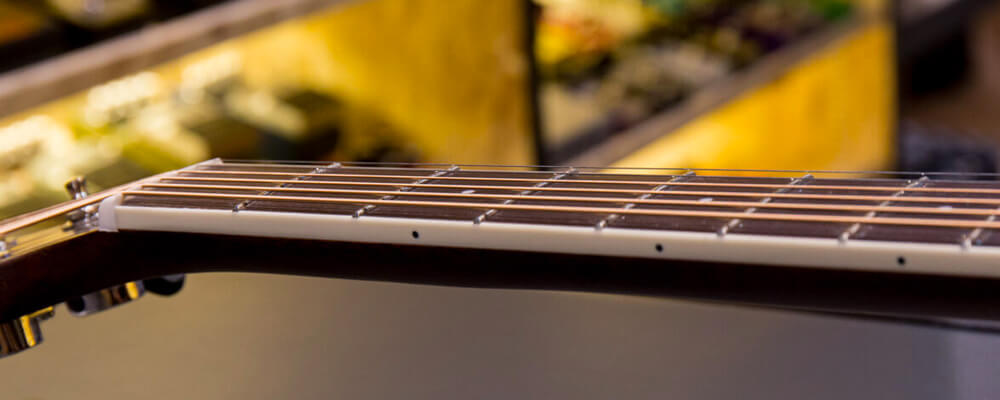 No, we're not talking about guitar moves. The action we're talking about refers to the height of the strings or the distance between the strings and the fretboard. Too high action means you will need a lot more pressure to fret a chord. If you're just starting out, it's best to find a guitar with low action. Not only does it help with your playing comfort but fretting notes and chords will also be a lot easier.
Size
If it isn't already apparent, acoustic guitars come in many different shapes and sizes. The classic Dreadnought is the most common size for an acoustic but it might be too big for some people. Instead, smaller-sized guitars like a Parlor are ideal for the more petite players to hold, grip, and play.
While smaller acoustics may be a breeze to play, they may feel awkward if you're a bigger person. In this case, you may feel more at home with a Jumbo or a Grand Auditorium. It's all about seeing which shapes hug your body the best when you're in your preferred playing position.
However, acoustic guitar shapes and dimensions also play a part in shaping the sound of the acoustic guitar. So if there's a sound you'd like to get from an acoustic, you may have to make some concessions to comfort. So choose wisely!
Don't Forget Personal Preference
Finally, amid all the considerations about woods, shapes, and tones – don't underestimate the importance of choosing a guitar that you like.
While the sound and comfort aspects are definitely things you should look at, picking something that you simply like is the way to go. You can even look at your favourite artists as inspiration for getting the sounds that you like – after all, they're probably the reason you are pursuing your musical muse!
Just like the hardest choices in life, you can get advice to make the most informed decision. But the only person that can make the right pick for you is yourself. So if you find an acoustic that strums on your heartstrings, don't let anyone talk you out of it.
After all, the best acoustic guitar for beginners is the one that you're excited to play and learn on.
---
That's about all you need to know if you're looking to find the best acoustic guitar for beginners. Trust us, the journey you'll take with the acoustic guitar is a road full of fun and gratification. While it might be challenging at some points, it will be thoroughly rewarding.
As always, Swee Lee stocks a huge selection of acoustic guitars for all types of players. Head down to our stores to give these acoustic guitars a try. That's the best way to find out if the acoustic guitar is right for you.
You can also head over to our online store to check out our collection of acoustic guitars for beginners. If you need any more advice on choosing the perfect acoustic guitar for beginners, feel free to contact us.
More guides on great gear for beginners: